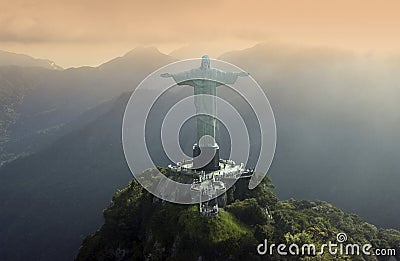 The statue of Christ the Redeemer at Corcovado in Rio De Janeiro in Brazil - South America. An Art Deco statue of Jesus Christ, created by French sculptor Paul Landowski. It is 30m (98ft) tall, not including its 8m (26ft) pedestal. As a symbol of Brazilian Christianity, the statue has become an icon for both Rio de Janeiro and Brazil. .
Stock photography categories:
Collections:
Rio De Janeiro - Brazil
,
Worldwide Travel
,
Landscapes Of The World Around Us.
,
Famous Places And Landmarks
,
South America
,
Religion
,
Landscape
,
World Heritage Sites
,
Dreamstime Selection
,
Cityscapes, Landscapes, Seascapes
,
Monument Of The World
,
Steve Allen - My Favorite Images
,
12 World Most Popular Natural Wonders
,
Great Statues