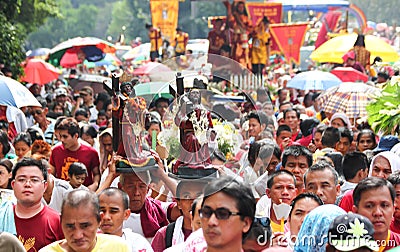 Manila, Philippines - January 9, 2013: Thousands of Catholic devotees join the procession of the life-size statue of the Black Nazarene during the annual procession in honor of the centuries-old icon of Jesus Christ which is held every 9th of January annually , stimated 9 million pilgrims from different part of the country swept the nations capital.
© Hrlumanog | Dreamstime.com
ID: 28566151 Level: 2
Downloads: 1 / Views: 392
Model released: NO
Property released: NO
Stock image info:


Sign up and download this Feast of Black Nazarene in Manila, Philippines image for as low as
$0.20
for high resolution.
Registered users can download free images, access high-resolution image comps or sell their own photos!
Editorial image. Not to be used in commercial designs and/or advertisements. Click here for terms and conditions.
Feast of black Nazarene, Manila - Philippines (January 2013)