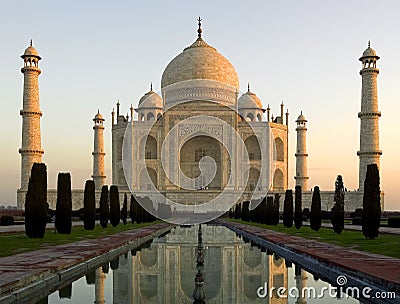 The Taj Mahal at sunrise. The Taj Mahal is a mausoleum at Agra in northern India, built by the Mogul emperor Shah Jahan (1592–1666) in memory of his favorite wife, completed circa 1649. It is a UNESCO World Heritage Site.
Stock photography categories:
Collections:
Travel Around The World
,
Worldwide Travel
,
Amazing India
,
World Landscapes, Cityscapes And Cultures
,
Religion
,
World Heritage Sites
,
Travel Around Colorful India!
,
Dreamstime Selection
,
Asia - Travel Destinations
,
Cityscapes, Landscapes, Seascapes
,
Monument Of The World
,
Steve Allen - My Favorite Images
,
Landmark And Beautiful Scene Around The World
,
Landmarks And Recognizable Views From Around The World