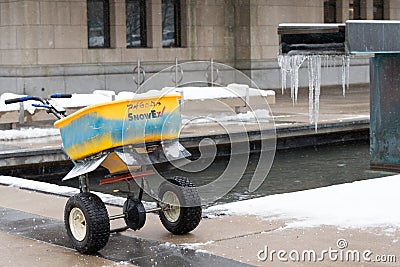 TORONTO - DECEMBER 29 - Salt spreader idles on the sideway after the snow cleanup in Toronto. The snow storm hits Toronto, Canada on December 27, 2012 after knocking out power to thousands of homes in the U.S..
© Canadapand... | Dreamstime.com
ID: 28402394 Level: 1
Downloads: 0 / Views: 219
Model released: NO
Property released: NO
Stock image info:


Sign up and download this Idling salt spreader image for as low as
$0.20
for high resolution.
Registered users can download free images, access high-resolution image comps or sell their own photos!
Editorial image. Not to be used in commercial designs and/or advertisements. Click here for terms and conditions.