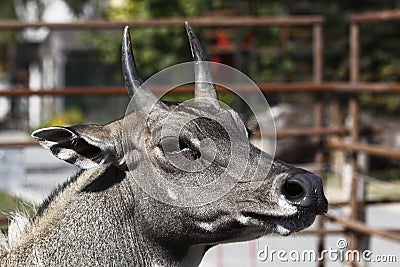 The nilgai (Boselaphus tragocamelus), sometime called nilgau, is an antelope, and is one of the most commonly seen wild animals of central and northern India and eastern Pakistan; it is also present in parts of southern Nepal. The mature males appear ox-like and are also known as blue bulls. The nilgai is the biggest Asian antelope.
© Lukyslukys | Dreamstime.com
ID: 13005250 Level: 0
Downloads: 0 / Views: 545
Stock image info:


Sign up and download this Blue bull image for as low as
$0.20
for high resolution.
Registered users can download free images, access high-resolution image comps or sell their own photos!
This is an exclusive image.