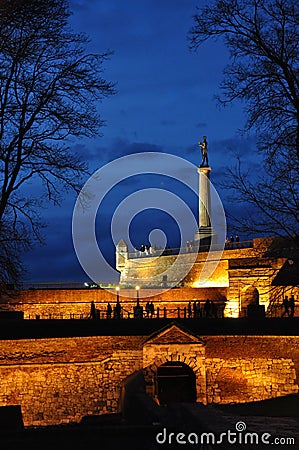 The Pobednik (English: The Victor) is a monument in the Kalemegdan Fortress in Belgrade, Serbia. It is one of the most famous works of the Croatian sculptor, Ivan Meštrović. The statue was originally supposed to be placed on the Republic Square, but ended up at Kalemegdan Fortress after people complained about its nudity.

This statue, holding a dove of peace on one hand and a sword of war in the other hand, and looking forward across the confluence of the Sava and the Danube, and over the vast Pannonian plain, towards the very distant Fruška Gora mountain, is probably the most powerful, most popular visual symbol of Belgrade.
© Isnogood | Dreamstime.com
ID: 12829113 Level: 3
Downloads: 8 / Views: 929
Stock image info:


Sign up and download this Belgrade, capital city of Serbia image for as low as
$0.20
for high resolution.
Registered users can download free images, access high-resolution image comps or sell their own photos!