Aleksandar Horvat
Alexhor
Ludbreg, Croatia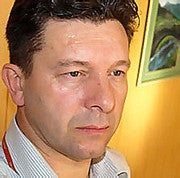 account statistics
Uploaded files:

106

Total sales:

377

Portfolio exposure:

0.02%

Database exposure:

0%

Downloads per image:

3.56

Message boards:

68

Monthly uploads:

0.87 average
BIO
I am not a pro, but I like digital photography. I still don't have any recognizable direction in photography, so I'm trying, experimenting and learning extensively... My real background is in design and interest in visual arts. Computer aided graphics, 3D modeling, comics etc. Some of this work may be also presented here. My collections: >>Vector illustration - vehicles and transportation >>Vector illustration - business and industy concepts >>llustration - 3D gen ... more
I am not a pro, but I like digital photography. I still don't have any recognizable direction in photography, so I'm trying, experimenting and learning extensively...

My real background is in design and interest in visual arts. Computer aided graphics, 3D modeling, comics etc. Some of this work may be also presented here.

My collections:

>>Vector illustration - vehicles and transportation
>>Vector illustration - business and industy concepts
>>llustration - 3D generated characters

My latest blog article
>>Commitment (Last count: 377 reads)

My most read blog articles (3000+ reads)
>>Understanding search engine visibility (Last count: 3232 reads)

My most read blog articles (1000+ reads)
>>Some tips on shooting objects on white (Last count: 1481 reads)
>>Milestones in action (Last count: 1295 reads)
>>Pillars of microstock success (Last count: 1298 reads)
>>Acceptance ratio (Last count: 1116 reads)

My most read blog articles (500+ reads)
>>Views, uploads, downloads... (Last count: 890 reads)
>>Looking from buyers side of the table (Last count: 879 reads)
>>Dealing with shutter speed (Last count: 855 reads)
>>What about composition? (Last count: 827 reads)
>>Free images for promotion (Last count: 791 reads)
>>Getting the right direction (Last count: 741 reads)
>>Comfort zone (Last count: 719 reads)
>>Continuity (Last count: 684 reads)
hide
Website:
http://www.fotografski.com
Follow me:
Joined:
January 24, 2008
Equipment:
Photo gear: Olympus SLR E-510 EVOLT (ED 14-54, 40-150, 70-300), Panasonic Lumix DMC FZ-5 (compact with Leica 12x zoom). Software: CS4 Design Premium, Swift 3D 6.0
Favourite subjects:
I would capture almost everything. Very interested in nature on macro level but lack of adequate lenses holds me back.
Stock rank:
I am a photographer working exclusively with Dreamstime.com.