The new year is the best time to look back at last year's successes and failures to see how to increase the former and decrease the latter in the coming year. What photos were the most successful on Dreamstime in 2008 and why?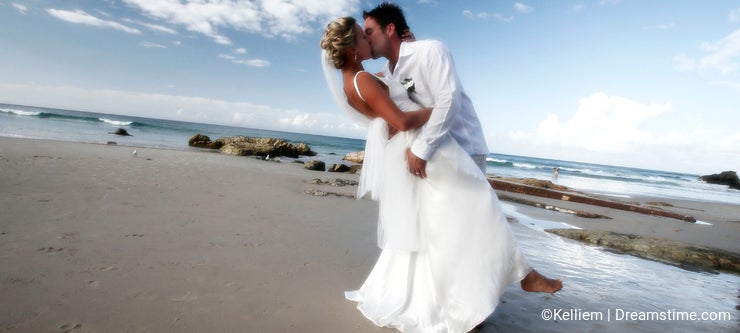 Three photos that made the top sellers in '07 remained on our list for 2008. See last year's winners in this previous blog to read about why they were successful then and now. One image that I didn't give a lot of time to from last year's list that repeats is this year's successful wedding image. The significant aspects of the image that I believe make it successful are:
•MODELS: The bride and groom are not identifiable. A bride who is choosing a wedding planner wants to imagine herself in the picture on the brochure. When the faces in the photo are not recognizable this is easier to accomplish.
•The problem of the bride not be able to personally associate with the model could cause subliminal rejection of an ad or promo.
•BODY LANGUAGE: The pose is a romantic one that will appeal to women. Just check out the covers of romance novels the next time you are in a bookstore and you'll get my point. Think: "swept off her feet."
•LOCATION: A beach is the most commonly held romantic destination. This location one could be almost anywhere, making the image appropriate for many different regions.
•Small touches: the barefoot on the bride adds a nice touch
We have fewer business images in among the top images in '08. Perhaps as a sign that companies have slowed down on adverts and promos. But once again the concept of "teamwork' is the common element in the two best selling business images. It's difficult to carry off a purely conceptual image but the business team working with puzzle pieces is almost perfect. It's totally symbolic but doesn't tip over into the grossly obvious like many unsuccessful concept images. It works for me because:
•COMPOSITION: Ample space exists for type on the upper right hand corner for use in print. . If I were to change anything in this image it would be to flip the image so that the space for type would be on the upper left as this is the 'hot' spot for text impact in languages that are read from left to right, top to bottom
•READABILITY. The image is graphic and simple. Thus it reads well even at thumbnail size making it useful for all placements on a web page.
•CASTING: All aspects of business are shown. There are two managers; one could be a woman. Workers look like innovative problem solvers and 'can do' kind of employees. All in all a positive image to project an able business team.


Another successful concept image shows a goldfish escaping a computer screen. The power of this image lies in the fact that it can have a multitude of meanings and uses. To me it says 'making ideas come alive".
Groups of items that can be cut out of images and used individually are most commonly found in the top downloaded vector illustrations but this year we have a photo of vegetables that fits the bill.
An image of a young couple standing in front of a new home or condo that made the cut last year is absent as a best seller in '08, an indicator that social and political conditions change the marketplace for images. So long, housing boom: so long, need for real estate images at least for a while.
This is the second year that two photos from the same shoot have made it into the recap of top downloaded images. In this case it's the groups of happy kids.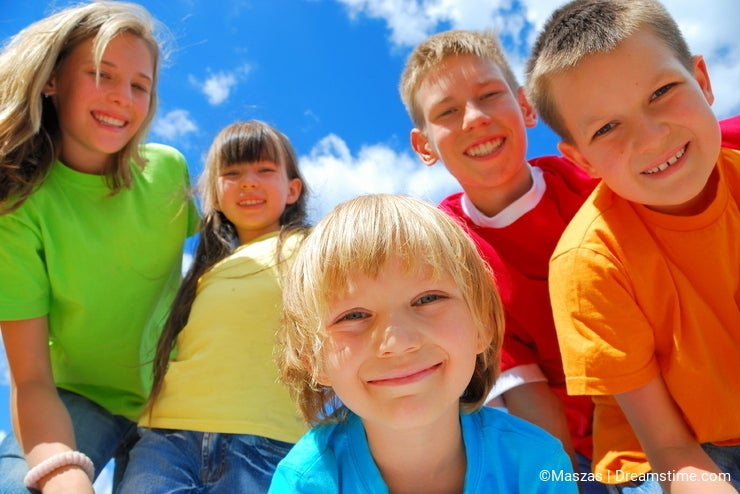 The saturated color of these images and also of the photo of a solitary tree could be the reason these are popular images. Just as dark and moody images carry messages of despair; bright and colorful ones tend to evoke feelings of happiness and hope.
And since today, January 20, 2009 begins a new era of HOPE in America, I'll end on that note!