5 Best Cameras for Beginner Photographers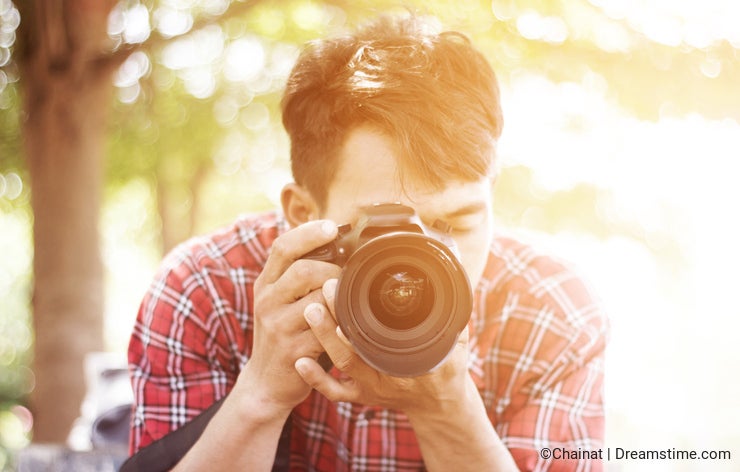 Most photographers create their first photos with a smartphone or point-and-shoot cameras. Then the moment comes and you realize that these devices cannot fully express your vision of the objects anymore. Whether you would like to make money with making photos or just enjoy taking great pictures, a good camera is absolutely necessary for achieving high-quality photos and upgrading your skills. A choice of device for beginners is not easy. A gadget should offer additional functions and be simple to use. Here are some variants of great cameras suitable for the beginner photographers.
1. Nikon D3400
Nikon D3300 has been chosen by beginner photographers since 2014 because of a balanced combination of functions and price. Nikon D3400 is an updated version of this well-known camera that has a few improvements. The gadget is small and weighs only about 13.9 ounces. The camera allows taking 24 megapixels photos and 1080p videos. The images are slightly sharper than the ones taken by Nikon D3300. Another great improvement is the Snap Bridge function that connects the camera to your smartphone and facilitates photos transferring. The camera is sold as a kit including lenses.
2. Canon T6i
Canon T6i offers a little more than its predecessor Canon T5i. The device has 24 megapixels instead of 18 and more autofocus points. This model is fast and suitable for taking pictures of kids, pets, and of course vacation photos. It is often chosen by family photographers. A fully articulating 3" touchscreen makes this gadget suitable for making quality videos as well. Wi-Fi connectivity allows a photographer to transfer images between cameras or connect the device to your smartphone. Semi-automatic and automatic options make the control easier and allow learning.
3. Nikon D 5500
Nikon D5500 is a little advanced than previous versions of cameras and offers more features. At the same time, it has reasonable price and is a great choice for family and travel photography. The camera is smaller than Nikon D5300 and a lot of others DSLR cameras, and yet very powerful. Some of the main features of this device are a 24.2 MP CMOS sensor, 39-point autofocus system, wide sensitivity range, fully-articulating touchscreen LSD display, a fast processor, and built-in Wi-Fi. The camera is great for beginners who might start with automatic settings but are willing to explore more functions.
4. Sony a58
Sony a58 is a great alternative to Canon and Nikon models. The camera has the unique Translucent Mirror Technology that provides fast shooting and high-quality photos. The device offers 20.1-megapixel images, Lock-on Autofocus, Auto HDR and noise reduction. One of the advantages over other models is Sony's built-in sensor that gives image stabilization. The compact design makes the camera comfortable to handle. The lack of articulating screen makes the device a better option for photographers, not someone interested in videography. The gadget is simple to use and has all the features every first-timer needs.
5. Canon Rebel SL1
Canon Rebel SL1 has a small size but a huge number of features. The combination of 18-megapixel sensor and fast image processor allow achieving the high-quality images. The ISO range is impressive and expands from 100 to 12800. Bad lighting or fast-moving objects could hardly prevent this camera from making sharp and clear photos. The features of the device are accessible for beginners and convenient to use. The lightweight makes the gadget ultra-portable and convenient to take in trips. Canon Rebel SL1 is a great entry-level camera for a reasonable price.
The beginner photographers have a lot of entry-level cameras options. Learning the characteristics of different models is a good start for an inexperienced photographer. It may help to realize how to use the gadget and its features. While making a choice, do not rely on a theory only. Before making a decision, consider renting a few cameras to test them. This way you will definitely find the one that fits you the best.
Photo credits: Chainat.