6 Tips for Photographing Cars
Shooting high-quality photographs can be a great way to show off your brand new sports car or to quickly sell a vehicle that you are looking to get rid of. Unfortunately, we aren't all professional photographers (yet!), and it can be pretty intimidating to try and capture the perfect image to showcase a car's true beauty.
To get you started, here are 5 tips for photographing cars that will help you get started.
1. Location, Location, Location
One of the most important things to consider when photographing a vehicle is the location. You don't want something that will distract the viewer from the true beauty of the car, but you also don't want to shoot in a location that doesn't enhance the car aesthetics either.
Try picking a background location that compliments the vehicle's "true nature." For instance, if you are photographing a sports car, shoot the picture on a track or flat driving area. On the other hand, if your subject is an off-roading vehicle, go for a more nature inclusive background. Here, a vintage car from a bygone era is shot in a timeless desert scene, with colors that suggest vintage photography.

2. Angle Is Everything
The angle at which you view something can really change the perception of whatever you are looking at. The same can be applied when photographing a car, depending on how you want the image to make the viewer feel.
Shooting from a lower angle, looking slightly up at the car, gives the impression of power and intimidation. Going for something at eye-level or slightly above eye-level is great for giving viewers a "realistic" feel for the car. Moving up even higher can then create the perfect angle for an open hood shot to showcase.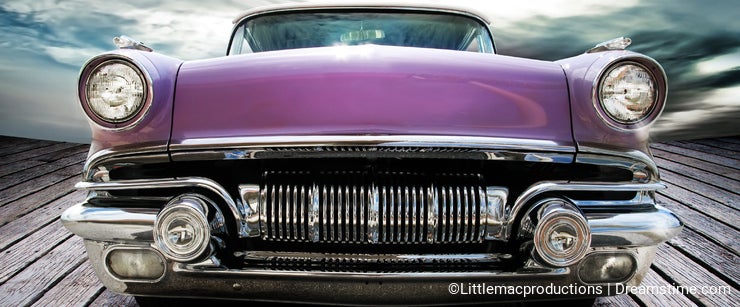 3. Keep it Steady
Some photographers have an extremely steady hand, but that doesn't make them perfect. To ensure that you are going to get the cleanest lines in your picture, use a tripod. The benefits of using a tripod are immense, as they can help even a new photographer look more professional.
Plus, tripods make it much easier to perfectly align angles in your background so that the photograph doesn't look crooked or off when complete.

4. Find the Right Lighting
You want to shoot photographs of cars in proper lighting to get the best possible outcome. If shooting outside, you should really try to get all of your photos completed with minimal direct sunlight. Simply put, take your pictures just before sunrise or slightly after sunset so that there is enough light, but little room for unwanted reflections or shadows.
If shooting indoors, just be mindful that different types of lighting can alter the color of the car in the photograph. This is especially important if you are photographing with the purpose to sell a vehicle, since viewers will want to see its true color.
In the end, just do some simple research on lighting tips to get the best outcome for your needs.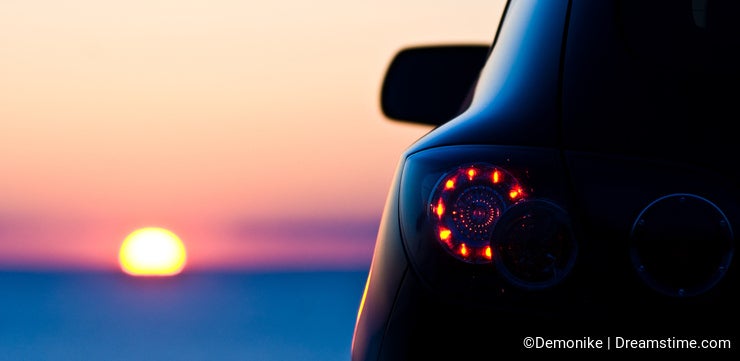 5. Don't Forget the Interior
Exotic sports cars have amazing exteriors, it's true, but don't forget about the interior of the car. Shots of fine leather seats and impressive electronic systems can look really great in photographs.
The key here is lighting to enhance all of the interior features. You don't want shadows to hide anything that should really be showcased.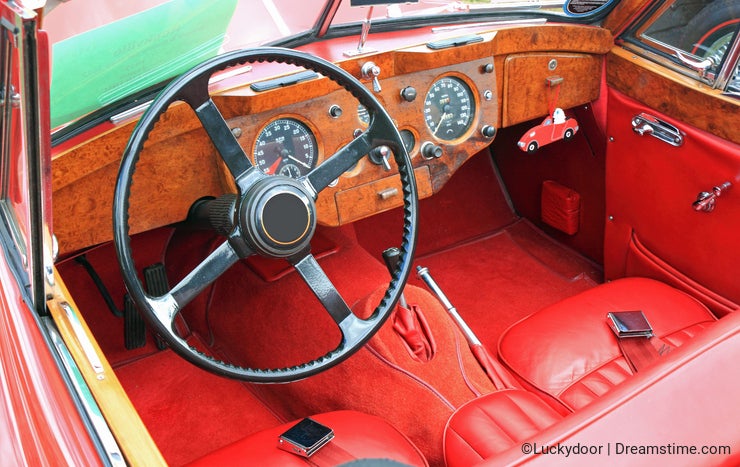 6. Keep It Simple
In the end, you want to focus on the true essence of the car, so just keep it simple. Even if you can't pull off an extravagant shoot, you can still produce high-quality photographs of your vehicle by using good lighting and an assortment of angles.

These 6 aspects of photography are easy to incorporate, and will give you a clean, sophisticated, and professional look, that will greatly enhance the beauty of any car.
Photo credits: Bowie15, Kutt Niinepuu, Kurhan, Eti Swinford, Luckydoor, Xalanx.
To provide you with additional information about how we collect and use your personal data, we've recently updated our
Privacy Policy
and
Terms of Service
. Please review these pages now, as they apply to your continued use of our website.