In part I talked about how beautiful Valdez is, and that it has some wonderful places to go hiking. There is also a very nice and sheltered small boat harbour, which is important considering that fishing is a primary industry there. You can go right to the cannery and buy fresh fish that has just come off the boats. We bought some halibut and cooked it up on the barbecue with some lemon pepper... it was the best halibut I have ever had!
Another thing you can do from the harbour is take one of the wildlife/glacier cruises. There are two companies based there; we went with the smaller one as they do not stick as tightly to a schedule. If there is interesting wildlife to see, they will hang around longer so everyone has a good chance to really enjoy the view.

Along the way you are likely to see some smaller icebergs that have broken off from Columbia Glacier. The first one we saw was actually quite some distance from the glacier. It had a beautiful shape to it, and the boat went surprisingly close. Be sure to not only look and take photos as you approach, but also as the boat pulls away to continue the cruise as the light can be challenging. I got a much better shot as we pulled away, especially as there was blue sky behind us, whereas we only had grey clouds ahead of us.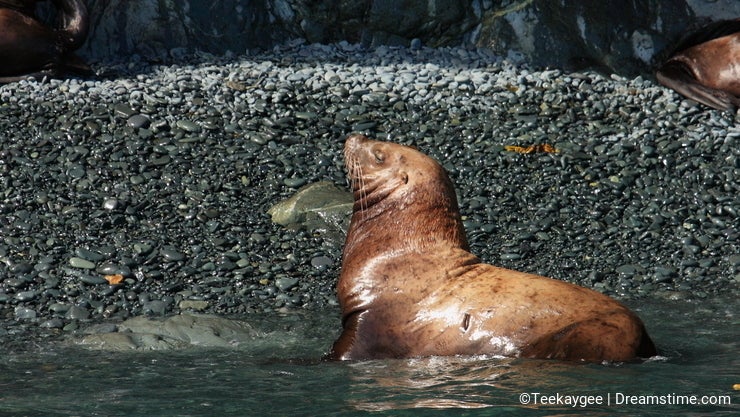 Steller Sea Lions are abundant in sections of the coastline of Prince William Sound. Just writing about them and looking at the photos brings back memories of listening to their barking, and watching their interactions with each other.
In this same area you will usually also see two varieties of puffins: Horned Puffin and Tufted Puffin. They are such funny looking birds. The boats pull right up to (or even into!) the caves where they nest. The photos I took were great for memories, but since it is so dark in the cave, I was not successful at getting sharp enough photos for stock.

After spending a good amount of time watching the sea lions and puffins we continued further. Luck was with us as we soon saw a group of three humpback whales: two adults and one youngster! They made many appearances and we watched them for quite a while. We also saw two other humpback whales on their own, but they were further in the distance. It is an amazing experience the first time you see whales in the wild!

As we were getting ready to continue towards the glacier, one of the crew spotted some orcas off in the distance. So we detoured off in that direction and were rewarded with some nice views. Again the captain of the boat was in no hurry to rush us away.
The last part of the cruise was up to Columbia Glacier. The captain navigated in as closely as he could, and even told us how shallow the water was as we pulled ever closer. We could not get right to the base of the glacier, but it was all very impressive. The larger tour company does not go in anywhere near as close as we did.
All in all the cruise was an amazing experience and well worth the money.