American Local Travel: California National Parks (Sequoia and King's Canyon)
Going around the countryside of the United States of America has been such a wonderful experience for me. This one in particular was just so beautiful that I could not wait to tell you guys about it!
Sequoia and King's Canyon
If you ever wanted to visit a park where you can see the largest tree on the planet, you have found the right place. Sequoia National Park, as the name hints, is home to the General Sherman Tree; it is the largest tree by volume in the world! It will take around 20 adult size people just to cover the circumference of that mammoth of a tree!

Ancient General Sherman Tree in Sequoia National Park
The journey to the national park was a challenging one. Full of twists and turns, the long and narrow road will challenge even the best minivan drivers. HAHAHA! There was also not so much gas stations along the park; on our trip, we only saw one and it was about 50 km away (speed at 45 km/hr). Driving with the family was also tough because I needed to be aware of their tolerances in getting dizzy because of the winding roads. I was happy that I did slow down my drive, because, if I hadn't done it, I would have missed the view I was about to see!
When we were heading home from the national park, we stopped by this majestic view alongside the road. It was around 4:42 pm in the afternoon. The trees lined up perfectly for the foreground and the mountains lined up at the back for a classic shadow background.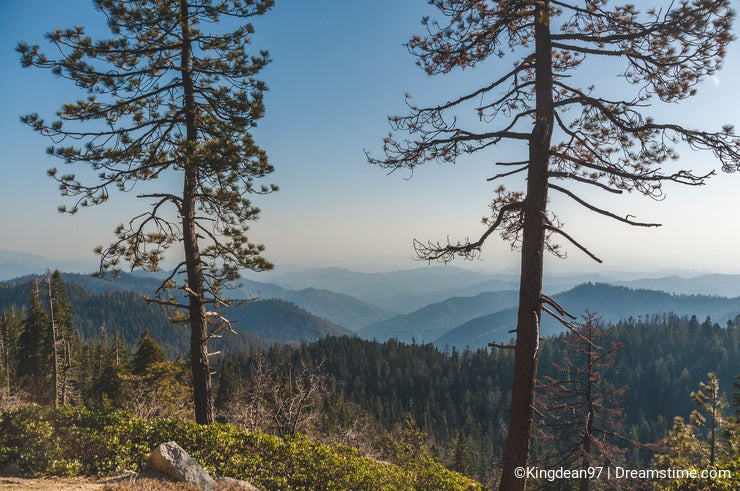 California Greatest Spots: Sequoia and King's Canyon (Generals Highway, Giant Sequoia National Monument, USA)
For this shot, there was not so much positioning involved. I parked the car, got out, and took the photo. It was literally just point and shoot using a DSLR camera. Sometimes, there are views that are just naturally beautiful.
How to Get There:
Map Link: https://goo.gl/maps/AEBeegu9xVzVCQmi8
By Car ONLY: Drive along the General's Highway towards the destination marker in the map, the view can be found along the side of the road; there will be a shoulder for parking at the side of the road (for 1 car). Depending on what hotel / lodge you stay in, it will take from 30 minutes to 1 hour.
--
Follow Me At:
Instagram: https://www.instagram.com/thetraveldean/
Photo credits: Dean Eldrick Tan, Miroslav Liska.