Recently I made a hike through the high mountains of Valais near Zermatt, a small town in the Swiss Alps.
It was breathtaking to watch all these 4000-meter-peaks with glittering glaciers and famous names, crossing the Gorner Glacier and ascending to the New Monte Rosa Hut

that is newly built and that was designed as self-sufficient mountain hut regarding energy supply and is a study object of many business concerns and of Eidgenössische Technische Hochschule ETH Zurich.
On the other hand it was sad to see the melting and declining glaciers as a sign of climate change. For example the shown ladders are necessary because the glaciers has gone away many, many meters, or the ice towers, that are high as a house, once were part of the Gorner Glacier, but now they melt down to nothing in the sun.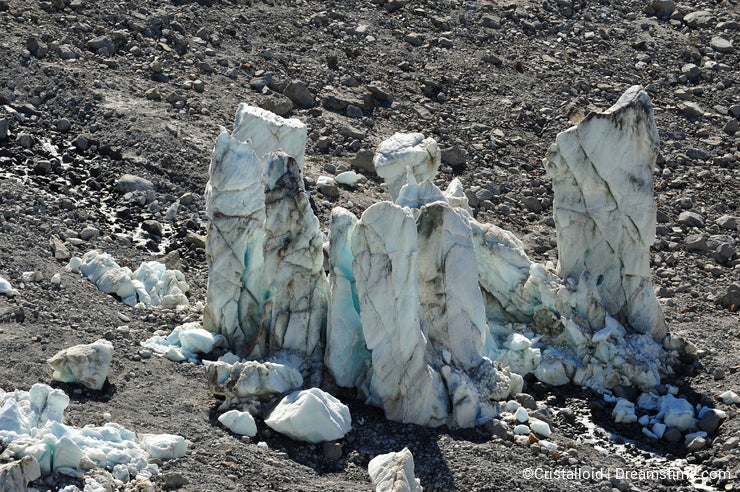 But nonetheless nature is magnificent and one feels like a small ant if he or she is in the middle of this arena.
If you want to experience and see all this life: Make a trip to Switzerland, go to Zermatt, take a ride on the famous Gornergrat railway, leave the train at station Rotenboden and walk through this impressive landscape. In 3 to 4 hours you will reach New Monte Rosa Hut, where you can have a hearty meal, drink a prickling beer, gaze at the mountaineers who come back from big mountain tours carrying heavy rucksacks, stay overnight if you wish to, and watch... watch... watch. But be aware: you will be in a high mountain area, so good weather is mandatory, adequate equipment (including crampons) is absolutely necessary, plenty of drinking water you should carry with you also.