About and around CEPIC, Dublin 2010
We're back from this year's CEPIC conference and after gathering the notes and observations made there, we've put together this article to give you a general idea of what went on in Dublin. This year, more than ever, microstock was under the spotlight. Many advocated it as the future, others argued the revenue and a few proved even skeptical about it. In the midst of all debates, the general feeling was that the power of the community, the variety of content and the broad price range are main reasons so as to why microstock is currently not only so successful but also taking over. High technology upgrades as well as extended access to these technologies and online social media have and will probably have their say in the growth of business models such as Dreamstime's. Taking into account the speed and time factors on which modern society functions nowadays, the market (especially the traditional market) is to be re-defined. Imagery must be thought of as able to reach and touch practically every walk of life. Which is what Dreamstime is currently doing. And, according to stock voices and CEPIC murmurs, we – contributors, buyers, members and staff – are doing it very well.
While some of the discussions were carried out in a gloomy tone due to the worldwide economical situation, Dreamstime's discourse came out as quite cheerful and optimistic. The New Media Conference included panels dedicated to microstock and we were invited to speak about our site and community at the panel titled "Making Millions with Microstock, one Euro at a time". Yuri Arcurs delivered the keynote speech for the whole conference and he is the best example of the successful and very talented microstock photographer who has made money, one euro at a time. Serban ( Achilles) presented some impressive numbers and talked about how and why an agency such as ours can not only survive crisis but thrive and generate income for contributors while keeping and attracting more buyers – above 80% of buyers use Dreamstime as primary source of imagery. Some of the keys to success are the balance and care for our members: Dreamstime still offers highest royalties in the industry among the top agencies ranging from 30%-50% and strives to maintain low competitive prices as well as flexible payment options. If you check the statistics we have included for you – the ones we also presented at CEPIC – you will be able to see the site's spectacular growth from 350,000 users in 2007 to 2,200,000 in 2010, from 1,300,000 images in 2007 to 8,700,000 in 2010, from 15,000 contributors in 2007 to 92,000 in 2010. To do the maths quickly, there is an increase of over 500% in three years only. While we might have been a bit accustomed to these numbers, it seems they had a huge impact on the CEPIC audience. What's next? The footage panel featuring Dittmar Frohmann, Tom Bennet, Simon Krzic ( Simonkr) and Pavel Losevsky ( Paha_l ) stirred huge interest as videos are as seen as the future of industry. There has also been talk of offering multiple image-related services on the same platform or orienting towards customers from the hyperactive social communities. Anyway, looks like microstock is here to stay.
Two of our contributors - Andres Rodriguez (
Andresr
) and Jonathan Ross (
Avava
) - spoke at the "Making millions with Microstock, one Euro at a time" panel and had a few words of wisdom that may be of high interest to mention and quote here.
Apart from being both dynamic and very funny speakers, they had some good pieces of advice for contributors mostly. Andres for instance mentioned at some point that photographers need to maximize sales and one of the way to do this is to turn to creativity and originality, for example of props. Jonathan had a wonderful speech and envisioned the future as some sort of merging of markets, RF macro and micro where buyers can find a price they can afford while the price allows photographers to invest in good image production nevertheless. The huge advantage of sites such as Dreamstime is that it brought what Jonathan called "a different feel" and provided images not for an individual but rather for an audience, for masses of potential buyers. Jonathan asked photographers to try and grasp the market, the needs, the requirements instead of just jumping in. He urged for an understanding of composition, of how things work and advocated for mentoring , schooling and taking the time to share, to teach, learn and most of all, know who you are shooting for.
His conclusion was that RF micro offers steady sales and people should be worried more about revenue per shooting rather than revenue per image. Another thing that may be interesting for contributors is something that came up during the panel moderated by
Ellen
: the need for authenticity and authentic feeling in images. While images must be good, keep an eye on the light to make sure it is not too much and the outcome does not look too styled.
All in all, the conference was the place to meet stock people, shake hands with some famous contributors, catch up with news and trends in the industry, meet face to face with partners, look for new ones. We recommend you check reviews and news about the New Media Conference (check out photos here).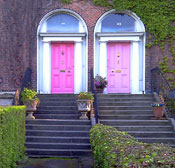 Dublin was wonderful, it's a pity we did not have enough time to see it around too much. We loved the houses – nothing to high, nothing too fancy – and the general homely feeling, the people and the food. Everyone said nice things about the beer which strangely enough, seemed to taste differently and better than what we all had at home. If you are around Dublin, you must try Marco Pierre White Steakhouse and Grill
(link for more details)
- delicious :). Well, I guess that's about it. Take care.