Bad Weather Photography: One Way to Salvage a Poor Day in A Good Location
I recently joined a tour group last May for a trip around Utah and Arizona. The first leg of the journey brought us to Lake Powell and the Lower Antelope Canyon to see the vast landscape of Arizona. 5 hours into the journey, we were greeted by torrential rain, I thought that my holiday was in shambles not being able to take a photo of the popular "National Geographic" and "Apple MAC OS Wallpaper" site -- understand that I live in the Philippines and just to travel here would require extreme financial sacrifice.
Lower Antelope Canyon Grounds
Fortunately, 30 minutes before arriving on the site, the rain had stopped but another issue popped up. Since the photos of National Geographic and MAC OS, were bright and warm, I thought that sunlight was needed to take excellent photos. The weather at that time was cloudy and only white light was passing through so that led me to think that achieving a great shot would be incredibly difficult
Here comes our Wise Indian guide wearing his traditional outfit to bring us inside the Lower Antelope Canyon, he described himself as an avid photographer of the area; his main gear was a Nikon D7500that he brings around when there are not so much tourists during the low season. A secret he told me and the tour group was that weather was only a SMALL factor in this area and that even Smartphone cameras could take excellent photos. We all asked in excitement -- HOW DO WE SHOOT THEN?!
He smiled and reacted: "White Balance, switch up to a hot 7,000 to 7,500 and you shall see how we take wonderful photos." I tried it out and was amazed with the result; this photo comes from my old Nikon D90; this camera can not take photos in lower light but it managed to do well when the white balance was adjusted. Other people in the group used Iphone 8's, One Plus 6T's, Google Pixel 3XL's, and Samsung Galaxy S8's and also noticed similar results.
The guide was not kidding, in all the places to learn photography, I got something out of a seemingly hopeless case turned opportunity.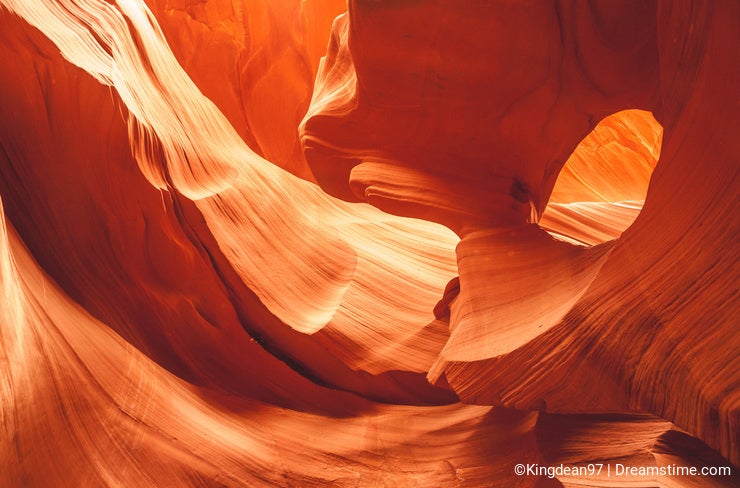 How to Get There:
Map Link: https://goo.gl/maps/HKqiLqTq2UApkccv9
By Car, use a GPS or Google Maps as a reference to the Map Link.
By Tour, Click on this for the tour I used in this journey.(5-Day Antelope, Grand Canyon West Rim, Zion, Bryce Canyon Overnight Tour from Los Angeles/Las Vegas)
Note:
The tour is the cheapest a non-American tour I could find with overnight lodging; do not expect it to be something high end -- think about it as a RyanAir / Air Asia / LCC carrier for tours. There are extra fees for food; national park fees; and for specific parts of the tour. The reason I recommend this is because of the amount of ground a foreigner could cover given limited time and their sick buy 2 get 1 package above their already CHEAP rates. You should also consider that the tour is semi-guided (not so much background/history given) and catered to Chinese people so English of the guide is not too good but passable -- bring your earphones and watch some Netflix instead.
For more advice on secret destinations and tricks, check out a secret spot for an Epic Golden Gate shot:
https://www.dreamstime.com/blog/kirby-cove-san-francisco-s-secret-view-golden-gate-bridge-52442
--
Follow Me At:
Instagram: https://www.instagram.com/thetraveldean/
Photo credits: Dean Eldrick Tan.