Beach photography - just how patient are you?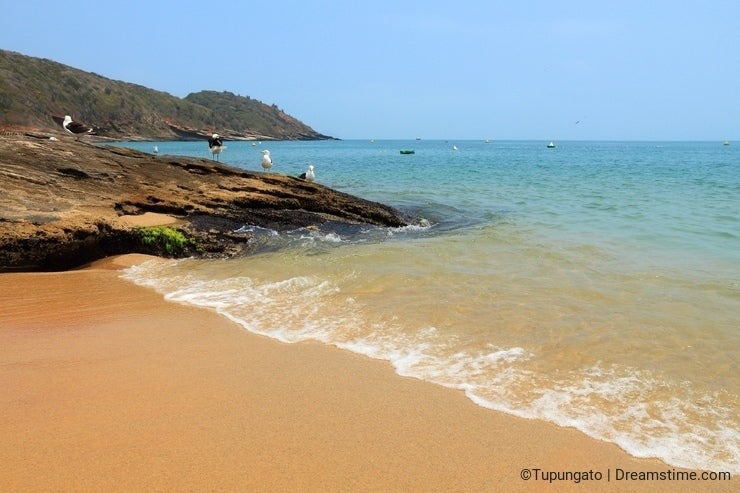 Inflight magazines, airline brochures, travel agency websites, wanderlust blogs - these are photographer's potential customers for travel imagery. Beach destinations are among most popular vacationing places, but do you have what it takes to create a perfect sandy beach photo? And what it takes is patience.
Of course, there is also demand for good editorial photos. News websites will make use of your pictures showing the crowds, the garbage, the bad weather. You will find these issues on any popular beach. And you can quench your reportage desire photographing these issues.

But real treasures in beach photography are images with universal message, showing what customer wants to see. Anyone think travel agency wants to see the crowds or clouds? Think again.
1. The crowds are usually the biggest near the parking lots and beach entrances. Have a five minute walk to find a spot with less vacationers.
Maya Bay in Thailand with lots of people.
The same beach on Ko Phi Phi island after a short walk.
2. Do you like waking up early on your vacation? No? Most people don't like it either. Visit the beach at 6-8am to enjoy a nice empty view.
3. If the beach is really crowded, but there aren't many people in water, you can always come quite close to the sea, cropping your image to include edge of sand and mostly water.
Crowded beach in Buzios, Brazil.
The same beach, the same day. Carefully selected composition with no people on the beach.
4. Be patient. Sometimes waiting in the same spot for 30 minutes will reward you with a random 15 second opportunity with almost no walkers in your field of view.
5. Blue sky and white clouds look fine on your photos, but make sure you are patient and wait for the moments when most of your surroundings are sunlit.
Unfortunately sometimes the crowds are so enormous there is no hope ;-)
Crowds on the beach of Maldives di Pescoluse, Italy.
Photo credits: Tupungato.