In my previous post I have mentioned an old house which we - me and my wife - have bought last year, hoping to renovate it into our dream home... Yes - plenty of work for already overloaded couple, but this kind of challenges are somehow extremely satisfying and even thou you lack sleep and your hands are aching from tools, you undertake next challenge just to feel like God, when you sip your well-deserved beer while looking at finished results of your own work...
And another of such projects is our garden - the option to be able to have our own BIO, organic, nontoxic, non-cheated, non-modified food growing on our yard is very attractive. And I desperately want tomatoes full of flavor as I remember them from my childhood - not those super-market, super-watery, super-empty, fast-grown tasteless tomato-shaped "things"...
So we started this spring. First we wanted to test what will survive in our "soil". Well, I believe, that to start a pottery business might have been a better idea, as this "material" is closer to clay than soil, but it would not be rewarding, if it was too easy, right? First we started with potatoes, as those don't need much attention after you put them in ground - kind of "Plug and Play" system. Later we added some tomatoes, beans, cucumbers... but the potatoes are my favorite, as they seem to be capable of surviving in our clay-soil and have a promising results... BUT - it would not be rewarding if it is so easy...
... the potato plants showed up fast and they were gaining strength day-by-day... until one day I have noticed a couple of plants laying on ground. After a quick inspection I have found a tunnel just below the surface, thick as finger and going right through the plants base... After a week we had more than 10% of plants down... Standing in the middle of our semi-devastated potato field we have noticed, that we are surrounded by dense network of tunnels - everywhere! And we realized: we are NOT ALONE here...
PART TWO (continuing after break)
It did not take us long to figure/google out who is making those tunnels - it is a bug - a mole cricket (Gryllotalpa). Next night I have spent browsing internet searching for solution... I skipped pesticides as I am not a fan of ideas like: "Soak the field in pesticides and enjoy your food". Instead I have found method of catching mole crickets... With use of few drops of detergent and water you can force them to leave their tunnels...
Next day I have managed to get 2 of them. After they escaped from flooded "toxic" tunnels they were fighting for their lives and after a minute it seemed like they have lost the battle... As I do not believe they deserve death sentence just because they are trying to live in our garden, I had rinsed them both with fresh water and dried them out with paper towel and in few minutes they were moving again. My plan was to release them in the woods, where they can live happily ever after without harming anybody's gardening efforts. But first they will have to work off the damage made on our potatoes... - both of them silently agreed to work as models in photo shooting without any salary...
SHOOTING EQUIPMENT AND SETUP
And it was time for shooting... Since my last post " Over 3 years to get 50 images online" I am carrying basic minimum equipment with me - it consist of my good-old Canon 40D body, EF 24-70 f2.8 L pro grade lens, 72mm CPL filter for nature photography, set of cheap china-made macro extension tubes with apperture and AF support for macros, and quad-sync flash LP-160 with Cactus radio triggers for studio/portrait shots. I do not carry stands, tripods, diffusers and other stuff in minimal kit, as I usually can use anything on hand to do the job...
So my "studio setup" this time was set on the floor in our kitchen and consisted of:
- 6 pcs hard wood briquettes (yes - the stove fuel) - 3 on each side for supporting the diffuser above the model,
- 1 pc of ceiling lamp glass - borrowed from bathroom - white milky glass great for diffuser. (this was bridged over the scene, supported by briquettes on sides...),
- 1 chair over the whole setup to position flash equipped with radio trigger just above the diffuser. The flash was just laying on the seat of chair with head hanging over the edge pointing downwards into the lamp glass...,
- 1 plastic cover from small plastic "greenhouse for growing plants from seeds... " 20x30cm turned upside down to serve as arena for model, to stop him from running away
- 1 white top from pizza box - cut to smaller pieces to serve as white background and fill cards,
- 1 pc of can used as stage riser to position stage(piece of pizza box) higher above ground, so I would not be limited to shooting model only from above, but allows me to shoot from lower angles...
- scrap piece of aluminum foil salvaged from pizza box - torn into pieces to serve as "stronger" fillcards providing frontal lower fill light...
- and the camera: 40D with radio triger, 24-70L lens on macro extension rings - various lengths. Camera handheld with elbows supported against floor for shake-reduction...
Settings - a standard ones - sync time 1/200, higher aperture for better depth of field (somewhere between 11-16), lowest possible ISO (100) for eliminating noise and RAW+Jpeg mode... Proper exposure was reached by adjusting flash power...
And than the shooting - was big fun. This little creatures behave like they do read your mind - when I needed the model to freeze - he did. When I wanted to re-position him, I have touched him slightly and he did what I wanted... After 30 minutes I found myself having fun by talking to the little dude and supervising him like a real model - "now give me a sad face... antennas up... look to the camera... now freeze... excellent! " Frankly I was expecting them to try to escape, but (probably blinded by the flash) they were cooperating...
And here is the Dude No.1 - posing in photo Bug with blank sign...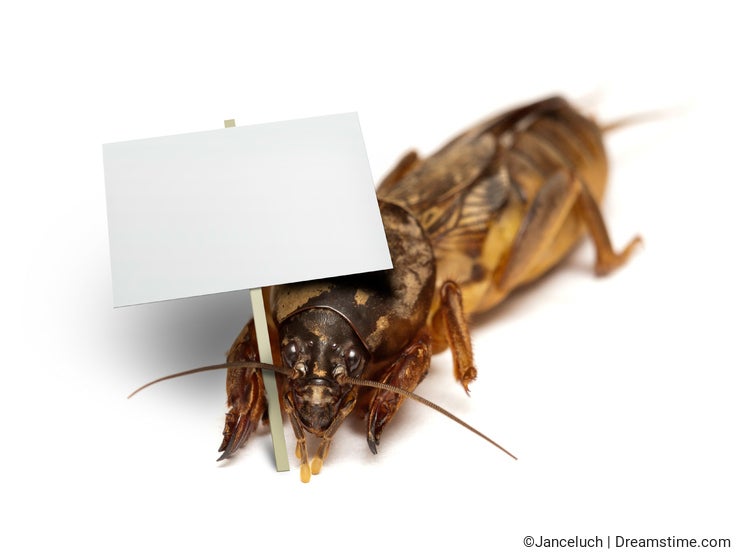 The shooting was a big relax for me and I started to look at those little creatures differently - With help of macro set you get close enough to look them into eyes - face-to-face, and you see that these bugs are not enemies - they are just trying to live their lives - as we do, but in their way...
Just after shooting I have carried both little pals into wood far enough from human properties... Since than I am monitoring our field for fresh tunnels and transporting newcomers from time to time to the woods... It seems like we have very little damage to potatoes since I watch the field... All newly planted crops I am planting with roots packed in a pocket made of facade fiber glass netting, which keeps the roots safe from mole crickets... - this compromise seems to allow both species - Homo sapiens sapiens and Gryllotalpa gryllotalpa coexist in a peaceful way...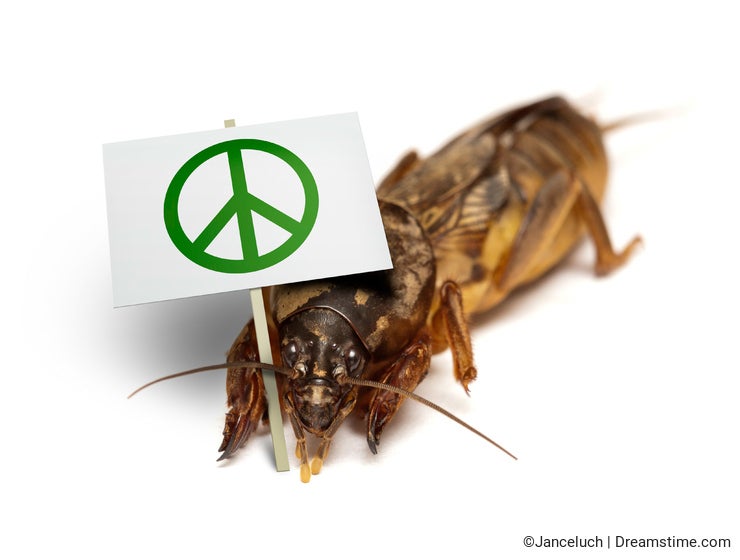 And there is one important thing I have learned through this experience - Whenever there is some "bug" causing you damage, as microstock contributor you can shoot it and make it work off/ repay the damage... And it can be anything...