Cap Blanc Nez: A Hidden Gem Found Near Calais Right at The Northernmost Tip of France
Unique Journey
There was one time where I got so cheap that I did not want to take the train to visit Calais -- the closest point of France to the United Kingdom (Dover). I researched and found out that hitch hiking was a normal affair during the summer season in France -- they even have a website called hitchwiki ( https://hitchwiki.org/en/Main_Page) to get yourself sorted out easily; google told me that I just needed a cardboard and a pen to write up the direction where I was headed then I would be fine. I gave it a go, followed the internet, and went the westernmost part of the City near a roundabout towards the A25 - Dunkerque highway.
My first 2 hours waiting was MISERABLE… I did not find anyone hitch hike with. The cold weather has brought my body into a jolting shiver and that is when I decided to take a break at a shopping mall nearby. The next round of waiting was eventful! I got my FIRST hitch in just 15 minutes! WAHOOO I was so excited that I hopped in… FIRST RIDE EVER!! It was a father and son combo who did not know to speak english so we communicated using maps and paper. The only catch, the son told me, was that I will have to get dropped in a small town (1/2) way from my destination. The ride was quiet but I liked the French rap music they were playing and the smiles we exchanged.
BUT THAT WAS NOT THE HARD PART YET, after being dropped in small town, I waited for 30 minutes and still could not find a ride. I decided to walk on the highway and raise my "thumbs up" sign because I had to reach my destination… even if it entails walking the whole way. Luckily there was this small car that passed by me and suddenly stopped; it slowly reversed and the driver offered to give me a ride! I was so relieved… The reason he wanted to pick me up was because the driver was a migrant from Tunisia. A lot of people has helped him on his journey to France and he would just want to return the favor -- MY HEART SANK.
We bid farewell (3/4) way from my destination and I continued to walk in the highway up until I found a petrol station. I was pleasantly surprised when just after 5 minutes of raising my "thumbs up" sign, someone already picked me up!! It was a woman who wanted to visit her friend (refugee in an ongoing crisis during the year 2016) in Calais; she was traveled around 4 hours from Brussels just to see this friend -- a kind soul indeed. We arrived at Calais at around 5 pm; knowing that I had to get home before evening, I had no choice but to walk 4km towards the nearest train station. Luckily, there was still a ride going back… The reason behind my loooooong travel to Calais was to see Cap Blanc Nez, the area where one can see Dover, a fantastic cliff formation in the UK. It was hinted by a British couple my friends and I met in Malta while staying in a 5 star hotel.
2nd Time Around
After my initial failure of going to Cap Blanc Nez, I was determined to see it even more. I woke up early and took a train so that I can spend a day there.
I left my school residence in Lille and took a train to the city of Calais. I costed me around 19 euros at the time. Then from the town of Calais there is a bus that comes into town and brings tourist to the beautiful Cap Blanc Nez.
After visiting Cap Blanc Nez, I chose to hike around the edge of the cliff towards the town of Sangatte (4 km)where I took the bus going back to the Calais Train Station. I used this route: https://goo.gl/maps/RNhmYXQaPaCLG4d66
On the beach in Sangatte, I walked westward a little bit and found this beauty below. It was a beautiful experience to see the United Kingdom close up without having to go there. I hope you guys follow in my journey and share your experience with me.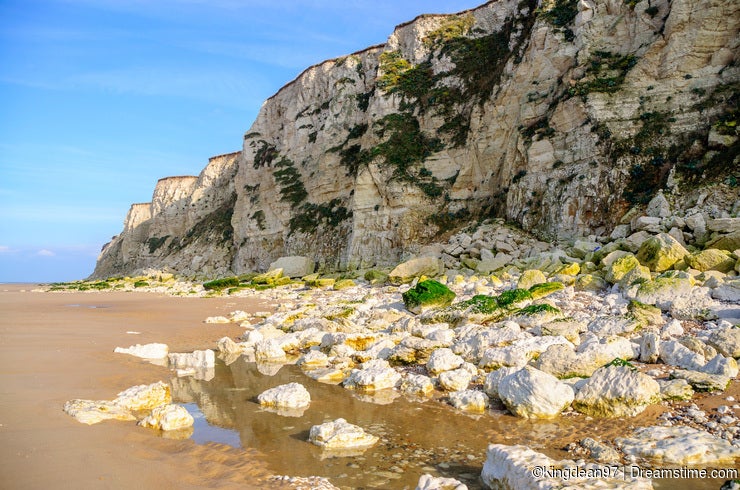 How To Get There?
https://goo.gl/maps/wXsf7zB2q6CEEHxq7
By Car, it would be easy just to follow the website link I have attached above.
By Bus, it would best to follow the schedule posted below. On weekdays, service starts at 6:00 AM and ends at around 7:00 PM. On the weekends, service starts at around 10:00 AM and ends at around 7:00 PM. (Lesser Rides on Weekends)
http://www.sitac-calais-opale-bus.fr/index.php/nos-offres-de-transport/div-in
Hike Map:
https://goo.gl/maps/RNhmYXQaPaCLG4d66
Photo credits: Dean Eldrick Tan.