Conceptual Art: Designing Your Way To Success!
It has to be said that conceptual art in photography is one of the most successful types of files that sell in stock photography, and so it goes without saying that designing concepts for stock puts you on the road to future successful sales!
The reason conceptual photography is so successful is because it can be designed or contrived to convey a certain message that the viewer will instantly comprehend. What you design conceptually cannot be ordinarily found anywhere in the natural world....because it has been artificially constructed for a purpose.
Although the individual elements that make up your conceptual art can be physical tangible objects from the world around us, it is only when you bring those elements together in your design do you then begin to tell a story or create a powerful message that you want a certain targeted audience to sit up and take notice of.
Imagine for a moment that you have been approached by a publisher and they ask you to design a concept that conveys the idea that your pet needs a holiday just as much as you do, or a concept for looking online for pet friendly accommodation or a pet training/obedience school, how would you go about it?
There are many ways of designing concepts with the above themes, so photographing a few individual items that I already had around the home I then merged them together with an ocean wave photo and came up with the following design:

To take a photograph of a dog enjoying a holiday trained to use a surfboard would ordinarily be a rare thing to capture in real life...but the concept can be easily put together using a few basic tools in photoshop to make quite an impact and get the message across!
Again, how would you design a concept that portrayed the pitfalls and dangers of home ownership, or renting from a landlord or beware of strangers in your community? The photo below is a recent design with the forementioned conceptual ideas in mind:
The following photo was designed with the thought of certain mental health issues in mind that people experience today such as breaking free from depression, anxiety and phobias, road to freedom etc: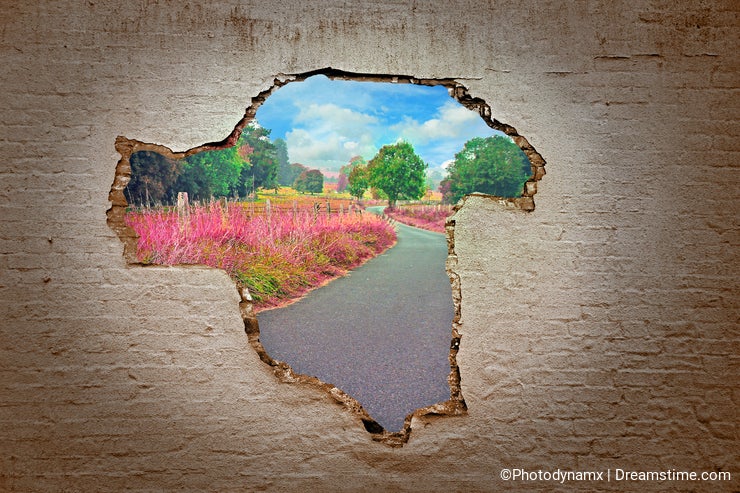 So getting familiar with photoshop skills can help you raise the bar when it comes to designing simple yet successful concepts for stock. Honing your skills using digital editing software can really open up new horizons that will take your stock photography sales to a completely new level!
Whilst designers and publishers do search for files of everyday scenes and items around us be it of architecture, landscapes or technology, conceptual photography that has been designed to get a particular message across is much sought after due to their uniqueness and effectiveness in marketing.
Although the thought of being approached by a publisher to design conceptual art for them might be far-fetched and unrealistic, when you design conceptual art you are in effect approaching them with your work and putting yourself in a much positive position to get noticed and hopefully increase your sales!
Many of my sales have come from conceptual art, in fact out of the 20 files that have sold in the past week alone 15 of them have all been photos designed with a conceptual theme in mind, so I constantly strive to keep on producing these types of files in the hope that publishers will keep coming back to my portfolio time and time again!
Photo credits: Photodynamx.