Tomorrow I am going to my first ever proper photography event. The local birds of prey centre has photography days every now and then, and I am going to one.
The reason I am going is because my camera-related behaviour has led my family to view me as a cause for concern. It's the school summer holidays in England at present, which means that it has been raining quite a bit. This, alongside my attempts to keep my son from permanently attaching himself to things with screens, has rather limited my ability to take half an hour here and there to wander on Southampton Common and stalk the wildlife. So, a couple of weeks ago, I decided that instead of watching the rain clouds filling in a morose way or bemoaning the fact that no-one wants to go with me to hunt through nettles so that we can take photos of elusive insects, I would try taking photos that were slightly different from my usual preferences. To this end, I collected up a few bits of jewellery, and took out my trusty macro lens to see if I could have some fun. To a complete novice like me, this seemed like it should be a pretty straightforward thing to do, as jewellery remains still, unlike dragonflies and butterflies. However, the light was trickier than I expected, and it became apparent that the people who built our house had not specifically designed it with my rainy day photography whims in mind. Later, when I reviewed the photos, I noticed that most of the jewellery I had selected was either scratched in a not very appealing way, or that the velvet the items sat on in their boxes was dusty. In one case, because of a spectacular error of focusing, my photo showed off a botched repair that I had made on a necklace chain to great advantage. A macro lens, I discovered, is unforgiving. I had about a 95% failure rate. My great aunt's engagement ring and one of my grandmother's rings did best, but suddenly falling into ponds in pursuit of damselflies seemed like the easy option.

Not to be defeated, a couple of days later I decided that I should try to take photos of things that we had lying around the house. The first thing I found was a collection of wet and muddy boots. I looked around for something to cheer up a pair of muddy hiking boots and noticed the small teddy bear looking forlornly at me. I told him this was his big chance to be my model, and asked him to try the boots on. He did. My son found me and enquired, in a tolerant but bemused way, as to what I was doing. Upon hearing my explanation, quickly returned to his computer. Probably more because I was talking to a small stuffed animal than because I was photographing it wearing my hiking boots.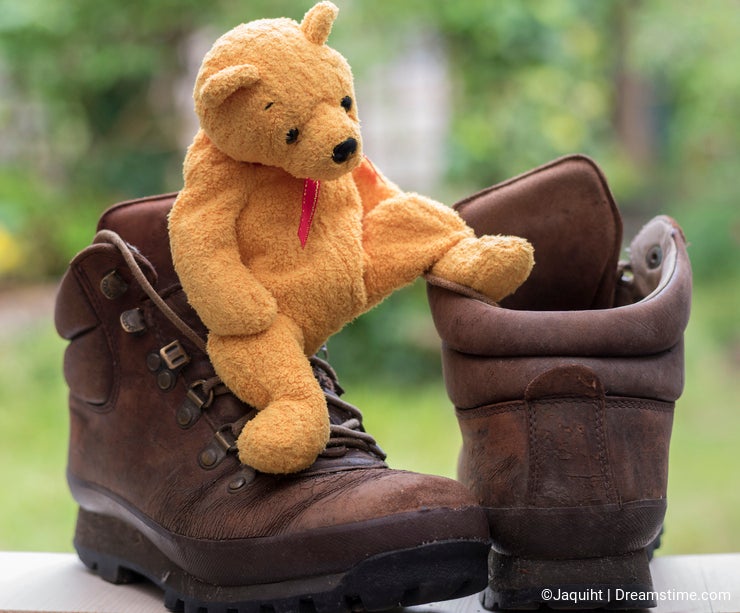 Undeterred by my son's discomfort at my behaviour, I had the little bear do a few more poses. My husband caught me with a tripod set up at my desk, taking photos of a small teddy bear who was balanced on top of my laptop and accompanied by our loose change backpack. He seemed to think this a little odd. Later that day he and my son suggested that I go on one of the birds of prey photography days that I have been wanting to go on for ages. They even picked out a convenient date and made sure I booked it, such was their fear that cabin fever and Common withdrawal were making my behaviour more than usually unbalanced.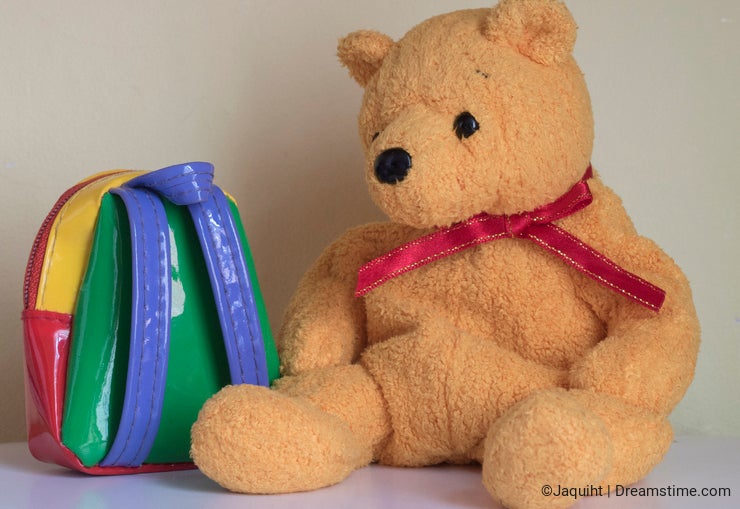 So, because of my family's kind concern for my emotional well-being, I am off to do some fabulous grown-up photography tomorrow. Meantime, though, I am quite taken with my new interest in collecting random things and playing with them on my desk in the name of photography. I have begun to collect a stash of items that I can arrange and photograph: little things from forgotten depths of cupboards or charity shops that it would be fun to fiddle around with. I have even had the passing thought that I might try to learn how to use lighting or flash, or even both, one day. I also secretly hope that my family will catch me from time to time, become concerned about me again, and insist that I go to special photography days.