Dinosaur Island, Clark Freeport Zone, Philippines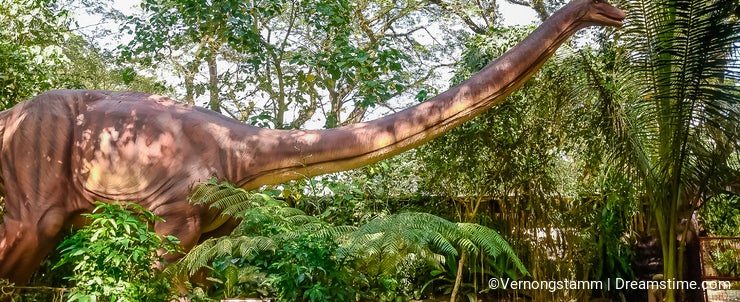 In the Clark Freeport Zone lies a small, but very intriguing tourist park named Dinosaur Island. It really isn't an island, but an attraction that the locals call Jurassic Park. When you arrive at the park, to the right are are several small shops ranging from food and drink to souvenirs and trinkets to a dinosaur museum, and the main attraction, Dinosaur Island and to the left is the ticket booth, zip lines, a small playground area, rentable tikki style tables and the second attraction, Insectlandia. For a ticket price of PHP560 (about $11.20 USD), gets you into to both attractions.
After purchasing your tickets, and taking a few photos outside around the souvenir and food shops, it's time to enter Dinosaur Island. You're greeted, by a tour guide who takes you around inside, explaining a little about each dinosaur they have inside, all of which have electronic sensors and are electric powered to growl and move to make the tour way more realistic. Most of them are of life size or near. About halfway through, you will come upon the dreaded T-Rex, king of all the dinosaurs. Can you brave feeding it? Then, as you are about ready to leave the enclosure of the dinosaurs, you will get a chance to meet a dancing T-Rex, up close and personal as it dances to music and snaps its teeth at you or tries to take a large bite out of your leg if you give it the chance. When the show is finished, exit the enclosure and enjoy shopping for souvenirs, taking in the museum with some really cool fossilized remains, or taking a break with food and drink.
After a bit of relaxation, it's time to take in the sites of Inseclandia. Inside this attraction, you will find different types of insects in which are also powered by electricity, making some give off the sound they would make in wild, move, or do both. Inside this enclosure, is an insect museum, which houses live insects with a short description of each one. The types of insects in Insectlandia range from the lowly beetle, to a monstrous tarantula, including models of centipedes and lady bugs. There is even a small butterfly enclosure to photograph or video, if you lucky enough to catch them still long enough. When you reach the end of the tour, enjoy the Disney style show which shows dancing insects called "A Bugs Life Show". This is one for the kids to enjoy as well as grown-ups. Once the show is over, and you are back outside, the kids and well as adults can enjoy resting or sliding a short zip line, or for the kiddos, playing in the playground area.
Photo credits: Vernon G Stamm.