[Manta ray (Manta alfredi) with attendant cleaner fish : OMD E-M1ii and M.Zuiko 8mm Fisheye; Nauticam NA-EM1ii and Zen DP-170 @ ISO64, f4, 1/250s]

Mention the Komodo National Park to most people, and they will probably think of Komodo dragons (Varanus komodoensis). Mention it to a diver and they'll most likely think of strong currents, stunning reefs, abundant big fish and turtles, and then maybe the dragons. Fair-play to the dragons, at up to 3 meters long and over 150 kilos in weight, they are uniquely fearsome beasts and the reason why the park was originally established in 1980. Now a UNESCO World Heritage Site and a Man and Biosphere Reserve, the remit of the park has expanded considerably to cover the conservation of both terrestrial and marine biodiversity of an area totalling some 1,733 square kilometres, most of which is ocean. Vastly more biologically diverse than Komodo National Park's arid and relatively young volcanic islands, this spectacular marine environment and the growing dive industry it supports are key to the park's sustainability.
[Komodo Resort Diving Club: OMD E-M1ii and M.Zuiko 8mm Fisheye @ ISO200, f3.5, 1/1000s]

Komodo National Park can be dived by liveaboard or from shore-based resorts, most of which are located outside the park on the island of Flores. We chose to stay at Komodo Resort on the island of Sebayur, right in the middle of the national park. This allowed us to easily reach famous dive sites in both the far south, like Cannibal Rock where we spent a memorable lunch break moored just off a beautiful beach full of Komodo dragons, as well as signature northern sites like Castle Rock and Crystal Rock.
[Komodo Dragons (Varanus komodoensis) at the beach: OMD E-M1ii and M.Zuiko 8mm Fisheye; Nauticam NA-EM1ii and Zen DP-170 @ ISO64, f4, 1/650s]

While the strong currents associated with the Indonesian throughflow support an incredible diversity and abundance of species on Komodo's reefs, they can also make for challenging, sometimes dangerous, diving. We encounter significant current on nearly every dive, with most, but not all, dives conducted as drift dives. This means that an experienced boat crew and dive guides with comprehensive local knowledge are critical for safety, as well as enjoyment. It also makes for challenging underwater photography conditions. It's not easy trying to compose shots and reposition strobes while swimming against any degree of current, let alone those typical of dive sites in Komodo National Park.
[Giant frogfish (Antennarius commerson): OMD E-M1ii and M.Zuiko 8mm Fisheye; Nauticam NA-EM1ii and Zen DP-170 @ ISO64, f4, 1/250s, twin strobes on manual]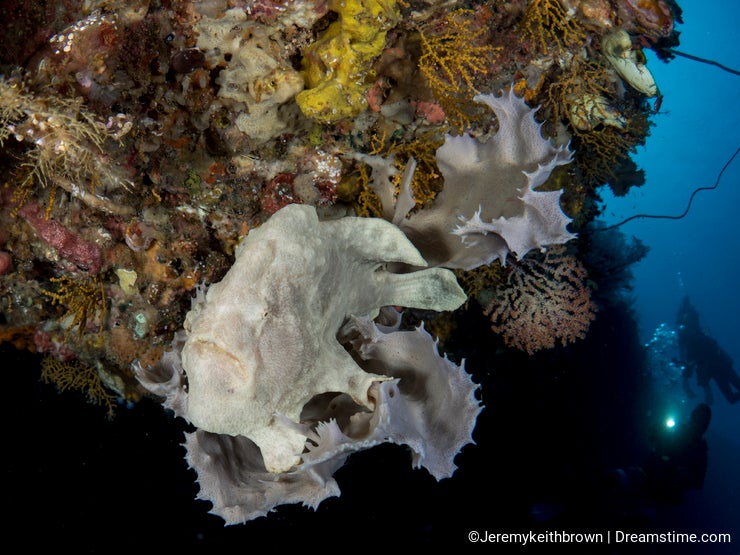 I used my wide-angle set-up for nearly every dive; Olympus OMD E-M1ii and M.Zuiko 8mm Fisheye 1:1.8 PRO in a Nauticam NA-EM1ii housing with a Zen DP-170 glass dome port, with or without twin INON Z-240 strobes with 4600K diffusers. This let me "go with the flow" and concentrate on larger subjects rather than struggling against current to shoot macro subjects, but did not stop me from taking advantage of wide-angle macro opportunities as and when they arose, like the giant frogfish above.
[Hawksbill sea turtle (Eretmochelys imbricata): OMD E-M1ii and M.Zuiko 8mm Fisheye; Nauticam NA-EM1ii and Zen DP-170 @ ISO64, f4, 1/60s, twin strobes on manual]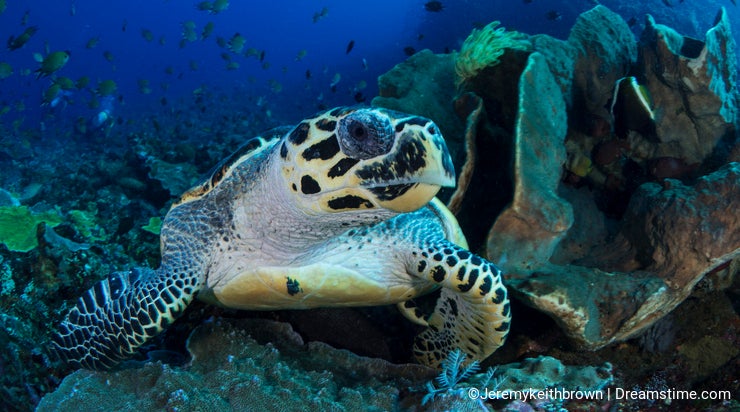 Not all dives were characterised by ripping currents, and one very notable exception was Batu Bolong. From the surface it looks terrifying with the prevailing current splitting around Batu Bolong rock and generating two whirlpool like areas of swirling downcurrents with a narrow area of calm water in the middle. I did not take my camera on our first dive here for fear that the conditions would be challenging enough without worrying about the camera. Although prudent, this turned out to be an unnecessary precaution, as when dived in the company of an experienced guide it is actually very easy dive with little current on the reef itself. However, you must stay behind the guide as you zig-zag across the reef and rely on their experience to avoid entering potentially deadly downcurrents on each side of the reef or being sucked off the reef into blue water. Similarly, closely following protocol when being picked up by the dive boat is critical as the boats are often turned uncontrollably in the surface currents increasing the risk of hitting dives in the water.
[Giant moray (Gymnothorax javanicus): OMD E-M1ii and M.Zuiko 8mm Fisheye; Nauticam NA-EM1ii and Zen DP-170 @ ISO64, f4, 1/160s, twin strobes on manual]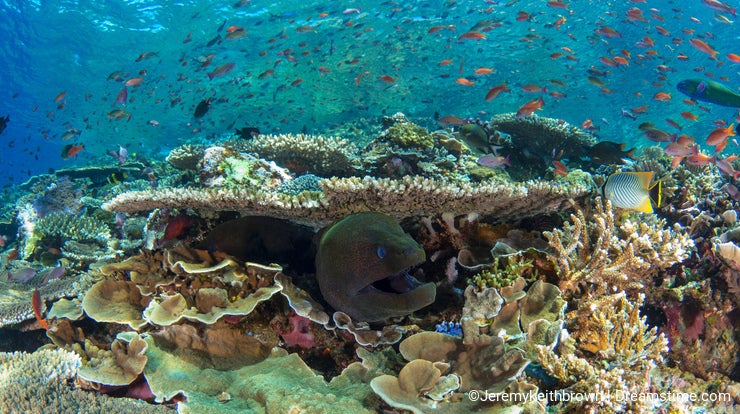 The good news is that all this mayhem results in abundant coral growth and huge numbers reef fish, which in turn attracts turtles and pelagic predators, all of which can be comfortably viewed from the calm part of the reef. The shallower parts of Batu Bolong feel like an over stocked aquarium, with abundant populations of reef fish and invertebrates supporting resident predators like groupers and giant moray eels. We dived it repeatedly and, all in all, it is easily one of my favourite dive sites.
[Manta ray (Manta alfredi): OMD E-M1ii and M.Zuiko 8mm Fisheye; Nauticam NA-EM1ii and Zen DP-170 @ ISO200, f8, 1/125s]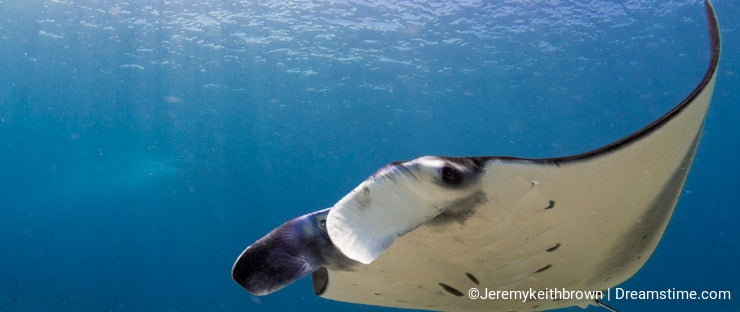 Komodo National Park biggest draw for many divers, myself included, is probably the abundance of manta rays in the region. We were lucky enough to have several encounters these beautiful and inquisitive animals, with up to 10 individuals on some dives. Overall, I can highly recommend Komodo National Park for diving for photos, especially wide-angle, and Komodo Resort on Sebayur is a great way to do it.
[Sun setting over Komodo National Park: OMD E-M1ii and M.Zuiko 8mm Fisheye @ ISO200, f10, 1/100s]