The tradition of celebrating Easter dates back to a time long before the advent of Christianity. In times long past, the Slavs (and also the Germans) celebrated the arrival of spring. Many of the originally pagan customs then passed into the Christian celebration of Easter as we know it today. Finally, the name Easter itself has probably its origin in the name "Eostre", the pagan goddess of fertility. It is probably impossible to list all the customs, yeah and peculiarities of Easter. Each country is a little different and even each region within a country has its own specifics.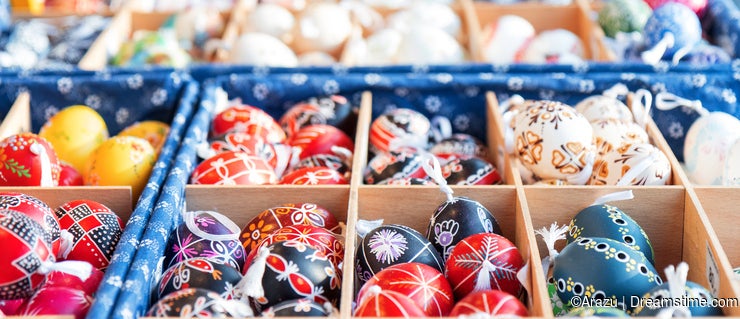 Traditional coloured eggs, Easter street market, macro lens 50mm/2,8
In the Czech lands, the week before Easter is known as 'Holy Week'. Palm Sunday or Flower's Day – the Sunday before Easter Sunday. People began decorating churches with flowers and also lit pussy willow, a traditional Easter decoration. Blue Monday – This can have two meanings. According to some people, it characterises the blue colour of the fabrics used to decorate churches. According to others "blue", in German "blau", also has the meaning of a day when nothing should be done. Grey or Yellow Tuesday – originally based on the changeable weather that is typical for this time of the year. But grey also alludes to the fact that on this day all the cobwebs were to be swept out of the house. Ugly Wednesday – the day when Judas betrayed Jesus. However, tradition dictates that people should smile to avoid being in a bad mood for the rest of the year. Also, it used to be customary to sweep the chimney and perform a cleansing to drive evil spirits out of the house.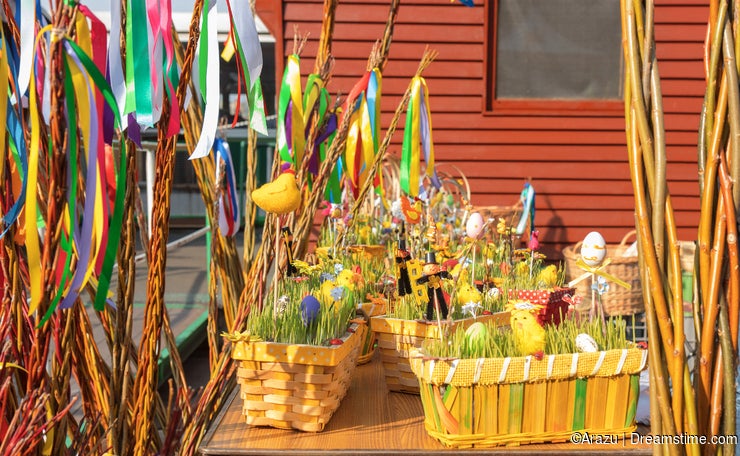 Easter whips "pomlázka" and other symbols at street market, zoom lens 17-55mm/2,8
Green Thursday – according to the old traditions, this was the time to eat something green. Traditionally it is stuffing with nettles, cabbage or spinach. A novel custom is that beer with a green colour appears. Good Friday – In olden times it was forbidden to move the soil – for instance, ploughing, or to do the washing, soaking clothes, and cleaning. You should not borrow, sell, give or receive anything. White Saturday - the end of Lent. In the morning, the dirt was swept off the building with a new broom to keep it clean all year. On the White Saturday, mazanec and lamb are baked, Easter eggs are decorated and the "pomlázka" is knitted. Easter Sunday - in the past this used to be an opportunity to take new clothes. The Easter meal was lit and then shared with the visitors.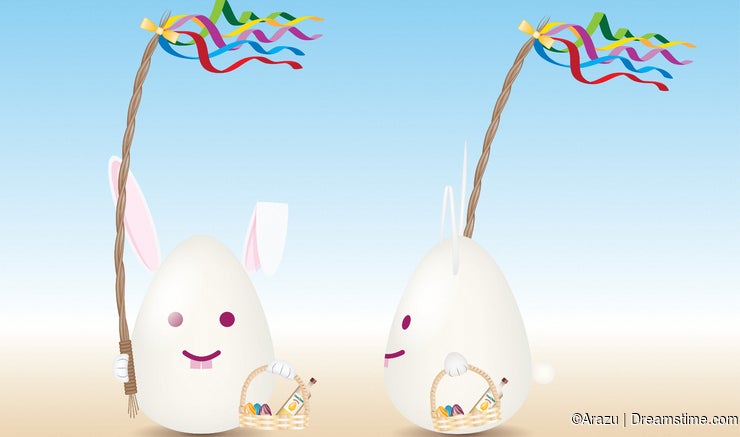 Easter bunny styled in the shape of an egg with a traditional whip "pomlázka" and a basket of carols - coloured eggs with a bottle of eggnog. Vector drawing of Easter symbols
Easter Monday – also called Red Monday is the day of Easter Whip. The Easter holidays in the Czech Republic are inseparably linked with "pomlázka" and caroling. Boys as well as men, from early morning visit friends and neighbors and gently whip women with a special handmade whip called "pomlázka". Tradition says that women should be spanked with a whip in order to keep their health, beauty and fertility throughout the following year. Although whipping can be painful, it is not intended to cause harm or pain. Rather, "pomlázka" is a symbol of men's concern for women. After whipping women give men the eggs.
In the Czech Republic, Easter celebrations are traditionally associated with feasting.
For example, on Ugly Wednesday, an ugly meal was served, typically potato pancakes, but it was served torn to pieces to make the food look "ugly". Nowadays, there is typically "mazanec" at holiday table. It is the big bun baked from a slightly sweet, yeast dough, stuffed with raisins and sprinkled with almonds.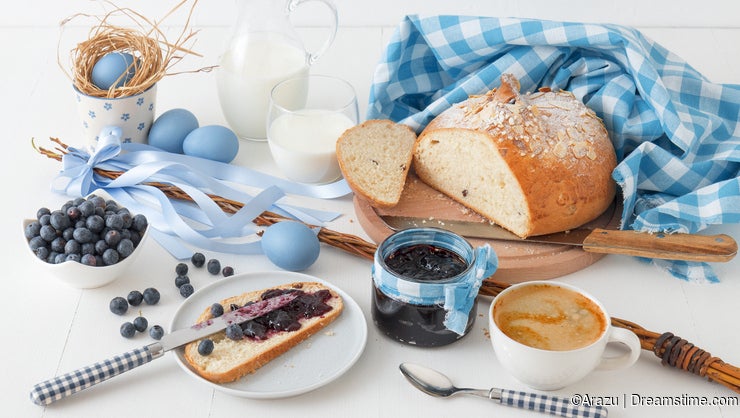 Easter breakfast table with Easter symbols styled in blue. Zoom lens, 17-55mm/2,8
A lamb or a bunny, another sweet treat, is also baked. Judas, the pastry smeared with honey, whose shapes are meant to resemble the rope on which Judas hanged himself after betraying Jesus. But in the end, even this food is based on pagan traditions, originally a ceremonial pastry that symbolized abundance and fertility. Easter stuffing, baked pieces of white bread with pieces of meat and "something green" such as nettles or spinach. It used to be served as a drink typically milk with honey, in the past. Today, it is eggnog, which has become very popular at Easter in society. The festive table is also decorated with pussy willow and other flowers.