Don't Let Pixel Envy Drag You Down
One of my favourite photos: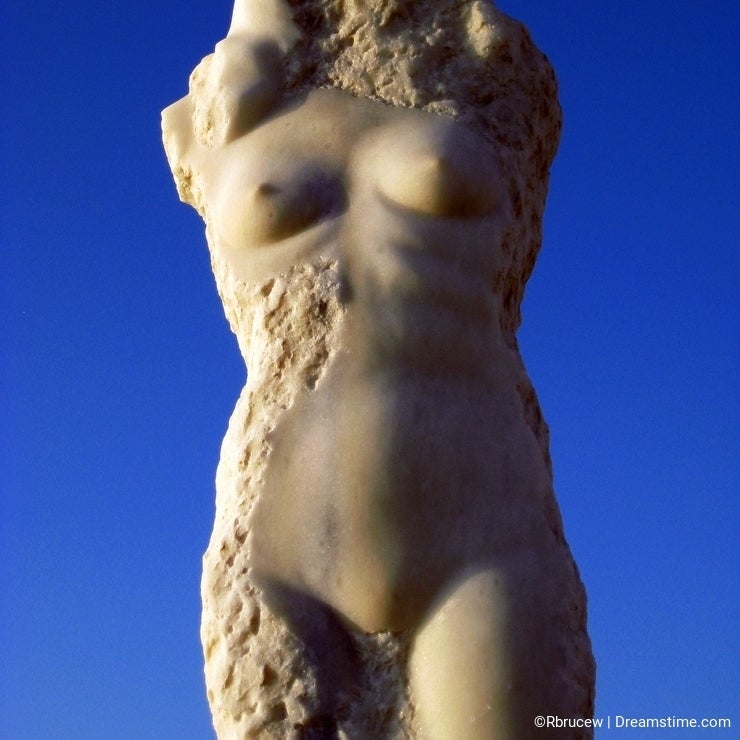 It's an unfinished marble statue of a nude female torso, standing outdoors near the waterfront in Naxos, a Cycladic Greek Island.
It's particularly pleasing to me for many reasons, and not because it just sold for the 4th time.
It's an astonishing work of art in this unfinished state. Maybe the sculptor had a fight with his model, went home for a souvlaki and coffee, and never came back. Whatever, I'm glad he didn't.
It also reminds me of holidaying on Naxos, one of my favourite Greek Islands. Naxos is a green island, with an interior worth visiting, very nice and clean beaches like this one:

and a very nice castle in the historic old town or quarter.
More importantly, the statue photo illustrates two important things for Dreamstime contributors.
Firstly, there's no rule that says all your photos should be taken at eye level, which is quite high in my case. I sat down on the pavement for this shot to isolate, and therefore highlight, the statue against the clear deep blue sky. Taken at eye level the shot would have included uninspiring surrounding buildings. It also allowed me to fit the torso of a very elongated statue to neatly fill the camera's format. If, anything, the rule is NOT to take all your photos at eye level.
Secondly, the shot was taken with the camera I had with me at the time. A Canon, but not a 5D, or even an apsc format SLR. It was the smallest Canon available at the time; an 8mp Ixus zoom compact. While it might be nice to have the latest full frame SLR or mirrorless camera, you don't need it to take good photos. I was introduced to Dreamstime by a short review of the app in a UK computer magazine which basically said take photo on phone, upload using this app, and make money when it sells.
So, don't let megapixel or sensor size envy hold you back. Just concentrate on taking good photos.
Until next time, happy shooting.
Bruce
Photo credits: Bruce Whittingham.