Dreamstime turns 20, you get a $15 anniversary referral bonus!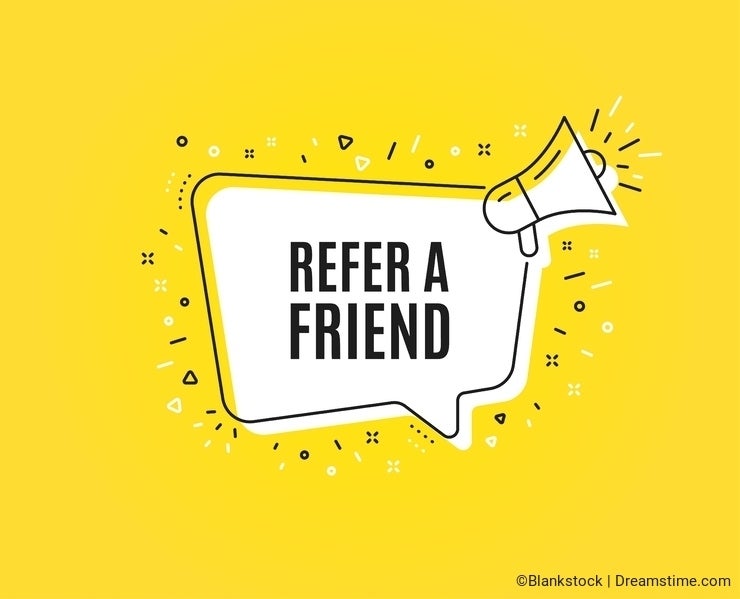 It is much thanks to our community that we are now 31 million users and we are grateful for the community's efforts in spreading the word about Dreamstime. As we turn 20, we're giving you an extra reason to refer us to other people: a special anniversary referral bonus.
For every friend who buys from us until September 30, we'll give you $15 on their first transaction!
For transactions smaller than $149.99, this means that you get an enhanced referral bonus instead of 10%. Here's a simple calculation: if your referred member buys a $17.99 credit package, you normally get 10%, i.e. $1.79. With the special anniversary referral bonus, you will get $15, not $1.79. If the transaction value is higher than 149.99, even better, you get the $15 bonus and 10% of the transaction value - $15 + 10%!
Good to know:
*This is a one-time bonus, and the regular referral program applies to all other future transactions.
*A $10 minimum value is required for the first transaction in order for you to get this bonus. No worries, most transactions do exceed this value.
* Payout is subject to payment terms, $100 minimum required.
How do I get the anniversary referral bonus?
It's even simpler this time. No need for referral links or unique referral numbers. Your username is the promo code! Just tell your friends to use your username in the promo code field when they sign up and you're good to go. We've also made it easier to copy, see the anniversary tab in the referral section, copy to clipboard option.
Referees who register using your username in the registration form are automatically registered as your referred members and you will get the $15 bonus on their first transaction made until September 30th. The bonus is awarded once but the 10% will be awarded for all future transactions, for the next 3 years. The more members you refer, the more chances to earn $15 for each one of their first transactions.
A little something celebratory for everyone
We do have the most flexible and affordable prices. On this special occasion, we've made our plans and packages even more attractive, so you can offer your potential referees a little extra incentive. There is a little something for everyone looking to download high-quality media at affordable, now super discounted prices. Volume downloaders will love our limited edition anniversary plan of 100 images for only 49.99, while designers will find it easier to fit their budgets with our 20% OFF discount on everything else. Check out buyer dedicated anniversary promos and spread the word!
A few words about our referral program in general:
Dreamstime is the world's largest stock photo community and we are community fans in everything we do. Because those who already use our service can speak most accurately about it, we launched our referral program back in 2005, allowing members to share their love for high quality yet affordable photography with friends and family. Since then, we have awarded 12+ millions of $ to more than 12,500 referral program participants and have been providing content and tools to help individuals and businesses scale up via our referral/affiliate program.
How it works:
Refer a friend using referral links or your unique referral code and get 10% of all transactions made by this new member for the next three years. This member can be a designer, photographer, artist, can sell or buy, no matter, you will always get 10% of their transactions for 3 years from their registration. The principle is simple: refer more, earn more, keep referring, earn continually.
Anyone can join our referral program, without necessarily being a buyer or a photographer and they can do so for free. Agreeing to our Referral program terms is the only required step and you are ready to start spreading the word. You can refer people by giving them the URL (any user coming to our site automatically becomes your referee) or by using the referral ID (any user entering this code in the registration form is automatically marked as your referee. You choose the method that suits you best: word of mouth, email, badge, banner, forum post, or referral link but no spam, please.
You can find all referral tools - badges, banners, search box - as well as other relevant details in our Referral program section on the site. Log in and access My Account. We've got a 30-day cookie length and sign-up tracking page available anywhere on the website.
Why you should consider our referral program:
- Recurring source of income. Once you refer a member, Dreamstime will keep paying 10% of the transactions made for the next 3 years/each member. The more members you refer, the more you will earn and for a longer period of time.
- Looking for free content? Dreamstime grants access to an extensive free section but non-buyers may be able to download a limited number of free of charge files. For enhanced access, simply refer new members and get more of our free content.
- It's the gross that matters. To calculate your referral bonus, Dreamstime always uses the actual gross price that a designer pays for a plan and not the Net value it earns after removing photographer royalties.
- Count them all. This means that there is no minimum or maximum value for the transactions, Dreamstime always rewards 10% from all of them.
These are only a few of the reasons our referral program is the best.What are you waiting for? Start sharing, start earning!
Photo credits: Blankstock.