Have you visited a place for what it's known for, only to get lost in the pleasure of the "on road" experience? Rajasthan, India's desert state is one such wondrous place which will not only please you for it's culture, colors, food, festive spirit, imposing forts and welcoming people, but also for the amazing road trip experience.

Delicious food, nomadic views and open desert landscape await your arrival and if you travel by road, it will connect you more with the roots of this ancient place. So let's explore with whatever words can comprehend and drive thought the sun beaten track.

What to expect: The welcoming atmosphere of Rajasthan has much to offer, you can explore well known areas like Jaipur, Jodhpur, Udaipur and Jaisalmer for their well known heritage or explore the lesser known places, dhanis (micro villages) and towns. Every place you visit may have a story going hundreds of years in the past and a deep rooted culture. You will find forts, fortresses, tombs, thadas, royal wells or baolis, ruins and statues, temples and minarets, museums for weapons and markets full of costumes & souvenirs. Of course you are required to bargain heavily (quote 10% of offer price) for whatever you buy in the open markets.

State of the roads and the wild country side: The roads run through varied landscape with most of the state highways being two way (no road median). It's a good idea to keep to the left of the road while driving and be watchful of potholes or sudden speed bumps that may crop up without warning. Most villages are located on the roads hence they make their own speed bumps to protect the kids who may venture out while playing. While approaching a village or town, it's thus best to slow down. Due to patchy and rough stretches of roads, the trip is best enjoyed on a ladder on frame SUV or an equally sturdy car with a spare wheel in good condition. The rural sights like herds of sheep, cattle, goat or camels invokes ancient feelings inside oneself. You can find plenty of photographic opportunities so do carry a good photography gear. The desolate stretches of land that separate the towns are home to wildlife like deer, black buck, grey hare, desert fox, sloth beer, Indian wolf and various civets besides the rare and protected Tiger. You may also encounter various birds like Ducks, Cranes, Pelicans, Storks, Herons, Jacanas, Ibises, Shrike, Caucol, Rafous Treepie, Bulbul, Peacocks, Great Indian Bustard etc. Specific areas like Abu, Kumbhalgarh, Ranthambore national park, Sawai Madhopur area and others have more wildlife than others. Make it a point to stop and enjoy various times of the day at various different places to make the road trip most memorable.

What is needed for a Rajasthan road trip: You would need an International or Indian driving licence, an understanding of Left hand lane driving, patience and a basic understanding of how things work or don't work on Indian roads. Choose the winter season for splendid sun bathed views, acceptable temperature levels and a light air for a jolly good mood (October through February). Also know that on the roads, there are traffic law breakers everywhere due to loose enforcement, so take precautions and never presume that the other driver/pedestrian will follow the rule book. It's a good idea to carry basic spares and puncture kit with an inflator and fresh water on the road.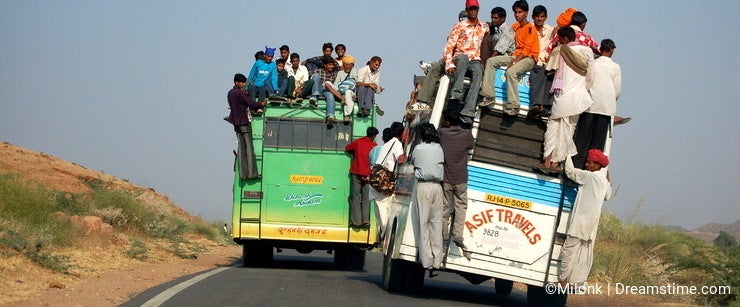 Now this is what's amazing and amusing about Rajasthan's roads: Or shall we say for most parts of India. Cattle herds roam freely across the roads while following their grazing pastures, lone cyclists, ever eager motorists who just care for their own way and yes, stray dogs too. Even monkeys and langurs can be seen menacing around. Yes, they don't actively do any animal control here. You would think it to be carelessness but the reason for such chaos is rooted deep within the Indian culture of "karma". Majority of Indian populace is infused with the understanding passed on from generations that killing or hurting any living beings will accumulate equal and opposite karma.

The deep spiritual roots of this country can be seen on Rajasthan roads as well. You will find sadhus, yogis, wannabe godmen and spiritually inclined people roaming the streets often. They may not have found god yet, but they will be very enthusiastic on sharing with you whatever they know.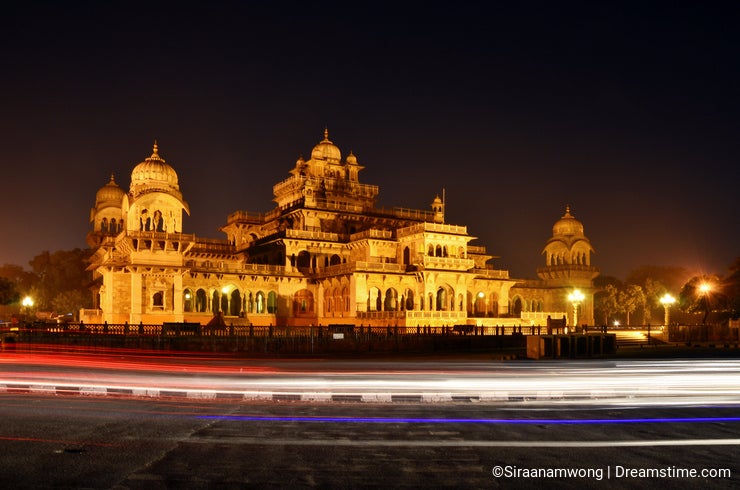 A great start: Remember that it's always best to start with a major city like Jaipur, Jodhpur, Jaisalmer or Udaipur as you can load your bike or car with all that you need. You can pick a Self driven car from Gurgaon (200 Kms from Jaipur), well connected with an 8 Lane expressway that runs further through Rajasthan. You could also arrange a chauffeur driven taxi from your hotel desk, or use OLA and UBER apps which are prevalent in most cities here. Prices on the apps are clear and quite fair.

Eat on the road or cook your own: Every nook and corner of Rajasthan is full of delicious yet spicy food, but trust me that slowly it's getting less spicy as people demand for toned down versions of their favourite cuisines. You could literally stop by a humble looking eating place and yet have great food, thanks to the skill of the local people. If you prefer the usual however, no one will stop you for cooking on the roadside, although camping is best done at well known tourist spots meant for that purpose. You may also use the services of international food chains that can be found on road side joints.

Be Safe: Just like anywhere, safety is important, wear your seatbelt while in a car, helmet on a bike along with suitable protection gear. Do not venture out too far in a deserted place at night unless you are a group. Carry self protection tools like pepper sprays and stun guns if possible. Carrying guns requires a licence and non licensed weapons is a very serious offence. Hunting knives are ok but they need to be within 6 inches of blade length to be legal. Do carry a good travel guide like outlook traveller for Rajasthan which contains vital local information. You can also use the State website linked here.So happy "dusting"!