February is Just Weird: Marketing for Obscure Holidays, Part 1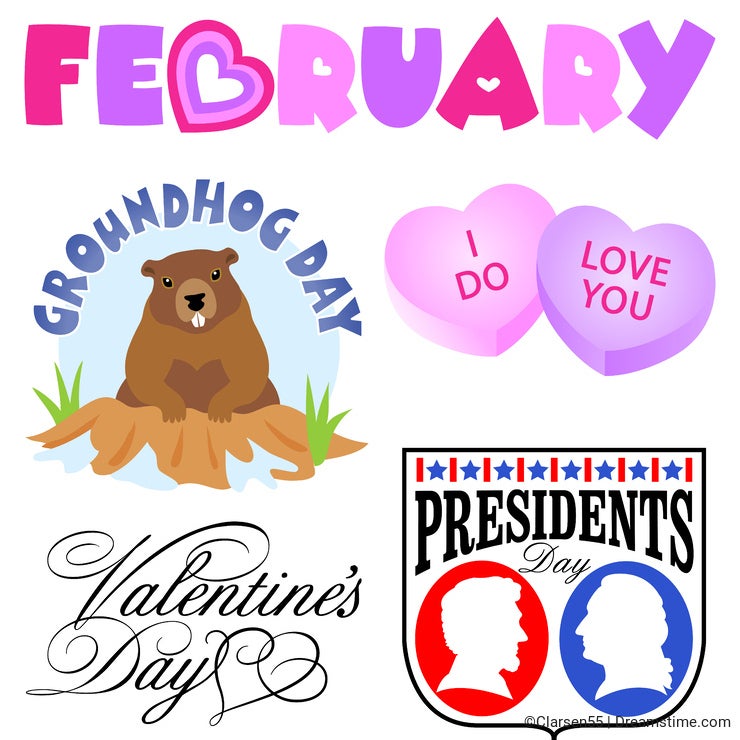 First of all, happy Mardi Gras! Second of all, it's also the last day of February this year. February is the shortest month, with only 28 days even though other months have 31 days. I guess this is a good thing because it's usually so cold. While only yesterday I could have said, "Six more weeks of winter?! Yeah, right! It's officially the warmest February on record," this weekend, they're calling for snow. Given, this coming weekend is technically March, but it still begs the question:
What is happening? And why is February so weird?!
Regarding the weather, I blame that famous rodent, along with global warming. This past Groundhog Day, the miniature mammal meteorologist, Punxsutawney Phil the Groundhog, saw his shadow, thereby forecasting another 6 weeks of wintry weather, as opposed to heralding warmer spring weather sooner. I guess he's been finally proven right. (A little late with that snow prognostication, though, eh Phil?) We can also explain away the impending snow and windy weather with a tidy little saying that involves yet more animals: "March comes in [interchangeably] like a lion, out like a lamb," in this case.
A Weird Start
Yet the phrase, "in like a lamb" might be more appropriate, for February is kicked off by Imbolc, a holiday that's about (among many other things) knocking up ewes. That is, according to Wikipedia, the word "Imbolc" is most commonly interpreted as derived from "mbolc," a word signifying the pregnancy of ewes. The holiday is also associated with the dawn goddess, Brigid (and alternatively, later Christianized and syncretized with the saint, Brigid of Kildare). Either way, if you're from Ireland, you can just call it Brigid's Day, and it has to do with fertility, livestock, agriculture, the coming of spring, perpetually lit sacred flames, holy wells, healing, smithcraft, poetry, keening (a type of wail-song), and little woven "Brigid's crosses" used for protection.
So 1 February is basically one holiday interpreted in two or three different ways. And we're just getting started. The first is also "Work Naked Day," but that's neither here nor there. Groundhog Day is even worse.
To me, "Groundhog Day" is just a wasted label on the calendar, except for the fact that I know there will probably be a movie marathon on TV showing Bill Murray's classic Groundhog Day movie over and over again all day and the next day. And maybe the day after that. What I think is weird about the holiday is that we take one day out of the year to specifically celebrate the weather, regardless of what it's actually going to do. And talking about the weather is what you do when the dinner conversation or the small talk with acquaintances is dwindling or completely boring. And it's even more pointless than that: It doesn't even make any logical sense. With more light you get more obvious darker shadows cast which are easier to see, so to me, seeing a shadow equals a forecast that spring IS coming—which is of course, the opposite of what we do. And technically, it's not spring until the equinox anyway.
So what it all comes down to is that we have a holiday that now celebrates the most boring topic of conversation, weather, and completely pointless, imaginary weather at that. I might as well call in sick to work: "Oh, you didn't hear? Phil said a blizzard's on its way. I'm not coming in to the office today. Maybe not for the next 6 weeks." That would at least be useful.
But then I dug a little deeper into the history of Groundhog Day. And it blew my mind.
Did you know that "Groundhog Day" could have just as well been called, Squirrel Day, Badger Day, Hedgehog Day, or Candlemas Bear Day? Any hibernating animal could have been substituted. It's too long to explain here, but the holiday is connected with Candlemas, the Feast of St. Blaise, the Feast of the Purification, and a weird ancient festival called Lupercalia. (This wonderful article explains everything here.) It is worth noting that during Lupercalia, the februa, a tattered goatskin, was worn (which is where we get the word "February" from), or not worn by naked young men running through the streets of Rome high-fiving any women who wanted to get pregnant.
Yup, that's how weird February is. And it's all a big cover-up by a groundhog who eats dog food and ice cream. (You heard me, ice cream.) And that's just the first two days!
A Month for Animals
Since this article could be ebook length if I went into every holiday in February, I'll stick to the themes. So while we're still close to the subject of animals like groundhogs, ewes, Candlemas bears, etc, I'll skip ahead and mention that February is THE month for dogs. Although this year it's eclipsed by the hubbub of Valentine's Day, The Westminster Kennel Club Dog Show is one of the biggest events for well-trained, well-bred, and well-cared-for canines. So if you'd rather not jump through hoops for your date, next year you can watch a dog jump through hoops instead.
Sports & Entertainment Holidays
If there is such a thing as Super Bowl babies (children who were conceived after a Super Bowl in the hometown of the winners) then there must be such a thing as sports and entertainment holidays. While it's off-season for several other warmer climate sports, February hosts the championship of the sport that counts the most in America, NFL football's Super Bowl. There are the funny ads, the Clydesdale horses (what happened to those frogs?—here we go again with the holiday animals), and "left" sharks, the wardrobe malfunction shame, and the Gatorade glory. There have even been petitions for turning the Monday after the Super Bowl into a holiday.
And half-time shows are the perfect segue into the other music and entertainment highlights of the month, the Grammy Awards and the Oscars, respectively. While Mardi Gras comes alive with samba and Cajun music, February also has "The Day the Music Died"—the day mentioned in Don Mclean's famous song, American Pie, when the music greats Buddy Holly, Ritchie Valens, and the Big Bopper all died in a plane crash on 3 February, 1959.
A Month of Piggybacking & Overlapping Holidays
As the #2 month of the Gregorian calendar, February's holidays have a lot of dual meaning and redundancy to them. In addition its first 2 days being stacked with multiple celebrative layers, the 4th, Thank a Mailman Day, is a holdover from Boxing Day's original intention of handing Christmas boxes to mailmen and errand helpers. Mardi Gras is the meat of the sandwich between Shrovetide / Carnival and the upcoming Lenten season. And the holiday inventing powers that be have given Valentine's Day the Thanksgiving through Cyber Monday treatment by conveniently clustering similar holidays in a row. Now the original love holiday is followed by Single's Awareness Day, Do a Grouch a Favor Day, and Random Acts of Kindness Day.
Which brings me to Presidents Day.
A Month for 'Murica
Other than a day to go shopping for mattresses, your spring wardrobe, and to spend your hard-earned Christmas gift cards, Presidents Day is a historical, dual celebration of both Abraham Lincoln's birthday (12) and George Washington's birthday (22) on the third Monday of the month. (I usually get Presidents Day mixed up with MLK Jr. Day, which is on the third Monday in January.) There is also more American history to be proud of with February also being Black History Month, and including Paul Bunyan Day for America's giant folklore hero.
And if you want to get even more American history than that, you can always take the opportunity to reenact Benjamin Franklin flying his kite on the 8th, which is Kite Flying Day.
A Month for Partying
A lot of bars are running promotions for FeBREWary, and Mardi Gras (along with St. Patrick's Day) is really the year-antipodal cousin of Oktoberfest.
A Weird Finish
Finally, I'd be doing February a disservice if I failed to mention that not only is February the shortest month, sometimes with a Leap Day tacked onto its tail, but it used to be even shorter. Sometimes the Romans would cut it down to only 23 or 24 days. And in the very distant past, February didn't even exist as a measured month at all! March was the beginning of the new year, so farmers could plant their crops in spring. (That is where September, October, November, and December get their numerical names from, since they were the seventh through the tenth months, originally.) In fact, February is so short, it's the only month that can have no full moon—just wait until next year, when it will happen again.
Marketing for the Obscure Opportunities
OK. So February has weird weather and weird holidays. So what? What does that mean to you as a designer, or as a stock imagery creator?
Two things:
1) Where there is weirdness, there is a niche, and taking advantage of such a targeted market and such temporal demand with seasonal, holiday, or special day promotions is a huge marketing opportunity. So designers and stock image buyers should be on the lookout for imagery relevant to making ads for these events, and creatives should offer more inventory with enough lead time. While on the one hand, February has a catch-all holiday for sales (Presidents Day), remember that you can be more specific with football, music, entertainment, romantic, and party themes—and more.
2) You can—and should—apply this concept to the rest of your content strategy and calendar. February may be a weird month, but it may also be just a perfect sampling of the year. While no other month has Leap Day, couldn't car dealers up their quota with an end of the month, every-month promotion?
Stay On The Lookout—Part 2 is Coming Soon…
I'll explore concepts like this and more. In my next blog post, the second part will cover the value of marketing—and making imagery for—obscure holidays. I'll also go into more detail about the concrete steps of how to do it, and show you a full-year 2017 calendar to use with your work, whether you are a designer, marketer, illustrator, photographer, or videographer.
Expect my next post later this week. (Hopefully I won't get snowed out of work!)
February's Calendar:
02/01 Brigid's Day; Imbolc; Work Naked Day
02/02 Groundhog Day
02/03 The Day The Music Died
02/04 Thank a Mailman Day
02/05 Super Bowl- aka Tom Brady' Day of Revenge against Roger Goodell
02/08 Kite Flying Day
02/12 Grammys
02/12 Paul Bunyan Day (big in Minnesota and Maine)
02/13-14 The Westminster Kennel Club Dog Show (on the second Monday)
02/14 Valentine's Day
02/15 Singles Awareness Day (not to be confused with Single's Day which is 11/11 and basically the equivalent of Black Friday in China)
02/16 Do a Grouch a Favor Day
02/17 Random Acts of Kindness Day
02/20 President's Day (throw silver dollars and chop down cherry trees)
02/26 Oscar Night: The Academy Awards
02/28 Mardi Gras/Fat Tuesday/Shrove Tuesday; Carnival
02/29 Leap Year Day- not this year (Mental math: Is this year divisible by 4? Is it like the summer/winter Olympics, did we start on year 2 for some impractical reason?)
Resources:
http://mentalfloss.com/article/55327/why-are-there-only-28-days-february
https://en.wikipedia.org/wiki/February
https://en.wikipedia.org/wiki/Lupercalia
https://en.wikipedia.org/wiki/Sementivae
https://en.wikipedia.org/wiki/Imbolc
https://en.wikipedia.org/wiki/Brigid_of_Kildare
https://en.wikipedia.org/wiki/Brigid
https://www.brownielocks.com/groundhog.html
https://www.grammy.com/
https://www.brownielocks.com/presidentsday.html
https://www.brownielocks.com/month2.html
https://en.wikipedia.org/wiki/Black_History_Month
https://www.brownielocks.com/westminster.html
http://www.westminsterkennelclub.org/
http://www.oscars.org/oscars
https://en.wikipedia.org/wiki/Academy_Awards
https://www.brownielocks.com/PaulBunyanDayTrivia.html
https://en.wikipedia.org/wiki/American_Pie_(song)
Photo credits: Connie Larsen.