Four Steps to Taking Great Photos of Stars and the Milky Way
There are some great opportunities, and challenges, in photographing the night sky. This is especially true if you want to include the Milky Way as in this photo below. Here are four steps to make it easier for you.
1. Plan the location.
You are looking for the darkest sky possible. In order to capture the Milky Way you will need to find a south facing location (in North America) where you are at least twenty miles or so away from a city or town. Plus the scene should ideally have no light sources within it either. If you can find a view with a lake or stream the water will add interest to your shot.
2. Plan the date and time to take the photo.
The Milky Way shows up best when there is no moon in the sky. The easiest way to determine this is to use a calendar that shows the phases of the moon. You are looking for the day of the "new moon". This will be about 2 weeks after the "full moon". You will need to hope for clear skies on the night of a "new moon", and once twilight has faded, about a billion stars and the Milky Way appear. You can also use The Photographer's Ephemeris http://photoephemeris.com/ for more details on the exact dates and times of the "new moon" in your region. From my reading I gather that the summer months are the best for the Milky Way, which is oriented vertically in the sky in June, July and August.
3. Plan your camera settings.
There are a number of excellent websites that can give you detailed information of which camera and lens would be best to buy for nighttime photography. If you are starting out just use the best camera you have, with the widest and fastest lens that you have, at the highest ISO you have, on the best tripod you have. In short, you will need all the light that you can. The photo below was taken on a full-frame DSLR and a 17mm lens at f4 with ISO 1600 for a 60 second exposure.
4. Put it in action.
Try to preplan your exact location by visiting it earlier in the day. Then go back around sunset to get all set up. Set the camera on your tripod. Maybe you will also wish to take some nice twilight shots before it gets really dark. Set your camera to "manual exposure" and the ISO to the highest that you have while being comfortable that there won't be too much sensor noise. Use your widest lens at its widest aperture. It is critical that you also set your focus to "manual" and then do some test shots to review for precise focus. (Autofocus will likely NOT work as there will not be enough distinct contrast for the camera to know what to do). Then try some time exposures- say 10 seconds to start and review the image on the screen, then 20, 30, 45 and 60. Enjoy the experience and try a few different sections of the sky.
My shot is certainly at the limit of my camera but I was pleased with the outcome. Hopefully you will also give it a try.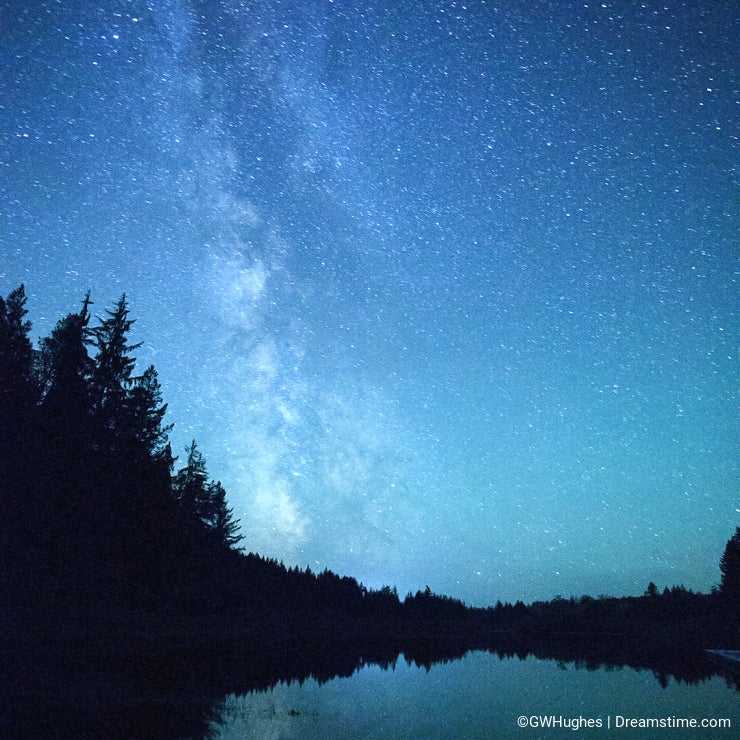 Photo credits: Grant Hughes.
Night related image searches
To provide you with additional information about how we collect and use your personal data, we've recently updated our
Privacy Policy
and
Terms of Service
. Please review these pages now, as they apply to your continued use of our website.