Dear Fellow contributors, and designers,
It's been a month since I decided to start creating illustrations and, since I wrote my previous blog post. I feel I can still learn a lot more. So far I illustrated 15 images, and generated no sales. I feel like I do not comprehend yet what designers are looking for. I am working a boring 9 to 5 job in a business world were crunching numbers is common practice and where creativity is an insult. So trying to get inside the heads of people working in a more creative branch is not that easy.
After reading around, it seems that a very large protfolio is elementary for a contributor. But being an illustrator, generating a lot of illustrations fast... is not simple.
One day, after losing too much time in a traffic jam, I felt I would really enjoy making a chaotic illustration about a traffic jam.

I was looking for a way to expand my portfolio, and while looking to my finished traffic jam image, I came up with the idea to recycle elements that focus on a different subject out of one and the same illustration. This way I was able to produce an extra image of this road raged man below (this was also the way I was compelled to behave during the traffic jam, but luckily I was able to control myself).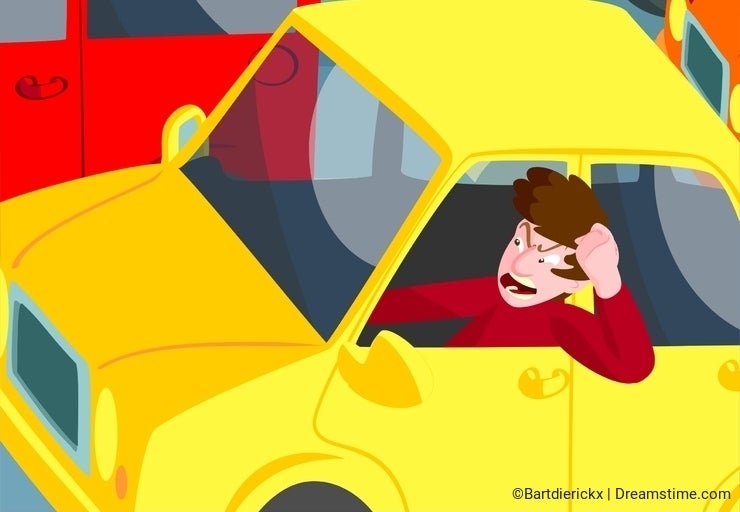 I also isolated the cop who was regulating traffic. So I drew 1 illustration but got 3 instead. That's what I call being efficient :)
I also drew a picture of a boy listening to the weather forecast on his retro radio. With a 2 minutes investment of work I managed to change it into an image of a boy listening to music.
At first I felt dirty recycling images. It also felt as I was being cheap, and as if I was deteriorating the quality of my - small - portfolio. But now, when I have an idea, I try to envision my idea in a way that one idea can be recycled into different subjects generating one or two extra images.
Do you guys use tricks you feel dirty about? Don't hesitate to share them with us :)
Keep taking pictures, keep drawing,
Cheers!
Bart