Go - and go again!
Traveling snapshots - have your camera ready!
Travelling for fun is all about exploring new and exciting places, learning new cultures and getting to know new people. When you see new places for the first time, snapshots are often the name of the game - you go with whatever you stumble upon.
Consider this example from the more or less random airport of Frankfurt, where I was just passing by - but there she stood, absorbed in her own thoughts as a perfect representative of the melancholy, waiting and reflective mood, which is also part of travelling. "Where am I going? Why? And would it perhaps have been better if...? What will happen?" I could almost hear her thoughts in this perfect symmetric scene to which she stood out as the perfect lone figure breaking it. Luckily, I had my camera around the neck with just the simple and sweet 35 mm lens on it, which ensured that there was enough light to avoid flash and being unobtrusive. No zoom also meant I had to keep on walking a little bit more to find the perfect spot, but that likely brought me closer than if my zoom lens had be on. In the end it made for a more deliberate framing and improved presence. Click - and I was on my way again.

Morale: Keep that camera at the ready!
Great as such photos may be for all their spontaneity, I want to focus on another and somewhat overlooked aspect for getting good travel photos, which is to know the place in advance. How? Simple, whenever you have found a magic place, consider coming back. The next time you visit, you will have a much better feel for what encapsulates the special atmosphere of the place, which time of day has the perfect light for your photos, and where that perfect angle is.
Going back to Hamburg
I grew up in Southern Denmark, and Hamburg was commonly thought of as just the major city in Northern Germany with a congested Elb-tunnel that had to be survived when driving to the really interesting parts of Europe, such as France and Italy. How wrong and unfair that was to Hamburg, which is really a pleasant and charming city. In it there is this very unique pearl called the Chile Haus, which may not at first stand out to you. But then you walk around it, and you suddenly see the large building in its entirety, directly from in front of its pointed bow. And you realize that this is the perfect symbol of Hamburg, a city built on shipping and trade.
I just knew I wanted to have a photo from there, but it should be in the blue hour just after sunset to really have the building stand out against the deep blue sky. When I returned I brought the tripod, finished evening dinner early and headed out with ten minutes to set up my gear. I underexposed the photo to make sure that lights would not wash out (so many more details in the shadows of a RAW-file than if you return home with washed out white highlights). With a suitable small aperture of f9.0 for the 18mm lens, all vibration reduction turned off, and the camera set in quiet mode to eliminate mirror shake I pressed the remote control. The post-processing consisted mostly of a brightening filter for the foreground and a vignette to make the building stand further out and a little bit of color toning (yellow highlights, blue shadows). Here is the result:
Chicago - my second home town
My bestselling picture here at Dreamstime is a snapshot from a family holiday in 2009 taken at the "Bean", the Cloud Gate. It is a picture with no post-processing except for removal of one dust-spot, but it is just this lucky punch of perfect composition:
When I was back in Chicago in 2016 I decided to make the best of my jetlag - I rose early at 5 AM and headed to the Bean to get pictures of it without a crowd obscuring the view. Again you can see the photographer in the reflection if you look carefully, but this time I got the vast square surrounding the Bean into the picture and the morning lights added a unique atmosphere to the shot. The technique I used resembled that used with the Chile Haus photo above: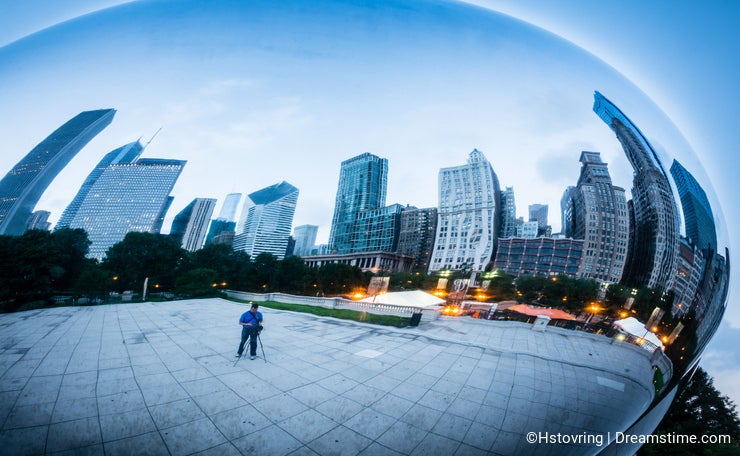 Conclusion
Do travel to see new places, and do take those snapshots which are forever gone in two seconds. But if you ever get to return to a place, consider it a special opportunity for getting better photos, because now you know the place better.
Photo credits: Henrik Stovring.
To provide you with additional information about how we collect and use your personal data, we've recently updated our
Privacy Policy
and
Terms of Service
. Please review these pages now, as they apply to your continued use of our website.