The great big white - Photographing the South and the North Pole
There are once-in-a-lifetime opportunities and one of them is photographing the Arctic and the Antarctic. Going to the end of the Earth is not an easy ride. If you want to have great memories or to show the nature's raw beauty to those who cannot get there, you need to be well-prepared. We got the chance to receive answers from three professional photographers that had the courage to travel to those places and live unforgettable experiences.
So bellow you'll find stories from both of the Poles from Ondrejprosicky, Adeliepenguin, Jocrebbin whom we thank for taking the time to help us with useful tips.
1. Describe a memorable encounter with the Pole's wildlife?
Adeliepenguin: So many encounters are memorable; it is impossible to pick one. In the Antarctic and sub Antarctic, by way of example, I don't know what is more amazing, walking along a remote beach and looking up to 10,000 penguins on a mountainside or watching one penguin gently pass an egg to another for safe-keeping. Or maybe a fur seal, with big teeth and aggressive behavior, giving you the eye as you hike up a path to a mountaintop to see a wandering albatross, one of the largest birds in the world, take its first flight. In the north, for me it was all about the polar bear. That is why I traveled to Svalbard and cruised north. Probably the most memorable is looking literally eye-to-eye with a polar bear, very close, as it came to check out our little red ship. The ship was surrounded by ice and the crew was working to slowly break through. It was around 3 am and I was one of the few people outside, just off the bridge. Looking eye to eye with a bear in the wild in close proximity is very different than at the zoo. He was probably sizing me up for dinner, as he was trying to figure out how to get on board. We also found the bears to be very playful. When we were cruising along, one did all sorts of funny antics on the ice and then would look at us on the ship to see our responses.
Jocrebbin: I have had the wonderful opportunity to visit both poles for photography. My first encounter was in Churchill, Manatoba, Canada. It was a photography tour with Natural Habitat Adventures with the primary goal to shoot polar bears heading out on to the ice for winter. Unfortunately we experienced three days of blizzard conditions but we did enjoy a few sightings. A special moment was a mama bear with her two cubs.

The last day of our trip ended dramatically, to say the least. I was getting ready for bed, brushing my teeth, still with my boots and snow pants on due to the cold. I heard some loud voices out in the hall. Being curious, I opened door and heard someone yell "FIRE." Our hotel was made totally of wood. I yelled for my roommate to get up, as she was already in bed for the night. I told her to grab her passport and get dressed as quickly as possible. From this point we both dashed out the door where we were met with 30 mile an hour winds in a blizzard and temperatures way below zero. I did have the good fortune as I left the room, I grabbed my camera cards so I did not lose my pictures, but everything else in the room, camera gear, clothes, suitcases, computers were are all lost.
Ondrejprosicky: The strongest experience on my journey through the Arctic was my first meeting the polar bear. I was on a boat near the northern coast Svalbard and there was a bear on drift ice sleeping on an ice floe. As we were approaching, he raised his head and looked toward me, this was the moment I knew I will keep coming back to this area as often as possible.
2. What's your favorite landscape you shot and why?
Ondrejprosicky: My most favourite snaps are those from my April journey to Svalbard, where it sometimes isn't quite dark at night. It is the time, when the landscape reflects the wonderful sky after the sunset in a special touch of blue and pink and violet. Unlike in the more southern latitudes this moment takes here very long and you can create many photographic compositions. I love it, especially when there is an animal in the landscape.
Adeliepenguin:

My favorite image was taken south of the Antarctic Circle, as we toured icebergs by zodiac. I never in my life thought I would get that far south, but the ice opened and our ship was able to make the journey. So the moment was special and thus the photo is special.
Jocrebbin: My favorite landscape shot is "Blue Ice" from Antarctica.The day this picture was taken, we were out shooting Weddell seals. We all carried our long telephoto lenses. But when I left our cabin that morning, for some reason I grabbed my 18 mm fisheye lens and stuck it in my pocket. The conditions were completely gray and overcast but for a small section, approximately 15 minutes. The sun came out and the environment was just incredible. I replaced my 500 mm lens and switched out to the 18 mm fisheye. I lowered myself over the gunnels of the zodiac and positioned the camera about an inch over the water. What makes this shot is that not only is it a unique iceberg, but the blue colors and the diagonal lines and the natural triangles make the composition. I have won numerous awards with the shot and I'm very proud of it.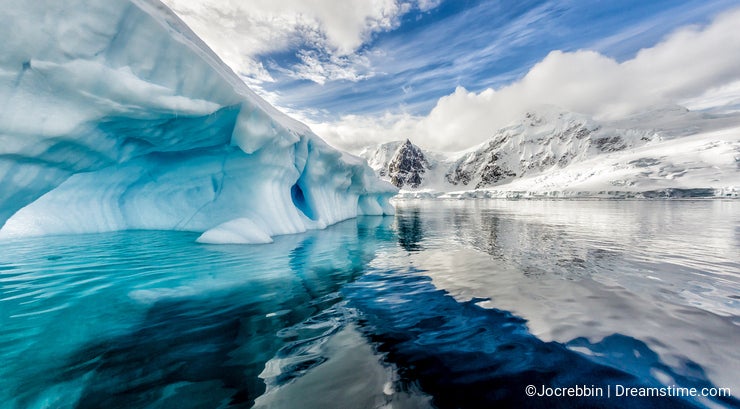 3. Favorite animal and why?
Ondrejprosicky: It is definitely the polar bear. Only when you meet the polar bear in the wild you can realize what an impressive animal it is. It is a big predator for that a human can become its food. The risk when meeting a polar bear makes the shooting more attractive. When I was looking for polar bears I learned a lot about their behaviour and I met a lot of other animals living in the Arctic.
Adeliepenguin: Penguins. They are like little people running around in their communities. Inquisitive. Social. Funny. I could sit and watch them for hours.
Jocrebbin: It was my dream to photograph king penguins in the wild. I did that and it was absolutely wonderful.
But after we left South Georgia I really could've gone home. My goal was reached. But then I met the Adélie penguins of Antarctica. The big blue eye ring stole my heart.

4. Most dangerous thing ever done to take a photo in the icy lands. How risky is this kind of photography?
Ondrejprosicky: Shooting from a ship in the Arctic is safe even if you get closer to the polar bears in a small boat. This is different on the land in the open countryside. When I was shooting arctic foxes near the town Longyearbyen on Svalbard I was really scared of meeting a polar bear.
Adeliepenguin: I never felt in danger taking photos.
Jocrebbin: We left our ship about 4 AM to go on shore on Saint Andrews on South Georgia. We went with the first group because we wanted to capture the sunrise with the penguins in the foreground. We did get that shot, but as we were shooting the thousands of penguins on the shoreline, we noticed that they were all walking in one direction. They were walking towards me so I thought that was a good thing. I got all these wonderful shots of penguins walking towards me. But then I noticed above the glacier was this huge white cloud.

This cloud turned into katabatic winds. In a matter of seconds to beach turned into hurricane and sandstorm conditions. We experienced 70 mile an hour winds. The sand on the beach flew everywhere.We were forced to stay on the island for about three hours as our ship dragged anchor and had to find shelter. To say I was scared is an understatement. About 30 of us photographers hovered in a small shelter at the north side of the beach. I was glad to see the ship when it returned. But I did get some great shots of all the Penguins on the beach. The other group on board ship was not so lucky as they were not permitted to return to the beach.
5. Your best shot?
Ondrejprosicky: I am still waiting for my best shot in the Arctic. I have a lot of experiences and a lot of "quite boring" descriptive shots, but I dream of an interesting story about animals behaviour in a beautiful landscape in the best light. This is what makes me keep coming back to the Arctic.
Adeliepenguin: I don't have best shots. Just good memories.
Jocrebbin: Any of the snow shots from Antarctica as the snow is clean, bright white, angular due to the winds. Impossible to beat my "Blue Ice" shot from question 2.
6. Why the Poles?
Ondrejprosicky: I like snow. It makes the landscape much neater. I like real wilderness, where I don't meet anybody for days. This is the only way I can really enjoy it. In fact photographing is not the principal reason why I am attracted there.
Adeliepenguin: Why not the Poles? If you are a traveler, you want to travel everywhere, including the ends of the earth. I visited Antarctica before the recent throngs of cruises and tours. It was magical to find a place untouched by humans, where a penguin had no fear of man and would walk up and poke your backpack, and where the landscape transported you to another universe.
Jocrebbin: I always had a desire to photograph king penguins in the wild. Once I got that under my belt I was hooked. The other travelers on board ship said if I enjoyed Antarctica I would love Norway and Spitsbergen. From there I planned a trip to Norway and enjoyed photographing polar bears on the ice.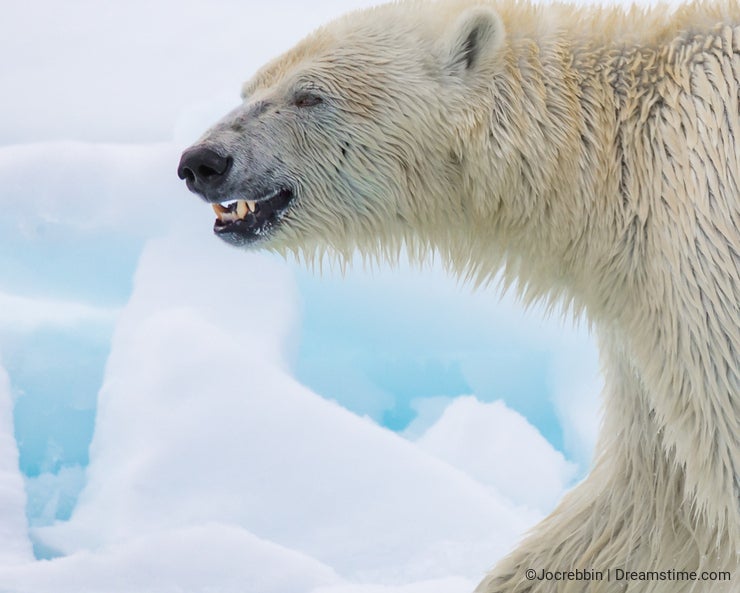 7. How would you describe your whole voyage?
Ondrejprosicky: I prefer Svalbard on my journeys, as it is easily accessible. I have a family and I always try not to leave for a long time. Svalbard provides many opportunities on a relatively small area. I spend most time on a boat near the coast and some time near the town Longyerbyen, where I shoot polar fox, reindeer or nesting birds in spring.
Adeliepenguin: I have been to Antarctica and the sub-Antarctic more than once. The north Arctic, beyond Svalbard, just once. So it is impossible to describe only one voyage. They all have a few things in common. The potential of very rough seas, cold temperatures, incredible wildlife and ice. All voyages were life changing, and quite extra-ordinary.
Jocrebbin: I am lucky to say I've had three polar excursions. One to the Canadian Arctic, one to Antarctica and one to the Arctic Circle. They were all terrific one way or another. The Antarctic trip was the best as it was the longest and we saw a variety of wildlife.
8. Is this type of photography expensive? How do you recover the costs?
Ondrejprosicky: Travelling to the Arctic is very expensive. Should I think of earning money for this journey by selling the shots, I would never get there. I am a freelance photographer, I don't take any custom photos. I go where I long to go. I shoot wild nature to show it to those who can't get there. And in the end I try to sell some shots "as though by chance".
Adeliepenguin: The cost of travel to polar destinations is expensive, because these areas are remote. The cost of appropriate clothing and other gear is expensive. The photography costs per se are the same as for most trips. I don't think you ever recoup all the costs unless you are a professional photographer who is able to sell images at a high price or teach workshops on board a ship or on shore when you aren't at sea. Or you can get a job on a ship and have your way paid.
Jocrebbin: Yes! I have not (recovered the costs).
9. What's next on your bucket list?
Ondrejprosicky: I really would like to see the emperor penguins in Antarctica. It costs a lot of money, but I know that one day I will succeed. I have already photographed penguins on the Falkland Islands, but the landscape without snow and ice simply is not the way I like it.
Adeliepenguin: Next is Venice for Carnival.
Jocrebbin: Next adventures: Yellowstone in January for Bisson and wolves, Iceland in March for Northern lights and May in Galapagos.
Other tips:
Ondrejprosicky: Perhaps the best advice is to get a moisture- resistant camera. When keeping carrying the equipment from outside back to the cabin the change of temperatures causes condensation which is bad. I keep all my equipment on a safe place outside on the board and take it into the cabin when I go to bed.
Adeliepenguin: My biggest travel tip is to bring the right clothes and boots. Spend the money and buy what is necessary. The website shiptoshoretraveler.com provides good information on what to pack. Make sure one of your layers is windproof. I have a windproof vest and windproof pants. Bring a walking stick. Terrain can be slippery and rough. There are a few different gloves made for photographers working in cold weather. Research and decide what is best for your needs.
You carry your gear ashore in a backpack, as your hands must be free for climbing into and out of the zodiac. I lined the inside of my backpack with a kayak dry bag, to keep my gear dry. This is very important as zodiacs are low in the water and the water splashes. One time one of the zodiacs on our cruise was flipped by a large rogue wave. I did not use a camera backpack but a regular backpack, wrapping my lens and camera in wraps sold for that purpose.
Bring more than one camera body. If one fails, you have another. Also if you bring two zoom lens—like at 24-70 and a 70-200, you can put one on each body. You don't want to be changing lenses in the field. Zooms make more sense than prime lenses on these sorts of trips. My husband and I always kept a little point and shoot camera in our jacket pocket, in a plastic bag. There were times our good cameras needed to stay in the backpack on the zodiac, so we whipped out our point and shoot cameras to take the shots that we would otherwise have missed.
Take many more memory cards and batteries than you think you need. Bring extras of everything. Extra chargers, shutter release cords, lens caps, cleaning clothes, etc.
Keep a couple extra batteries in an inside chest pocket when you go ashore. Batteries may not last as long in the cold weather.
If you bring a tripod, consider putting on tripod leg covers. Otherwise the shaft may get very cold to the touch. Also bring a tripod that withstands strong winds.
When photographing a big group of penguins, use a fast shutter speed. The penguins are all moving, and your image may otherwise be blurry. When photographing from a boat or zodiac remember you are moving and use a higher shutter speed.
Bring a polarizing filter. If you are using a tripod and shooting landscapes, consider bringing a 3 stop soft graduated neutral density filter (for skies), and a 6 stop neutral density filter (for soft water).
Don't get so excited and forget your photography basics: be patient; observe the wildlife and watch for special interactions; for landscapes, watch the light, the clouds, the weather breaks; always check your histogram and blinkies; expose to the right with no clipping; bracket your shots.
Photo credits: Adeliepenguin, Jocrebbin, Ondřej Prosický.
To provide you with additional information about how we collect and use your personal data, we've recently updated our
Privacy Policy
and
Terms of Service
. Please review these pages now, as they apply to your continued use of our website.