Heart of the city
They say the best travel photos are those you take in your own city. I've been around Europe a lot lately and I find this to be completely true.
The reason for this is that you can visit plenty of new places and shoot beautiful photos of them, but you are still constrained by time, weather and knowledge. You will never get to know a city in a few days like locals do. It takes months, maybe years to go deep into every street and see the city from different angles and decide which is the best one and which hasn't been seen before by anyone else. You have to be extremely lucky to get the perfect weather and light if you're just visiting.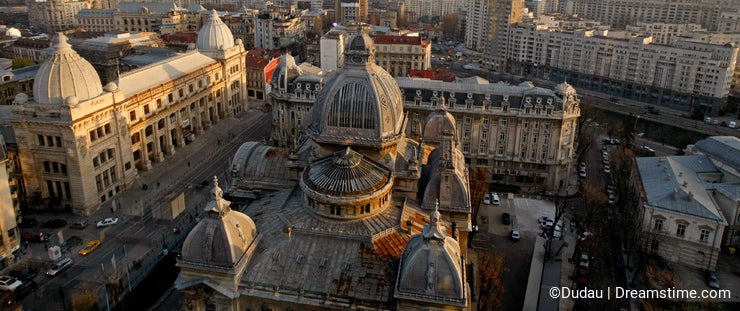 When shooting stock, most travel photographers work under a shoot-and-run scenario, for obvious reasons: usually, traveling is expensive. You can't afford paying for accomodation too much (and you can't sleep in train stations or airports with your expensive equipment as a pillow), buying a monthly transport pass for just a few days doesn't always make sense, eating at restaurants is pretty expensive, especially around tourist attractions and so on.
Back home however, you have all the advantages: you can go out and shoot whenever the light feels right, you're staying in your house anyway, you eat at home and you have time. Time is probably the most important ingredient of a successful image. Yes, you can get lucky when you're away, but you have much better chances to get lucky at home, because you're spending more time in your own city.
The city is a world in perpetual movement, even if buildings, streets, landmarks seem the same everyday, the frames you see are always unique. And, in a world of bucket lists, you can afford the luxury to visit the same place 10 times and see it differently each time.
Better yet, if you truly want to stand out of the crowd, think of photographing your own neighborhood! Unless you're living next to Eiffel Tower, surely you will have way less competition out there for your pictures.
Here are a few tips to get the most out of your own city:
When to shoot
I usually prefer to go out and shoot one hour before sunrise and two hours after, and 2 hours before sunset and one hour after. That one hour before sunrise makes for a perfect blue hour and, if you're lucky, you may even catch the lights on. Many of the best night photos you see out there are actually shot before sunrise, not after sunset. Most people are sleeping during this time, if you're shooting a landmark you'll find less tourists around, public transport is not already in function, so you'll have less obstacles in your way to the perfect shot. Sure, if you're photographing an illuminated landmark, you need to check if the lights are on.
What to shoot
Shooting the most famous landmarks is obviously the first choice. If you have time, you will definitely see them in a unique light, or in a special situation that most people won't be able to catch. However, their fame might work in your disadvantage, because everybody else will have more or less the same photos. If you want to be one of a kind, try to find those places that are relevant for your local community, while they may be still unknown to the general public (as in tourists).
Include people
Most stock photographers are avoiding having people in their images. Yet, most photo buyers would prefer having some life in the pictures they're buying. See the gap here? There are more ways of including people in your photos, even if they're strangers and you don't want to ask their permission: you can shoot long exposure shots, so the people in motion would be blurred. You can ask your friends or family to be your models. You can also try shooting silhouettes, if the light is right. And, why not, you can include yourself in the pictures: use a tripod and a remote, or place your camera on a steady surface and use the timer. There, problem solved.
Return
As I said above, time is probably the most important for creating a successful image. If you found an interesting viewpoint, don't just settle for one shoot. Come back as often as you can in the same place and try different settings, test different light situations, try to perfect the shot. Use the time you have and you will be rewarded: it will help you see and capture the true heart of the city.
If you find these tips useful, you can apply them for our most recent assignment, My neighborhood. There is still enough time to submit. Good luck!
Photo credits: Viorel Dudau.