How I get to the dwarf's house
It's a multi-threaded little story about how astounding the ordinary surrounded environs can be.
It starts with a weekly Sunday walk in the woods near the place I live. The forest, which is dominated mainly by pines and beeches and where among them can be found large old trees in the last phase of their growth. They are over one hundred years old, with clearly visible signs of aging and slow dying. But despite their condition, they provide a shelter for a diverse wildlife and are full of life, like in a residential building on the main street. Old-growth trees attract numerous species of hollow-nesting birds, birds nesting on sturdy branches, and are often home to squirrels and various insects. But what's more, they provide shelter to someone else, someone exceptional.
In the lower part of the trunk, in a hollow covered by strong roots, where the sun's rays fades in the density of green moss. I noticed something. Something that can be the perfect theme for Stock. A small flickering lantern over a solidly made door, a window with curtains and a silhouette of someone in the interior of a cozy room. Dwarf? Can not be. Where is my camera. Arghhhh, it turned out that the type of my camera does not support the mode that I needed at that time, does not capture images seen through the eyes of imagination. Fuji !!! I'm disappointed !!! I suppose I'll have to settle for what I actually saw. Mossy trunk. At least is better than nothing.
Superfluous photos?
During the summer escapades I visit many different places, historical, sacral, places of remembrance, places associated with famous people, buildings storing unique collections, places with the title of cultural heritage. Often it's a real feast of knowledge and beauty enriching the mind and spirit. However, I always have an extra amount of attention for "trivial" shots. Objects, patterns, details that are in vain to look for in guidebooks but next to which I can not pass neutrally. The fact that they are not on the list of major points to see may disqualify their presence?.
"Trivial" shots are not suitable for presentations in the album from voyages. What's more, they even raise the question "... but for what they are?". But we, graphic designers, see differently. For us such photos are valuable and pass to our special archives stored for years.
That was the case with the door of the dwarf's house. I took picture during a visit to the Collegium Maius museum in Cracow, which can boast a collection of many interesting exhibits. In the inner courtyard is a porch, from which you can get to the Librarium, passing through a gilded gothic portal called the Golden Gate (Porta Aurea). However, it was not the golden portal that gained my attention, but the wooden door behind it, perhaps to the utility room .. LOL .. had something in it. Fittings with floral motifs looked like made by the dwarf's hands.
Glowing gemstones
My dwarf, when he is not busy reading books, he extracts precious glowing stones in a beautiful light pinkish violet. Very similar to amethyst. Which may indicate his impeccable manners. Name Amethyst comes from the Greek word amethyein, which means "not drunk" (in the past wine was drunk from vessels carved from amethyst).
At some stage of dreamed reality, appears the necessity of elements impossible to find even in the most cavernous private archives. Because who among you photographed glowing gemstones?. Me not.
You can take a shortcut and try the photos available under a CC0 license, but from experience I can say that it's not easy to find the right shots in the right perspective, in the right style and properly lit.
But what if, instead of searching and adapting photos, start creating hyper-realistic elements?. That led me to the milestone of my skills. I installed the Blender 3D program.
For those who encounter the Blender environment for the first time, the program can be just as inaccessible as glowing stones. Fortunately, there are many good tutorials on the web. Believe me, 3D is manageable :) Proof of this are not only gemstones made but also a wheelbarrow, pickaxe, ladder, welcome plate, door knocker, cushion and more.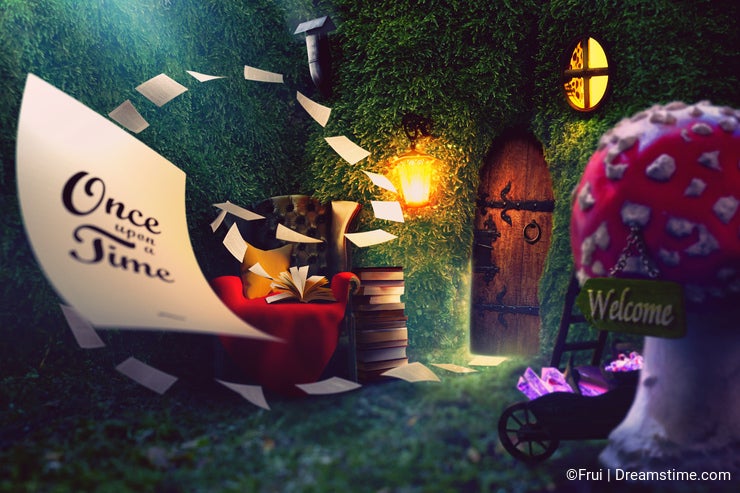 Evanescence
After some time, I went for a walk to that place in the forest again. As you can guess, it was not the same anymore. The moss in many places was yellow, partly ragged (probably roe deer decided that the place was good for wiping the antler). Seeing this, I thought, great that I took a picture earlier.
Simple conclusion. Catch the moments, do not be afraid of creative looking, just take photos. Even if the idea seems to go beyond your skills. You will have a basis for further work.
Do not give up
To create this scene, it took me a long weeks, mainly due the fact that I got to know the 3D environment from the level of almost 0 and usually came back to it at the weekend. Sometimes it ended with a headache :D Nevertheless, process of familiarizing interface and enormous Blender possibilities was very exciting. Especially, when renders start to look better and better.
Eventually the mossy tree gained a tenant who breathed a new chapter into it.
Thank you for reading my little story.
Bye!
PS
If you like similar concepts, take a look at the portfolio of Elena Schweitzer. Fantastic portfolio.
Photo credits: Frui.