How to become a Dreamstime contributor
You may have heard that Dreamstime is the largest community in stock photography today. In the past 20 years since its conception, the stock photography agency has built a solid community of over 650,000 contributors and almost 32 million users who are using Dreamstime regularly.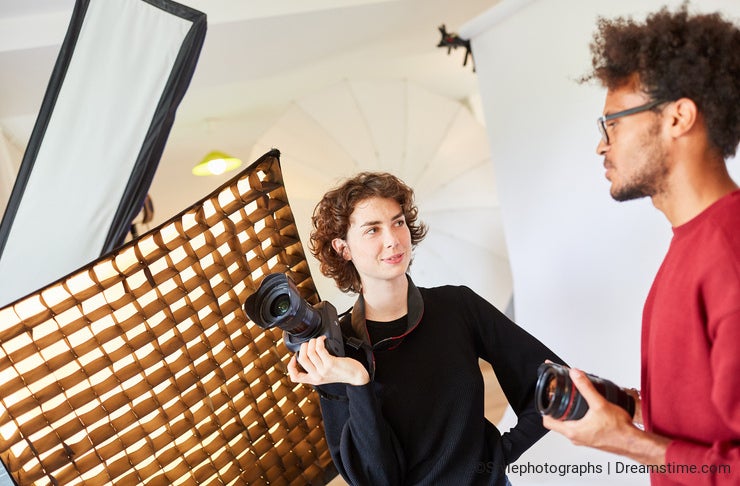 If you're producing any images (photos, vector illustrations, video, or animations) or audio files and you're not yet on Dreamstime, you're missing out.
Dreamstime is known for generating steady sales while also providing some of the highest royalties in the stock imagery industry for its content creators.
Here are a few quick facts about Dreamstime:
- Founded in 2000, one of the pioneers in the stock photography industry
- Supports over 650,000 photographers, videographers, illustrators, and musical artists
- Has 32 million registered users, most of the media, marketing, and design professionals, but also independent content creators, book authors, bloggers, or freelance journalists
- Has an active forum where contributors can get in touch with fellow authors, buyers, or Dreamstime editors, while the owners of the agency are also jumping in with answers or new feature announcements
- Has an active blog section, where contributors or editors are posting daily
- Receives over 3 million new images each month from stock contributors
- Accepts both commercial and editorial photos, vector illustrations, and stock footage
- The largest privately-owned stock photography agency in the world, therefore pretty flexible and fast to adapt to new challenges
Wondering how to become a Dreamstime contributor? Here are the four steps:
1. Register
2. Upload images (photos, videos, vector illustrations) or audio files
3. Describe your images
4. Submit for review
Here's a fast guided video to get you started:
It really is as easy as it sounds, but let's elaborate the process a little, for those who want to understand the process fully:
1.Step 1 is to register for a new account. The same type of account works both for contributors and buyers, and it's free to create; you need an email address. It takes just a few seconds; basically, you would have finished creating the account by the time you finished reading this paragraph.
Make sure to use your real name when you become a contributor, as you will have to submit tax forms and request payments with your real identity. You can use an alias for the username and decide to go private if, for some reason, you don't want to have your real name visible on the website, but when you register with Dreamstime, rest assured that we won't divulge your identity if you don't want us to.
2.The second step is to upload on Dreamstime one of your files: locate the green "upload a file" button, click on the upload files area or drag your images over it and wait for them to be uploaded. You can also use FTP if you have a large collection of files.
Make sure to select only the best images from your portfolio when uploading, and try to have a wide variety of subjects. The larger the variety of subjects and the better your images' quality, the more chances you have to sell them. Inspect your files at 100% size when you select them, so you can see any faults in the image before uploading.
Photographer showing photos to mixed race model using laptop computer in studio
The file size is not a problem anymore. Nowadays, even the basic smartphones can put up more than 8 megapixels, but keep in mind when you upload images that to be accepted, the stock images you submit have to be over 3 megapixels in resolution.
And speaking of smartphones, if you shoot nice photos on yours, we have a nice mobile app that could help you sell them. Find it here.
This should go without saying, but please make sure you only select your own creations for uploading to Dreamstime. All images on this website have the rights reserved to their authors. The agency only sells the rights to use the images to clients in various activity fields, but the copyright always remains with its authors. However, if you infringe on anyone's copyright by uploading their work instead of yours, your account will be terminated. So, to avoid any unpleasantries, only sell photos that you own.
If you have many files already prepared to be uploaded and want to do it faster, you can also use the FTP upload.
After the files have been uploaded and processed, you will find them in your unfinished files section of your account. That's where you can continue with the next step:
3.The third step is to describe your images when you enter the image info - this is where it could get a bit tricky if you don't pay enough attention.
To facilitate the content submission, you are allowed to send your photos to Dreamstime without spending too much time on writing titles, descriptions, and keywords. The in-house developed AI will even help you to fill in this info.
However, if you really want to sell photos and make a nice income per week after a short while, you should pay attention to this step, as it can be a game-changer in terms of sales.
Here is a screenshot highlighting all the options:
The rule of thumb is: describe only what you can see in the picture and nothing else. Don't use metaphors if they're not fully relevant, don't copy descriptions from Wikipedia, take your time, and provide as much info as possible, as relevant as you can and preferably unique.
The truth is, we live in a world governed by words, so the ideas and the quality of your images matter as much as the image info. Stock photos have to be indexed and visible in search engines, internal or external before they can be found, and you have to help them be found with complete and relevant image info.
During this step, you should also check and correct the keywords or image categories provided by the Artificial Intelligence of Dreamstime. Make sure to eliminate any irrelevant categories and keywords. For example, see the red circles in the screenshot above; they contain keywords and categories that are not fully relevant and should be eliminated before submitting the image.
There are two types of licenses on Dreamstime: Commercial or Editorial. Commercial images can also be used in an editorial context, but Editorial images cannot be used for commercial purposes. So, to maximize your sales, you may want to focus more on the Commercial category.
This is the step where, if you want to submit your images in the Commercial section and there are any visible persons in your images, you should attach signed model releases to each of the photos you submit. If you need a blank model release to be signed by the model (or parent in case the model is a minor), photographer, and a witness, you can find one in the utilities section. Please note that the photographer can also be the model if you're photographing yourself, but the witness must always be different. Upload the model release in the releases library so that you can attach it to submission.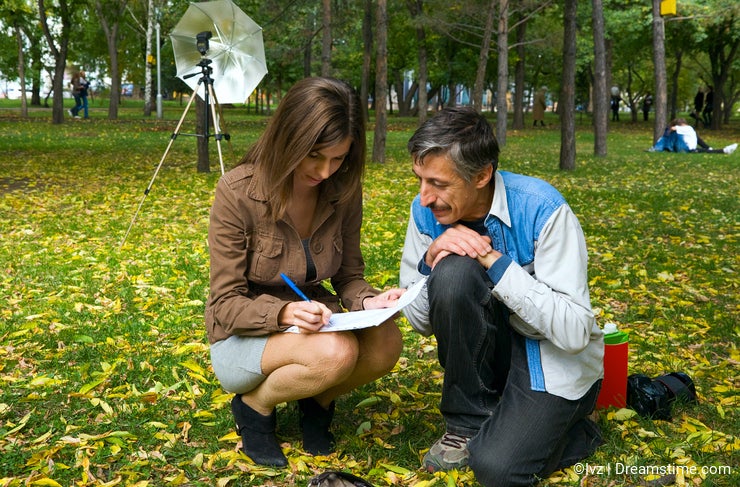 The same rules apply to property releases. If you shoot inside a private property that can easily be recognized, or if there are any copyrighted elements in your images (like logos, copyrighted designs, copyright protected architecture, works of art, and so on), you should provide a property release signed by the owner of the building or copyrighted element (even if the owner is you) and attach it to your stock images during the submission process.
If you need help filling in the model releases or property releases, you can find detailed info in this blog: how to fill in model and property releases.
If there are visible persons or copyrighted elements in your image and you can't provide a model release or a property release, then you should consider the Editorial license for your stock photos.
You can also choose the extended licenses that you want to make available. They should be already checked, as they provide increased chances to earn more from your images.
While the web usage and print usage are most important for buyers, you may want to pay attention to the Selling the Rights (SR-EL) license. This license gives the buyers the possibility to fully buy the rights for your image and use it as they see fit (either in perpetuity or only for a limited period), without all the limitations usually found in the common Royalty-Free licenses. You will always remain the author of an image sold with an SR-EL license, but you won't be able to use it or sell it anymore. We already have some prices suggested for such a license, considering the photo industry's prices, but you can enter your own price for it if you want.
4.The final step is to submit your images for review. That's the easy part, usually followed by a short period of waiting to see if your photos (or videos, vector illustrations, or stock audio) have been accepted. You will receive an email about whether they've been accepted or refused.
If they have been accepted for online selling, you will find them in your online files, together with details about the upload date, number of downloads for each image, and so on.
Accepted or refused images will count in your approval rating, which can influence your placement in the search engine; therefore, they can influence your sales.
That's pretty much it! It's easy to become a Dreamstime contributor if you want it to be, but you can also go deep and do more for your images if you want more sales. The choice is yours, depending on how you see this activity: as a way to earn some extra income now and then, or a way to make a living by doing the thing you love.
How much can you earn for your images?
Dreamstime pays contributors depending on their exclusivity status, the popularity of their images or stock audio files, and depending on the final use intended by the customer. Let's elaborate:
Possible earnings for Dreamstime contributors
You can find all the royalties paid by Dreamstime to contributors in the How to Sell Your Photos page. Ensure you check all the tabs of that table, as the prices can go from 35 cents to 40 dollars or more for a single sale.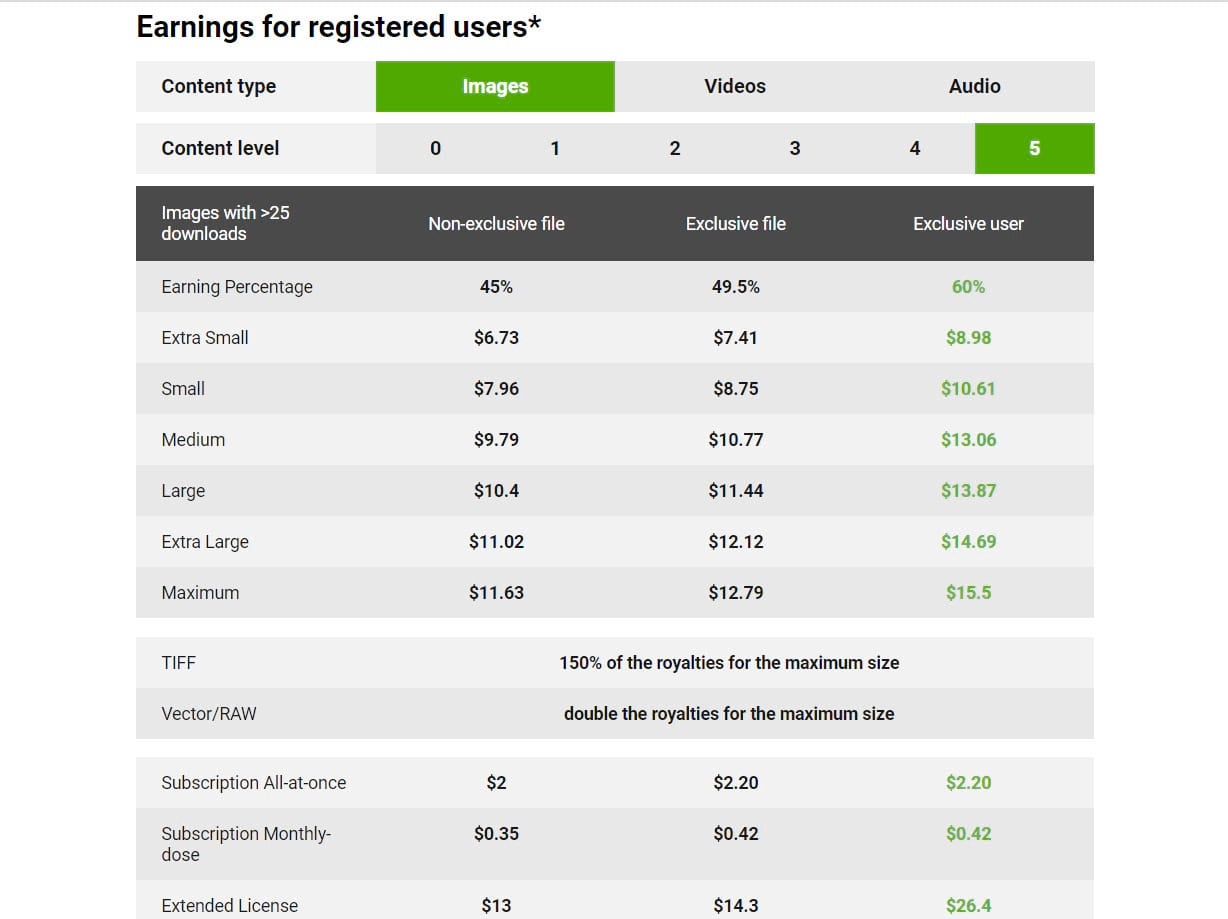 As a Dreamstime contributor, you have three options:
sell your files with no strings attached (non-exclusive contributor, non-exclusive files)
sell some files exclusively on Dreamstime (independent contributor, with some exclusive files)
sell your files only on Dreamstime (exclusive contributor, exclusive files)
You get the lower tier of royalties for your image sales for the first option, while the percent received on each sale will increase for the exclusive files. Exclusive contributors earn the most from their images and benefit from a better placement in Dreamstime's search engine so that more potential buyers will see their photos or other types of files.
Stock photographers who want to go exclusive with Dreamstime get the best royalties in the industry (up to 60% of each sale) and receive a bonus for each upload. You can find more details about the exclusivity on Dreamstime here.
If you're ready to join the other 650,000 stock photographers and become a Dreamstime contributor, start here.
Photo credits: Ammentorp, Cristi_m, Igor Zhorov, Robert Kneschke.
Video credits: Silverblack.