How to correct Converging Verticals
How to correct Converging Verticals.
I'm sure many of you already know about the following technique, but judging by the number of uncorrected images in the Dreamstime files, I think it may be worth sharing this technique here.
If you angle your lens up or down when photographing something like a tall building you will get 'Converging Verticals'.
In the example below the minarets of the Taj Mahal appear to lean inwards.
I know that in some cases this can be used for dramatic effect, but often it just looks wrong and the image would look far better with the verticals corrected.
*Please Note: both examples are cropped to fit this letterbox format. (click on the pictures below to see the full image)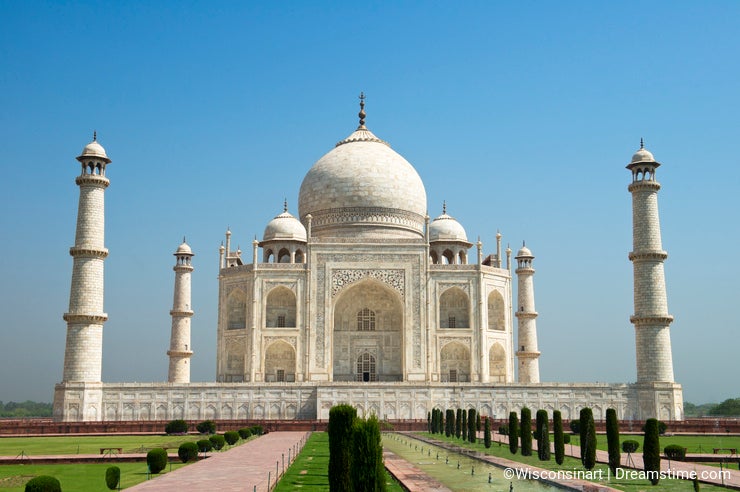 To correct the leaning verticals use the following method........
1. Open your image in Photoshop
2. Make a duplicate layer. Go to: 'Layer' then 'Duplicate Layer'
A new layer will appear in your 'Layers' list.
3. Delete the 'background' layer (drag from list into the trash).
4. Go to 'Edit' then 'Transform' then 'Perspective' - A box will appear around your image.
5. Go to a top corner of your image. Click on the small square and pull outwards until the verticals are straight.
6. Flatten your image - go to 'Layers' then 'Flatten'.
7. Save your image.

A more selective method is to use 'Edit' then 'Transform' then 'Distort'
This will enable you to manipulate each corner separately.
You can also fine tune your correction using 'Edit' then 'Transform' then 'Warp' just pulling a little from selected points to get the effect you want.
The above method (using 'Distort') can also be used to correct leaning horizons or other types of 'skewed' images.
Of course, you can always use these techniques 'in reverse' to ADD distortion effects to an image. Especially using 'warp' which you can use to create some really weird effects.
Hope you find this useful.
Steve Allen
PS: I've come across an interesting fact.
I understand that the minarets of the Taj Mahal actually lean outward from true vertical. This is only very slightly, but the idea is that if they should fall, due to an earthquake, they will hopefully fall away from the main building!
The builders of the Taj didn't need Photoshop to get their verticals right!!
Photo credits: Steve Allen, Wisconsinart.
To provide you with additional information about how we collect and use your personal data, we've recently updated our
Privacy Policy
and
Terms of Service
. Please review these pages now, as they apply to your continued use of our website.