How to shoot good photos in bad weather
The autumn is here with its moody, four-seasons days, and sooner than you know it, it will be winter, the usual time when photographers just pack the camera in the backpack and don't take it out until the first warm days in the spring. But if you're adopting this routine, maybe you're missing some great photo opportunities?

We're often seeing the idyllic, blue-sky-sunny-day photos everywhere around, most stock photographers are chasing them for a good reason: they are the perfect display for travel agencies who are promoting a destination they're selling to travelers. However, as 2020 has proven so far, there may be times when travel is not so in-demand, and even if this year won't happen again in our lifetime, the most popular destinations are pretty much covered already, so it may not be such a good idea to just shoot what everybody else has shot over and over again in so many years behind.
Maybe it's a good time to think about other uses for our photos, like home decoration, or inspiring books, or even feature articles for the press or popular blogs?

Mother nature is always unpredictable, especially for those shooting travel photography. Often, the rain, storms, snow falls or windy days are showing a much more interesting side of things than the perfectly-lit, sometimes boring, clear-blue-sky sunny days.
I'm gonna share with you some tips on how to shoot good photos in bad weather and survive to tell the story.
In short, you have to take care of the 4 main issues that come with bad weather:
1. Protect yourself
2. Protect your equipment
3. Use the right camera settings
4. Explore
Now, let's get a little deep into each of them:
1. Protect yourself from the unexpected. There may be wind, rain, snow, whatever, you can face them all with a good 3-in-1 jacket, a pair of rain pants and some nice waterproof boots. You have to be ready to adapt to unpredictable situations that may arise.

When you're looking for these pieces to add to your wardrobe, try to get yourself those that say "waterproof", not just "water resistant". Water-resistant are better in bad weather than usual clothes, but waterproof clothes get really serious about it and can protect you from heavy rain.
The reason why I'm mentioning 3-in-1 jackets, even if they may not be so popular among professional climbers or hikers, is that they're basically composed of two jackets attached to each other with a zip, and you can use them together or separate, depending on the weather conditions you may find out there. Using a layer system will keep you out for longer if the weather changes, while if you get a jacket that's too thick or too light, you may want to give up and go back inside when the temperature gets too hot or too cold.
The pants are not as important as the jacket, as the rain will mostly fall from above, so your top will protect some of your downside as well, but it would be nice to have them water resistant at least.
The shoes, however, are just as important as the jacket. Be honest, you wouldn't like to walk around with your feet wet for long, especially because when they get wet, your feet tend to freeze much faster.
As a photographer, you already know by now that quality comes with a price. However, when you're out there all wet and freezing, I can guarantee you would be so happy to pay the price if you could just make all the wetness and freezing cold go away in an instant.

Some brands I'm looking at when I'm searching for weatherproof clothes and shoes are, in no particular order: The North Face, Columbia, Jack Wolfskin, Timberland, Mammut. These are my personal choices, but there are so many options out there. If you find these a bit expensive, just wait till you see the prices on other specialized brands, like Fjällräven, Arc'teryx, Canada Goose or Parajumpers. Still fully justified in my opinion, if you can afford them.
Some brands have developed their own performant weatherproof technologies, but if you can get anything based on Gore-Tex, you will be also fine, it's one of the best waterproof fabrics you can find worldwide.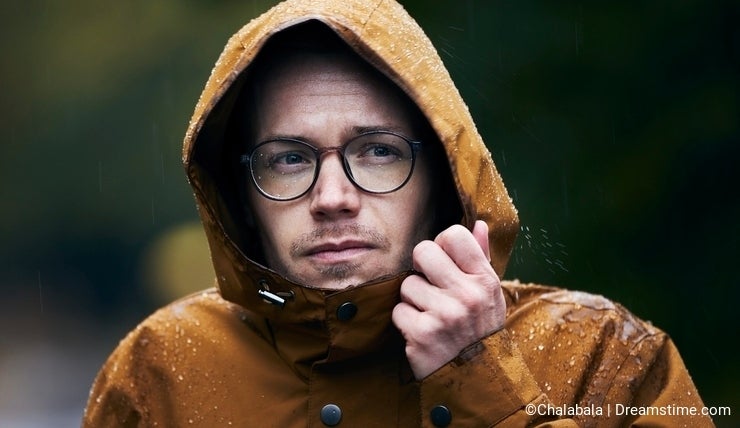 If you don't foresee any bad weather for your shooting, but still want to stay on the safe side, you can keep a waterproofing spray in your bag at all times, just as a backup.
Next on our list, let's secure the tools of trade:
2. Protect your equipment
First, keep your lens hood on. It's the most basic protection you can offer to your front lens, so you can keep the drops away from it.

I've seen photographers using umbrellas and personally, I wouldn't recommend this approach. Even if you can get yourself some of the best umbrellas in the world, like Davek or Gustbuster, you would still have to hold them somehow, and that would divert your attention from your shooting. Even a moment lost can turn into a failed shooting. Having said that, umbrellas could still work if your shooting is static, as in "shooting on tripod in a single place, not moving anywhere for a long time"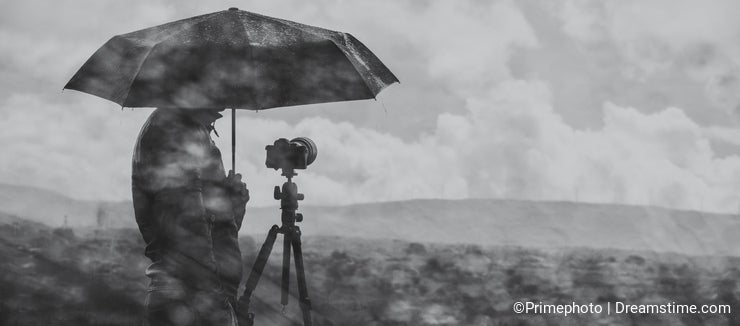 But if you're an explorer, you may want to look into options for rain covers for cameras. From my own experience so far, I can say I really love what Aquatech and Outex are doing for bad weather photographers, while Manfrotto is also worth considering. From Aquatech you should look into their Sport Shield range, from Outex you can start with their Entry Kit, and from Manfrotto you will find the Pro-Light range quite nice.
These rain covers will protect your camera even from the worst rain, so you can "comfortably" shoot in whatever conditions you will find.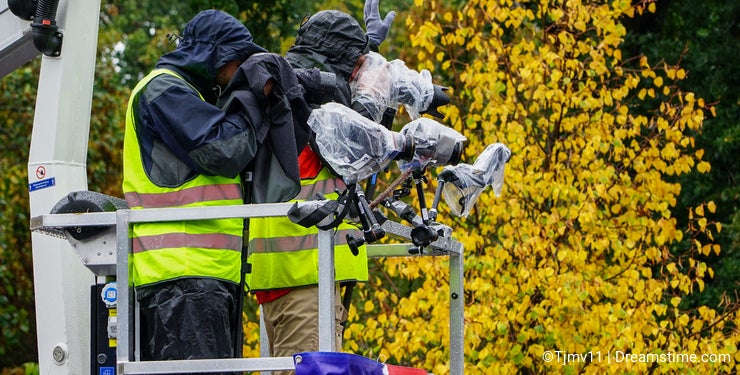 I haven't tried all the options out there, as once you find something good, you stick with it, but you may find rain covers from Think Tank, LensCoat or Peak Design also useful.
Now, if both you and your equipment are properly protected, let's talk about what really matters:
3. Use the right camera settings
As your camera would be covered by a rain cover or something, you won't be able to change the settings as freely as you would like to, especially under heavy rain and/or wind. So, make sure you leave little to no changes to be done to your settings when you're out there.
Try to set the shutter speed to a value you see safe (I usually go above 1/125, but it depends on your hands and your lens stabilisation), use an aperture that would work in most shots (f4 would be wide enough to get a bit of bokeh, yet closed enough to capture details), and auto ISO, if your camera has it. Depending on your camera, lens, intent, you would adjust these settings according to your needs, but make sure you have a starting point universal enough so you wouldn't have to press many buttons during shooting.

It's annoying, or at least uncomfortable to get your wet or frozen hands under the cover, change the settings and repeat, while your display may not be as visible as it is without a rain cover.
So do the best you can to avoid changing settings too often, even if it means using the automated shooting programs, like Aperture Priority or Shutter Priority. Nobody really cares in what mode you are shooting, if the results are great.
As a rule of thumb, the rain or snowfall will be highlighted in your photos if you use a longer lens and/or a slower shutter speed.
Now, if you're dry enough, your equipment is safe and you're confident in your settings, you only have one thing left to do:
4. Explore
Make the most of your bad weather shooting, as you probably wouldn't want to do it very often, even if you have all the protection you need.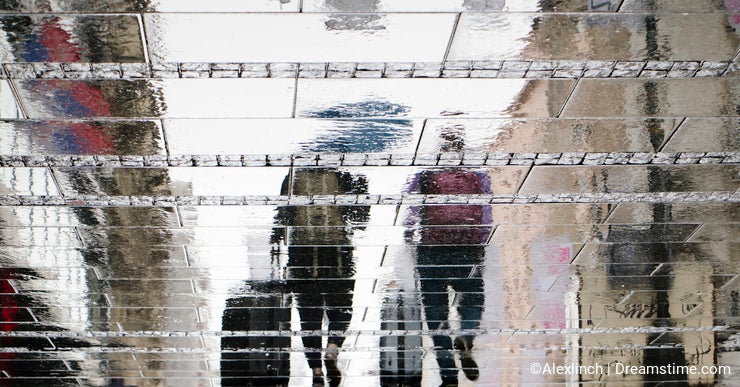 Play with long exposures, chase reflections in big or small ponds, take the classic shots, surprise yourself with innovative framing, change the point of view, cross the street, go a little further. Let your mind flow like the water from above and don't refuse yourself any experiment. Have fun! It's why you got into photography in the first place.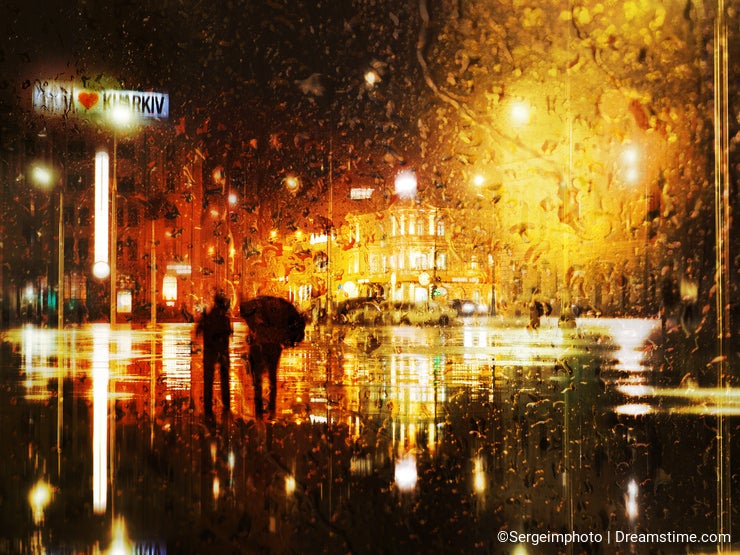 It's a lot to talk about what makes a photo good, and there's no right or wrong when you're experimenting, as the results are always judged differently, depending on who's watching. But if the shooting is fun and motivates you to shoot more, that's a good start in the right direction.

If you have your own tips for shooting in bad weather, don't hesitate to write them down in the comments below.
Photo credits: Petr Malyshev, Alexlinch, Andrei Bortnikau, Jaromír Chalabala, Nikolay Antonov, Thomas Lukassek, Mikhail Starodubov, Tatiana Fedotova, Sergii Myronenko, Zigmunds Dizgalvis, Xalanx.