Iceland - A Photographic Destination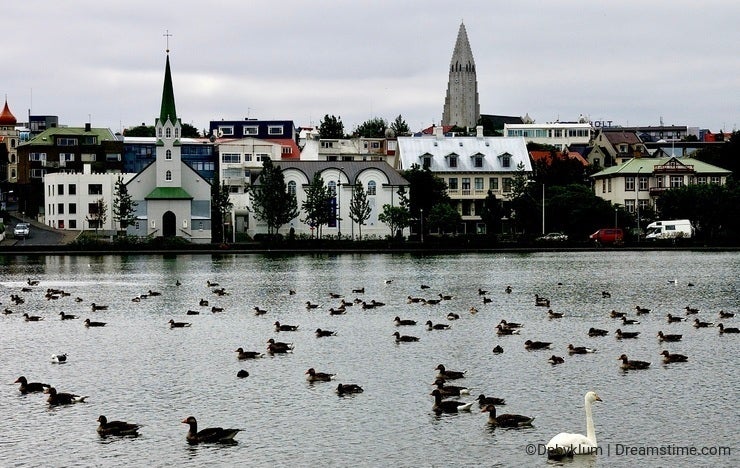 Very little can prepare you for the beauty of Iceland. It is no wonder that those pesky Vikings wanted to give it a name that would discourage visitors from intruding on their island sanctuary. Once you get used to the idea that trees are not native to this northern land, you are swept into a world of picturesque waterfalls, impressive architecture and a welcoming environment that makes you forget the absence of expansive forests and green conifers.
I, in no way, consider myself an expert on Iceland lore. My wife and I made a stop in Iceland on our way to my lands of ancestry in Norway. The contrast between these two places is stark, but each is unique and wonderful.
Most tourists make a mad dash for the geothermal hot springs for which Iceland is famous. We were only in Iceland for 2 days and we had to make the most of this layover on the way to Norway. We bypassed the geothermal spas in order to concentrate on the capital city of Reykjavik and make short excursions into the countryside. I found the capital city of Reykjavik to be an intriguing place and was more than happy to spend the bulk of our time exploring the backstreets of this historic city. It was an easy effort to walk this city and we spent hours on foot getting up-close and personal.
I still can't get the image of Hallgrimskirkja out of my mind. The impressive Lutheran church dominates the skyline of central Reykjavik and presents itself as a photographic focal point. A trip to the bell tower at its peak makes for majestic views of the capital city. My camera got a good work out at the top.

If you don't see the waterfalls of Iceland, you have missed out on an incredible natural phenomenon. Gullfoss Waterfall is relatively close to Reykjavik and well worth the time and effort to take in its majesty. The sheer volume of water making its way over the falls is a scenic wonder in itself. I can tell you that its roar is audible from distances that would seem implausible.
I would hope to return to Iceland one day and be able to spend more time there. My wish list of destinations continues to grow. If only the world were a more accessible place in this time of COVID.
Stay healthy. Stay safe. And until next time, keep clickin'.
Photo credits: Daryl Byklum.