Let's make some magic
Who has never dreamed of extraordinary abilities to control inanimate matter, to overcome gravity, to prove that the laws of nature can be tamed. Oh yes, I will show you in a few easy steps how to do it ... no, no, no ... I do not mean closing your eyes and dreams, instead let's get ready for a photo walk.
We will need magical equipment; a tripod, a cable time trigger (in the absence of an intervalometer, a friendly soul) and an object that we liven up (e.g. a book). Of course, if you are adept of Hogwarts, you can also take your wand. Personally, I did not have it :P
For the direction of the walk I chose the forest path. I suppose it is a perfect place for those who do not want to reveal their secret powers in front of passers-by. Within two quarter of an hour, you should feel that flow of fresh energy. It's a sign to begin.
Look around, stretch a bit, and consider the composition. Bear in mind that our book will need a space to fly. Choose wider lens. I put the camera on a tripod near the ground, planning to capture several shots before the book starts to float. The carpet of leaves had also some picturesqueness.
The surroundings will be our first photo, our pure base background to which we will later add the book. Nextly capture the simulated movement / flight. An intervalometer can be useful here, but if you have a companion who will release the camera's shutter, it's even better.
Imitate the natural movement with the book, a bit like a bird's flight in slow motion, and take shots. Plan each shot to avoid the overlap of individual stages. Try not to enter the background behind the book, hold it on your outstretched hand. This will facilitate further editing.

Great. Time to return home, we are ready to combine all stages into one. Open the image in Photoshop, select the outline of the book, mask the background and repeat steps to the whole series, placing them on separate layers. It will not last longer than brewing and drinking two teas; for me it took three (because I like tea;). That's all, magic happened. You deserve the Master of Wizardry diploma.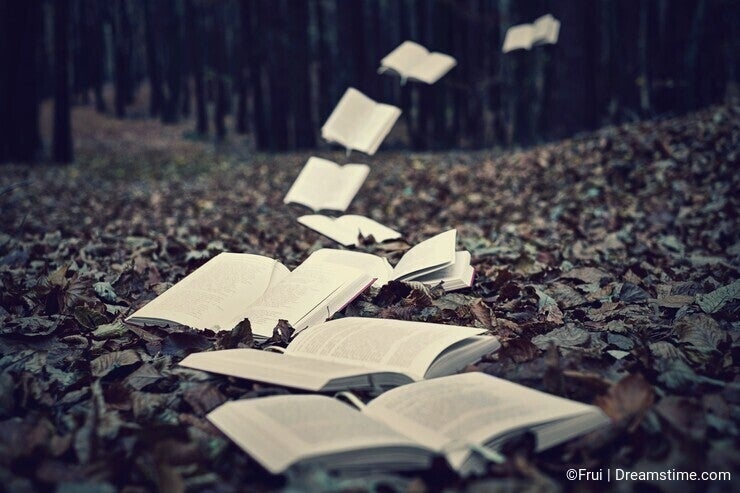 I can also satisfy your curiosity if these types of photos have sales potential. My version until the blog was published have been sold 58 times and earned almost 100 USD. Due to the subdued colors, sales usually appeared more frequent during autumn and winter.
But wait, spring is coming, it means that magical moments will be even more intense.
Have fun :) and see you in the next post.
Bye!
PS
Do not be dissatisfied that I do not delve into technical details, my goal was to encourage you to some idea.
Photo credits: Frui.
To provide you with additional information about how we collect and use your personal data, we've recently updated our
Privacy Policy
and
Terms of Service
. Please review these pages now, as they apply to your continued use of our website.