Location Spotlight: Magnolia Springs State Park, Georgia

Magnolia Springs State Park in Georgia turned out to be a pleasant surprise. It is the perfect location for a wildlife photographer to bring the family along. For the photographer: Spanish Moss waving in the tall pines, a lake lined with lily pads sporting beautiful large white blooms, alligators, wading birds. For the family: nice campsites, a splash pad for the kids, canoe rentals.
Magnolia Springs State Park was a short, 2-night, quickly planned trip to another Georgia State Park; our 21st State Park visit. We arrived on my birthday, which also happened to be Memorial Day, and the park was packed with picnickers, but most everyone left as dusk came on, leaving the area quiet for the next three days.

Being a state park frequented by visitors on holidays and weekends, the wildlife was somewhat accustomed to humans and thereby made the photography easier. I knew there would be some alligators at the park, but it was better than I expected. They were more numerous, and larger, than I anticipated for a small spring and creek in this part of the state.

The spring for which the park gets its name was truly an awe inspiring spectacle pumping out millions of clean, pure gallons of water each day. The water was so clear and you could clearly see the underwater cave from which the underground spring flowed. And I had probably never seen such a huge concentration of turtles in one small area. Definitely a nice park for a day visit or even a short camping trip.
The lake wasn't too large, but was rimmed with beautiful bright green lily pads with large white blooms that opened and closed corresponding to the heat of the day. We also had fun exploring the Civil War remnants of Fort Lawton while looking for the geocache coordinates encoded in the educational kiosks.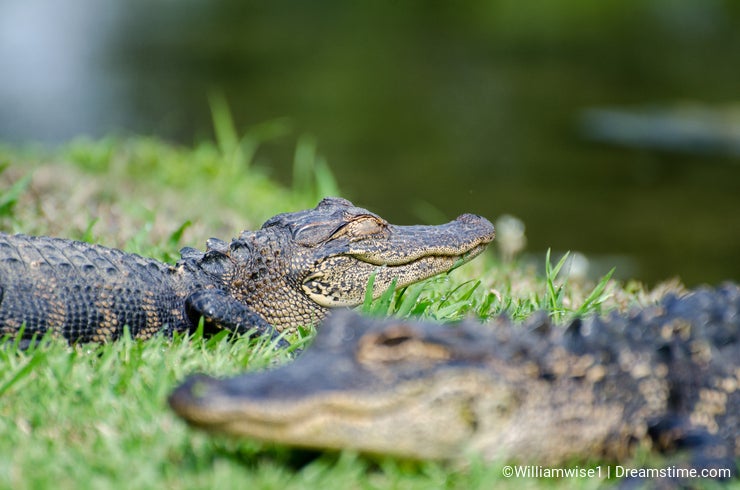 Photo credits: William Wise.