I always get fascinated by Blue Hours photos. but did not realize the magic until I came to Singapore. In one of my previous blogs, I mentioned that Singapore looks fab in Blue hours! Oh, then I was new to the city. As the days passed, I found each different parts of the city creates different magic in Blue hours.
Unlike the early morning photos no need to wake-up early. Just an evening walk is enough buddy! :) Here are few points from my personal experience.
For blue hours you need to wait till the sun sets and the red hues are gone from the sky. Cloudy days help a lot. Look at this. My 1st blue hours shot at Singapore. Aren't the clouds adding an extra zing to the scene?

Choosing a location:
If you are in a city where you see dazzling lights then you are lucky enough! Spot some tall building or tower which is high enough than the buildings/trees in the surroundings. You must have a wide view of the city with the sky in b/g. Trust me! Those tiny colorful city-lights in blue b/g will amaze you!
If city lights are not enough then choose a place like some gardens or local fair where decorative lights are there. If you do not have a tall building around it then hey! not a problem. Get some shots from ground level by looking up. Still the sky will be in b/g. Take a look at this.
Even some bridges on water will be good spot to take blue hours shot!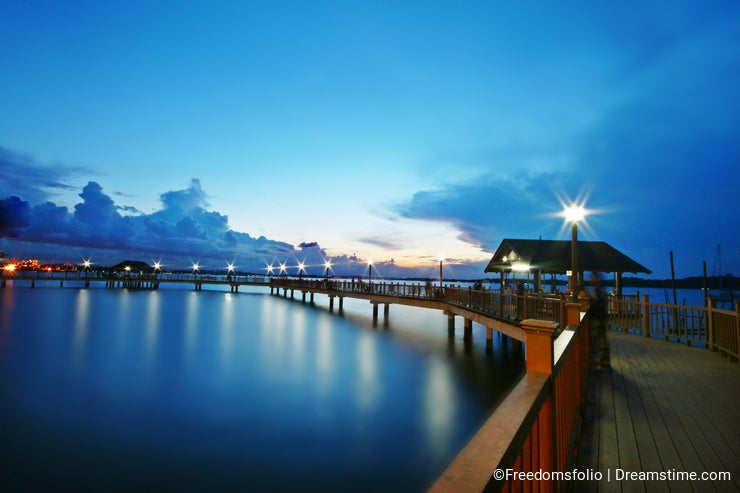 I am yet to take some car light trails :) which is another interesting subject in blue hours.
Now comes the Technical things:
1st and foremost thing that you must carry is tripod! It will help you capture the true magic in such low light. Also as I say water body would be a good spot tripod will help u here for long exposure shots.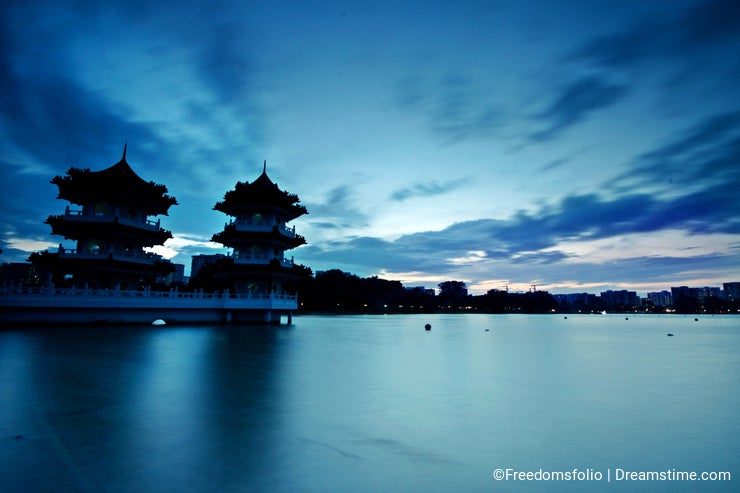 2ndly, a higher f stop is required if you are focusing on those glittering lights. It gives you the starry effect with light rays around the stronger bright spots. f11-f13 is ok. Don't go too high as it might ruin sharpness. I loved those colorful starry lights here in this shot.

Slow shutter with low ISO. Since blue hours already have less ambiance light you got to choose a slow shutter. May be 2-10 seconds. You can take few test shots to meter. ISO should not be more than 200. 100 is best. Else noise will ruin the beauty.

Post processing:
Blue hours shot will surely have some noise in full zoom. You need to selectively remove them without touching the main subjects. Otherwise the photo might lose sharpness.
Eventually if the sky is not that blue but you wish some more tint might add beauty. Give some cyan in darker areas by choosing 'color balance' in photo-shop. Increase cyan in shadow parts.
That's all for today :) I am sure some of you might know some other points. Please feel free to share :)