So, the other week my parents were coming up to visit and I really needed to get the house a little cleaner, bake some muffins, make some ice tea, etc. Basically I needed to organize some things, and generally run around spastically, doing random frantic things in the usual attempt to try to fool my parents into believing I am a lot less disorganized than I actually am. In all this hub-bub, I realized there wouldn't be much time for a couple of days to play with my camera, do much experimenting, or upload anything... unless I could just run the stairs a *little* faster, a few more times in a day, a *wee bit* more hyper than usual. The next thing I know, I know, I've got the light tent set up in the basement and I am manically shuttling ingredients up and down the stairs between the kitchen and the basement, house music blasting through the place, everything smelling of spilled cinnamon... Sure, this drives my cat crazy, and I don't think he appreciates being accidentally dusted with baking flour as I fly through the living room juggling zucchinis, eggs, mixing bowl, etc. but he does seem to enjoy the excitement of racing me up and down the stairs. His little kitty eyes just sparkle with exhileration and joy when I'm rushing and panicked, I tell ya!
Anyway, amid all excitement and wildness, I did manage to bake some healthy muffins, have a lovely visit with my parents, excercise my cat, AND get a cool new photo from one of my baking adventures successfully uploaded and online in my portfolio. And, because I am just ever so mildly obsessed with having a healthy diet, these muffins were of course made completely from scratch, with all whole, natural ingredients! Here is the photo and the recipe....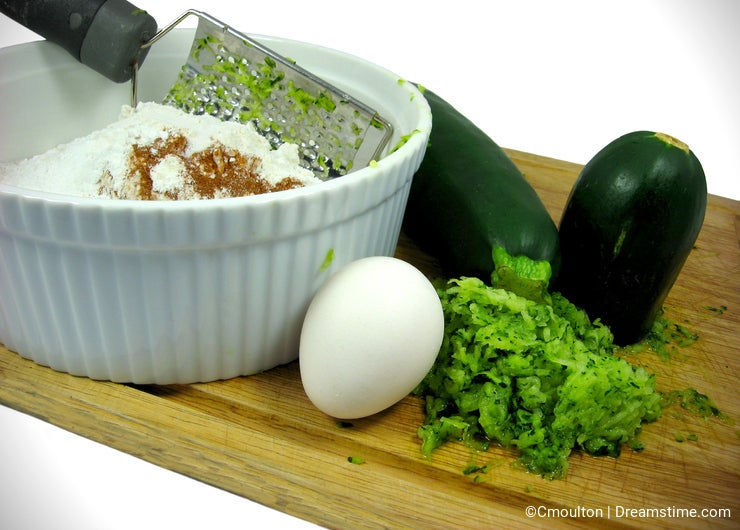 Zucchini Muffins
1 cup All Purpose Flour
1 cup Whole Wheat Flour
1 tsp Cinnamon
1/2 tsp Baking Soda
2 tsp Baking Powder
1/2 tsp Salt
2 Eggs, whisked
1 tsp Vanilla
1/3 cup Vegetable or Canola Oil
2/3 cup Honey
1 1/2 cups Zucchini, shredded (a couple of smalls or 1 large zucchini)
1. Preheat oven to 350 degrees.
2. Mix the first 6 ingredients (all the dry ingredients) in a large bowl. Combine thoroughly.
3. Whisk the remaining ingredients together in another bowl.
4. Pour the wet ingredients into the dry ingredients and stir everything together until they are just combined.
5. Pour the mixture into muffins cups. You should be able to make 12 regular sized muffins or 24 mini muffins.
6. Bakes for 20 minutes for regular size or 15 minutes for mini muffins.
7. Cool and Serve.
And there you have it. Healthy, delicious muffins with one of the most abundant summer vegetables you can grow, and a snap to make!
Now, I have work to do. With 49 images approved and online at Dreamstime, I am on the cusp of being eligible for exclusivity, assignments, and general greatness! Perhaps I'll make it this month. If not though, for sure I'll reach the 50 images milestone in August. Yay! Now let's all go do our work... or bake a snack, maybe, if you're hungry first :) Have a great week!