I can not say that everything was started for one frame, since this series a lot of decent work. Yet, there is one best picture. My favorite picture. It is in front of you. Those who are intimately acquainted with me, many times seen this picture on the splash screen of my phone or on the desktop of my computer. Print and hang your masterpiece on the wall is "hands do not reach", but I think all in front.
So, every story has a beginning. Let's go!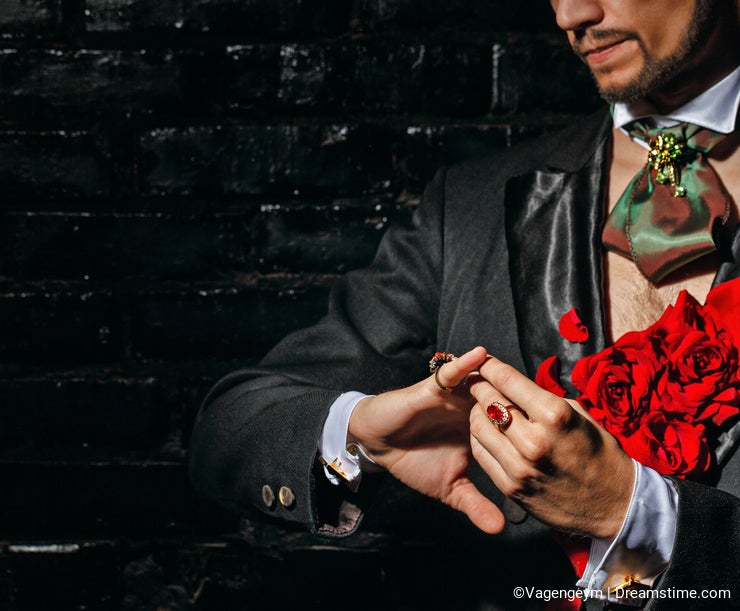 The idea for this photo shoot was born during one viewing images on the Internet. I stumbled on a wonderful art by an unknown author. The figure was depicted a man of aristocratic appearance. He was wearing a frock coat and from the heart sprouted roses. I wanted to push off from the source code and do something like that, especially since the men in my portfolio is sufficiently small. The difficulty of this enterprise was that I had already lifted the bar of the photo shoot higher than ever. Not only do you need to find a dress and accessories, think of how, in theatrical costume and model rose to fix, so still need a man of aristocratic appearance. Small accessories to complement the image, the set and the circuit light fade into the background. It was not difficult.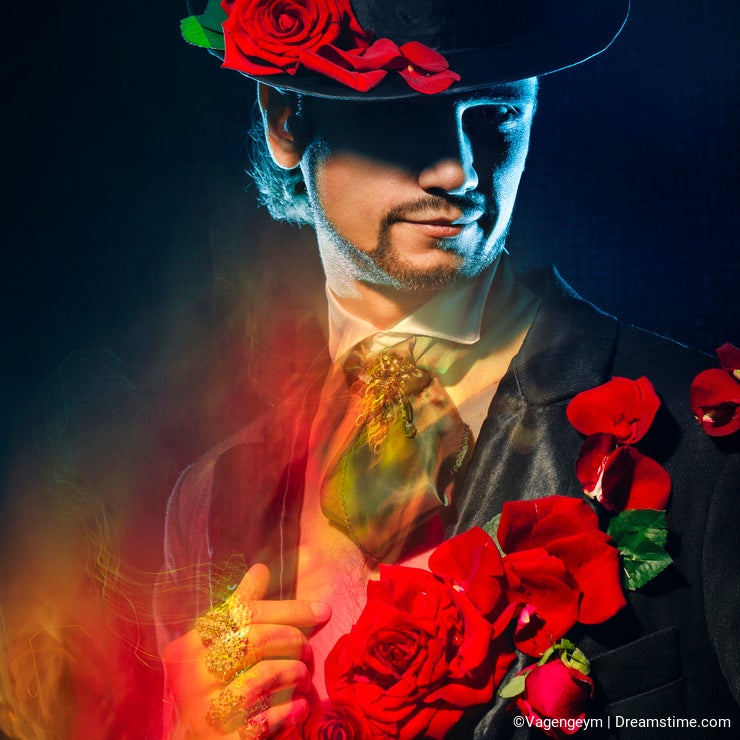 His idea, I immediately infected stylist. Exasperates Anna questions for a long time. I was worried about whether it can fulfill my wishes to create an image to life. Will hold a rose? Flowers were to be present. Man-made frame to "cheaper", and that, you know, did not want to. At that time, I had completely forgotten about the existence of miraculous glue BF-6. We must pay tribute to Anna, she reacted to tolerate my compulsive neurosis, and every time comforted that all feasible. Now the hardest part - to find a suitable model.
My choice immediately fell on Eugene, as he is the only one I know of men having aristocratic features and a perfect hands into the bargain. The difficulty was that even though Jack has agreed to pose, but was filled with enthusiasm, as well as was, to put it mildly, out of reach. 1000 km is not a joke!
Next, we wanted to understand with Anna, I was not wrong with the model? After Eugene in a similar outfit, I certainly could not imagine. Trite and try to take, unfortunately it did not work, because the coat and the cylinder is not fitting to send to another city. So we decided to make a few snapshots in a jacket with someone else's shoulder and a hat that just does not fit. Plenty nahohotavshis viewing Snaps include fantasy and conferred with Anna, we made sure the correct choice. It was the easiest to collect fines for the completion of the image and the dock all the time.
So, 23 September 2014. We finally met all bought fresh roses and arrived safely in a photo studio. Costume and trivia (rings, brooch, scarf, removable collar and cuffs) brought Anna. My contribution - it's just gold cufflinks with topaz. Jack had to sit in the coat, but at the last moment, for some reason, he could not take and Anna found a worthy replacement. Thrace. True, she warned that suit older than all of us put together. While Anna cast over fashion. I went to the film set to choose the location and adjust the light. I admit, I purposely did not particularly hurry to the dressing room, I'm still afraid that Jack will change his mind at the last moment and run away. Afraid that rose all the same will be more BF-6 and will not be held. I was afraid that the image will not such as I imagined .... Look how many I've had experiences! But when Anna called to the dressing room, I had come all the same. What I saw exceeded my expectations! It turned out even better than I imagined. Anna did everything perfectly, and wife went damn suit and cylinder even strewn with roses. Now I had to do their job at the highest level. Do not spoil the result of so much effort and excitement. I had to capture the perfect shot. Ideal for light, color, angle and so on. Catch the correct movement patterns. And I did it! Yes! Seeing this more on the camera, I said that I had a photo shoot was a success, although it was still the beginning of shooting. Then shoot was much easier since gone all the excitement and self-doubt. Perhaps it was the first and only survey, when I'm tired. I'm tired mentally, not physically. Apparently a lot of soul I put in the work. That's why rezultat.do still continues to please me. For myself, with agreed that this work for me - a step forward in the development of photography. While I do not take a picture better than this, the portrait will be on my phone and the screen saver on your desktop as a reminder that the need to move on. Life - a movement, a movement forward and upward toward new horizons and strong images.
P.S. I do not accidentally select the date of publication of this article it is today.
Eugene, happy birthday to you! Thank you for this shot. I hope that you have not just decorate my portfolio.
P.P.S. Here they are the ideal men's hands, and regular features. Enjoy)