Okefenokee Swamp Photographer's Guide: Where to Paddle
Adventurers to the Okefenokee National Wildlife Refuge in the southeastern United States can apply for permits to overnight at several locations such as Mixon's Hammock, Floyd's Island, and Canal Run. But even if opting to return to a base camp at the Stephen C Foster State Park campground each evening, there are still plenty of canoe trails to fill each day with adventure. There are several options once you hit the water:
PART 3: WHERE TO PADDLE
Billy's Lake
If you are just looking for a morning or afternoon of cruising the open waters for birding and spotting gators, you can spend several hours and never need get more than 4 miles from "home". As soon as you paddle up the channel from Stephen C Foster State Park's boat launch you come upon Billy's Lake. This is one of the largest lakes in the Okefenokee and is about 3.5 miles long.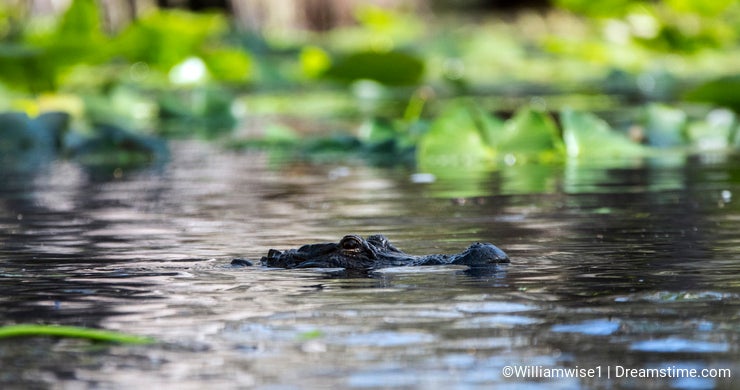 The lake is lined with lily pads, floating beds of peat and hummocks, and burned or fallen logs often topped with basking alligators of all ages and lengths. The shores of Billy's Lake are also lined with the towering and grand Bald Cypress tree (Taxodium distichum) decorated with Spanish Moss swaying in the breeze. As comorants and herons perch overhead or dive below, there is no end to the photographic opportunities.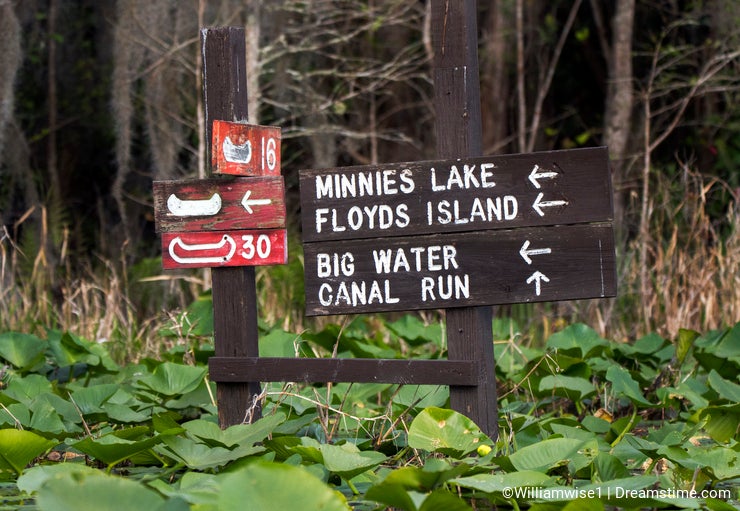 The Red Trail
Getting off Billy's Lake and up the middle fork of the Suwannee River (the red trail) gives you a real taste of "swamp". Here the canoe trail narrows, the Spanish Moss laden Cypress Trees block the sky overhead and the brush closes in on the sides. Your trek twists and turns about the textured cypress knees and other organic debris along the path. Red-shouldered Hawks scream unseen overhead and Wood Ducks squeal as they take off at your approach. If you're lucky, you'll spot a pod of baby alligators in one of these more secluded spots!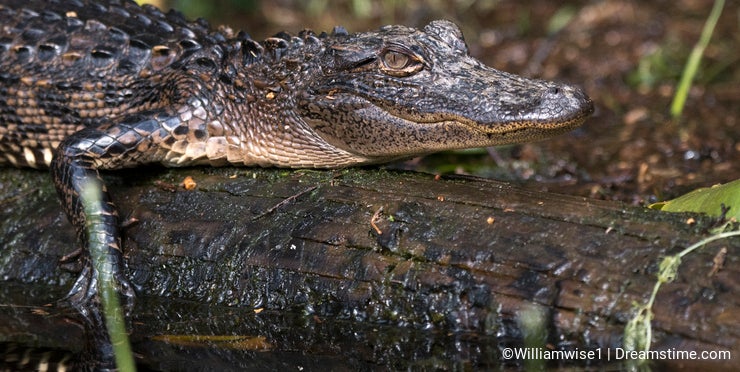 Even with a trolling motor going most of the day, we never reached the northern end of the day-use trail! There is plenty of waterway to fill the day without applying for an overnight permit. As you travel northward, the trail opens up to other lakes and prairies. Minnie's Lake always hosts a large gathering of gargantuan gators.We paddle the first several hours of the day northward to Big Water lake. There we each lunch, photograph the gators and Little Blue Herons, and then head back south for "home" at Stephen C Foster State Park.
East to Billy's Island
Typically on our first or last day, when we only have a few hours, we travel east on Billy's Lake to Billy's Island. There is a boat dock there and you can get out and explore. We haven't ventured far on the island, but friends have found Easton Diamondbacks, baby gators and other things. It is a good place to get out of the canoe, stretch your legs and do a little birding.
West toward "The Sill"
On one of our trips we paddled west from Billy's Lake and into the River Narrows. As the name implies, this was some tricky canoe navigation! But passing through the narrows, we came out onto a beautiful prairie. You can see evidences of the old logging days, including burned out stumps and the posts of an abandoned railroad track.
Paddling "The Sill" wasn't as attractive as other areas of the swamp. Being a man-made canal, it is wide, flat and straight without much scenery surrounding it. However, further up the canal we did find some of the biggest alligators we have seen on our trips. Unless we have several days to explore, I don't plan another trip up The Sill.
If your time is limited, paddling up the red trail to Minnie's Lake and Big Water are the way to go!Again, I'm no Okefenokee expert, so I'd love to hear what others have to say; especially those of you who have overnighted in the swamp!
Photo credits: William Wise.