"Street portraits" was the topic for Dreamstimes assignment in January 2018, inviting creative photos of everyday people that one may encounter on any one of the worlds many streets. Assignments are fun and rewarding, and for me as an interested amateur it serves to test and challenge my conceptions of quality and originality. I have previously had experiences of joy when having a picture admitted to an assignment contest, but also of disappointment when a photo did not make the cut. This time I felt quite a bit out of my comfort zone as I mostly do landscapes, cityscapes and architecture. However, I did have two photos, which I thought might fit in nicely, so I tried my luck. The main reason I wanted to write about it is that the two photos are as different as can be and somehow they together seem to tell a larger story of the times we live in - the contrast between them creates an extra dimension.
Photo number one is a classic black white of two men (yes, two - but admittely you have to look twice to be sure) standing in some fog, each with their own phone.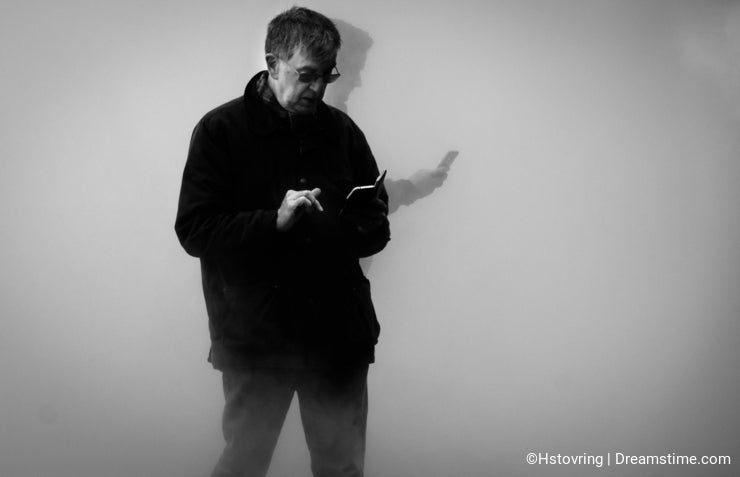 The fog reduces them to faint shadows, often the same effect as our incessant use of our smartphones create to our surroundings. I like this photo because so many different aspects come together to deliver a single comment on an everyday experience. And no, it was not a very carefully arranged photo, but rather a snapshot. I took it during a small break from Tate Moderns photo exhibition in spring 2017 where I saw people standing in an outdoor square with illuminated fog from smoke machines.
Photo number two could not be any more different with its laughing faces, silly hats and contagious joy. Three Norwegians celebrating yet another gold medal in the world championship of cross-country skiing (and no, just for the record, I am not Norwegian, but Dane, which is not the same thing at all :-) ).
This photo also tells a single story where all the different elements come together to deliver it. The happy, almost ecstatic, faces, the glittering gold hats and the single flag all indicate celebration. Again it is a snapshot, this time taken on a walk in central Oslo. And again a testament to the modern times: The championship was held at Holmenkollen in the outskirts of Oslo less than 30 minutes away by car, but the event was televised on public screens in central Oslo, such that literally the whole city could be part of the event at any time.
When you look at the two photos, I think they raise the question of whether our smartphones really provides us with the joy in life we really want? And perhaps they show that just as one assignment can be met with two radically different photos, our modern life is often a mosaic of radically different experiences, which we must try to reconcile to achieve our real goals?