PDN PhotoPlus - Biz Blitz
I just returned from four days at the PDN PhotoPlus Expo held in the massive Javits Convention Center in New York City. I was pleased to be part of a panel entitled, 'Microstock: Past, Present and Future' hosted by PDN and moderated by PDN editor, Daryl Lang. Based on my experience of speaking there in past years, the panel was heavily attended. (The total show attendance was over 30,000).There was ample time for questions from the audience that indicated a high level of interest in and understanding of our business model.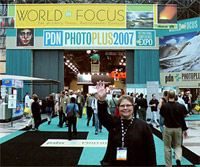 Lee Torrens who writes 'Microstock Diaries' was on the panel with me and prior to the seminar, we discussed microstock issues over lunch. (See his photo with me below). For someone who has just entered the microstock model as a contributor (two years ago) and as a respected blogger on the scene only since March, Lee has a very good grasp of the issues.
I had planned on attending several seminars but a bad cold sent me home early. However, I did walk the floor and hope that the images here will give a flavor of the intensity of the action on the show floor where everything photographic is on display. It's almost easy to believe that if you only owned half the stuff in the booths, you would be a superstar photographer within days.
If you want to learn about all the latest equipment and step into seminars about everything from lighting to fine art, New York in the fall at PhotoExpo is the place to be. In addition there are parties everywhere. The cold kept me in the hotel room but Lee Torrens reported that he had attended the first party in his life where there were real dancing girls… scantily clad I suspect?
We have a week's rest and then fly to Las Vegas for the PACA International Conference. I doubt it will be as rewarding as last year since that is where my career at Dreamstime kicked off.
Sorry for all the images of me and so few of other things but my husband was taking the pictures. I guess I should be happy that he likes me better than camera gear. (He's not so good a photographer. Dreamstime would never take him I fear!) And before anyone gets upset about the large Canon logo in the image of the show floor, remember this is a news photo!