Home is often a house, an apartment or a city. It is a place where you feel at ease and comfortable and yet its also one of the places where photography is tough. You see the same sights every day, go to and from the same places on the way to and from work and everything seems to blur into a mundane routine where you don't feel an urge to take out the camera and start making images.
On the opposite end of the spectrum though, images of your home, whatever it may be, are usually the ones with the most meaning and creativity. Because you see the same subjects every day you try to make them more inspiring, more interesting, and your camera is a unique tool to do this with.
For me "home" is now Hong Kong. Up until a year ago I had always lived in the States, so when I first moves across the ocean I found Hong Kong to be an exotic and exciting place. A year later everything has calmed down despite the crazyness of it all. So I took out my camera for fun instead of for assignments at work and found the new images to be much better than the ones of my initial impressions of Hong Kong.

The Hong Kong skyline is probably the most photographed thing in this country. It is absolutely beautiful and is one of the things that I'll never get tired of. Having imaged it from the standard points though I wanted to do something different. Something to show the intricacies of the city and what goes on here instead of just showing a pretty picture. While this picture does show the skyline it also shows the dozens of cranes as well. Hong Kong Island and Kowloon are some of the most densely populated places in the world and there is always construction going on. Old buildings are torn down and replaced by bigger and taller ones. In this picture the construction is for a new express rail link that will connect Hong Kong to the rest of China. Right now it takes three hours to go to Guangzhou in Guangdong Province but after the rail link is finished it will only take 50 minutes.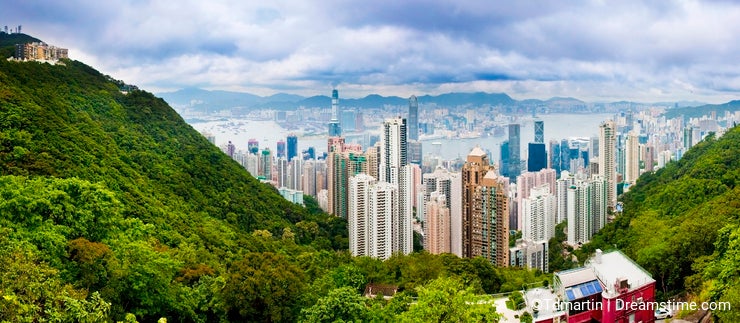 From a popular tourist spot known as "The Peak" there are millions of pictures. But most of them only show the city and not the mountain sides. Hong Kong is a very mountainous country and the city sprawls upward everywhere there is open space. Instead of showing just the mangled beautiful mess of the city I also added the sides of Victoria Peak for context and a greater understanding of what Hong Kong is.
This third image in the blog post is also taken in Hong Kong. Believe it or not, 70% of the country is uninhabitable land and there are hundreds of great hiking trails running through the New Territories farther away from the city and on the outlying islands. Hong Kong is not only a sprawling metropolis but is also a place of wonderful mountain peaks and fairytale sunsets and sunrises (massive pollution does have its bonuses!)
So if you feel uninspired, grab your camera and walk around your town or city. Try to capture a better essence of the place and show it in a much more enlightening manner!