Photography of Flags
PHOTOGRAPHY OF FLAGS
National and regional flags are subjects that are often photographed and have many uses for designers and stock photo buyers.
The trouble with trying to photograph flags as you come across them on your travel's is that you have little or no control. You can't control wind direction, lack of wind, direction of the sun, shadows on the face of the flag, the background, or the weather etc. It may also be very difficult to see complex patterns, insignia or symbols on a flag that is moving very quickly in the wind.
One way round these problems is to produce a 3D rendered image of your flag. However, images made in this way do not look 'real'. They may be OK for some uses, but not for others.
I have just finished shooting a large collection of flag images that cover almost all the worlds national flags, plus a good number of the better known regional flags. I have also included a few others, for example the NATO flag, the United Nations flag, the flag of the European Union and flags that are in the news such as the flag of the Ukraine and the flags of Islamic State and Al-Qaeda.
Most flag designs are 'Public Domain' and can sell as RF images without any problem. A few flags however, are not and must be sold as 'Editorial' - for example: the NATO flag, Aboriginal Flag, United Nations flag, some military flags and most 'skull & crossbones' flags.

All these flags were shot in a way that overcame all the above problems, yet still gave a 'real looking' image of a flag shot outside.

TECHNIQUE...........
All the flags were shot in the studio on a special 'wavy background' I constructed from thick white paper and card. This gave undulations to the flag when it was laid over this surface on the studio floor. When photographed from above it would then look like the flag is fluttering in the breeze. This rig was made using white paper etc because most flags are to some extent 'see through' and any other color would show through.
The resulting image was then 'cut out' and placed on a standard background of an empty flagpole against a blue sky with space for the cut out flag to then be added. I shot the flagpole in my garden. For my flagpole I used a wooden curtain pole, enlarged in the background shot to the correct proportions.
The results of all my work are 'standardized' images of all the 300 flags I photographed, all shot in the same style.
To better see how my 'flagpole' images look, please view my flag collection at the following link:
View here my collection - Flags of the World

I also did some of the major flags in a different way, using the same images that I had shot for cut out, but filling the frame with the flag design, or maybe just leaving a section of sky above one corner (see both top & bottom images).
I have also used a few of these flag cut out's to incorporate into images such as the 'We the People' shots below.



Above 2 images:
Flags of the United Kingdom - The Union flag, Wales, England, Scotland and Northern Ireland.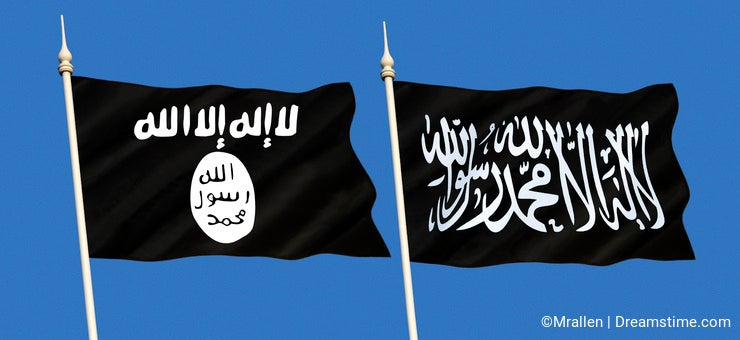 Above Left: Flag of Islamic State (Islamic State of Iraq and the Levant - ISIL) - This is the Al-Shabaab 'war' flag.
Above Right: The flag used by Al-Qeada - This flag features the 'Shahada' or 'Islamic Creed' and is a commonly used flag of militant jihadism.
These are two controversial flags that are very much 'in the news' at the moment.

My Conclusions........
To be able to do this photography I had to purchase the 300 flags I used, spending (the UK equivalent of) around $800 and I have so far used them to produce about 750 images.
I have about 425 of these images on Dreamstime, the majority of which are non-exclusive. They are also on sale on a further 10 microstock sites that I submit to. Around another 100 or so are on sale as exclusive images by one of my mainstream agents. The rest were rejected by Dreamstime as being too similar to existing work by other photographers. However, almost all have been accepted and are now on sale on all my other agents websites.
So, across all my agents, that's a total of over 6500 image placements !
I have been uploading all these images in small batches as I produced them, so some have now been on sale for a few months.
To date (12/14/14), and across all my sites, these flag images are selling very well and have made around 1450 sales earning about $1100, so I've already more than paid off my initial outlay.
They should carry on earning for a very long time. So this has been a very good investment.
Flag designs do not change that often, and even if one or two do change, the old design will still have an historic value.
Basically, a job worth doing.
Steve Allen
Flags purchased from: The Flag & Bunting Co.
Link to my Website: www.steveallenphotography.com
.
Photo credits: Steve Allen.