Playing with Fire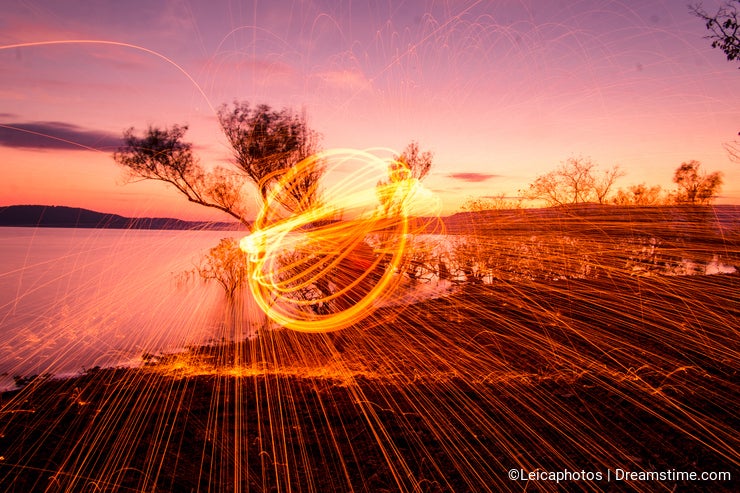 Poi is a fun photographic experience. There are many variations, but my personal favorite is spinning steel wool. Spinning steel wool is edgy, dangerous and a lot of fun.
The equipment needed is as follows:
a good hat or hoodie
a coat that is fire resistant
a kitchen whisk
a dog leash
fine grade 000 steel wool
a lighter
a fire extinguisher
uv filter
tripod or other mount to secure your camera
a camera that can do long exposures
wide angle lens
I usually set to the lowest ISO, 30 second exposure at F8. The camera is positioned 10-20 feet away. Place a protective filter over your lens, focus manually, and let the fun begin. You will either spin in a circle vertically or horizontally like a lasso. The faster you spin, the more sparks go flying
This makes for a dramatic effect when spinning and it looks like the fires from hell are raining down. This is dangerous, there is both fire and injury risk, so be careful and do this at your own risk...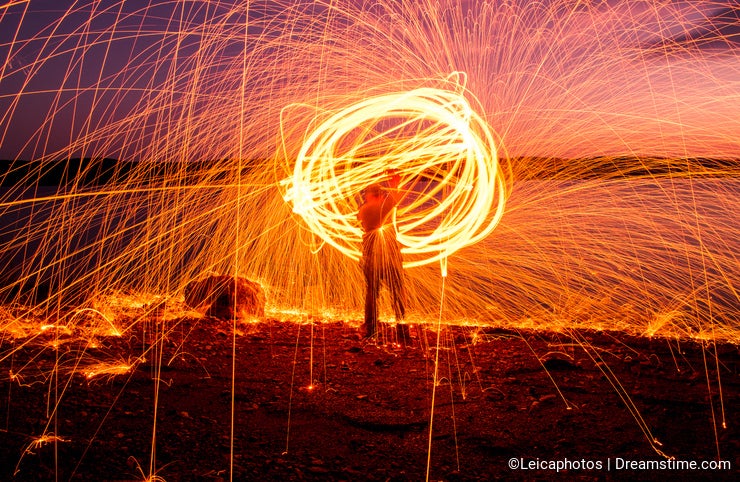 This is a simple variation of light painting. The results are often unpredictable. Do NOT catch your hair on fire. Yes it hurts when your hand slips and you have a ball of fire hit you on your back. Practice a bit with the whisk attached to the leash. Practice without the fire until you are comfortable with the movement. Safety is important, make sure all little bits of fire have been safely dealt with before leaving your location.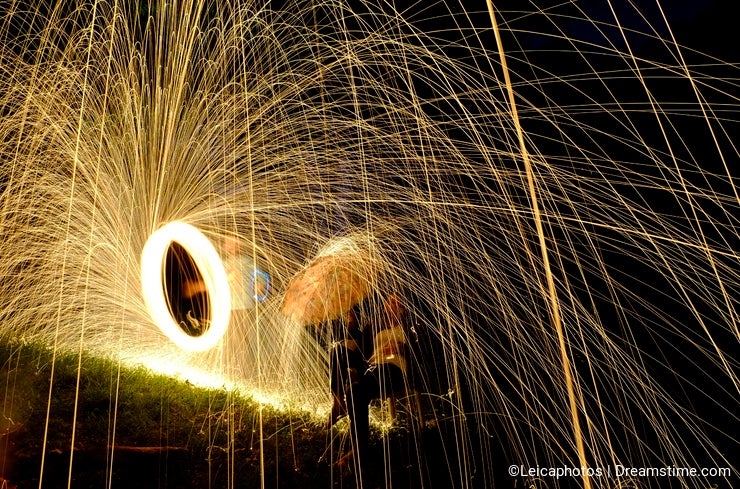 For extra dramatic effects, give a model an umbrella and you can light the model up with a short low power flash burst if so desired. Again, practice safety with both models and structures. Sometimes there is a trespass issue. A little planning can go a long way.
Many people use buildings, stone archways, and architectural features as part of their composition. This can be incredibly powerful as an image.
These shots work best either at dusk, dawn, or in the dark of the night. The photos are always eye catching and sure to garner a lot of likes on your social media. All that said, have fun, be safe, and don't be scared to try new things.
I hope everyone enjoys my occasional blog posts. Most of these shots were shot with the Fuji X-Pro1, 18mm f2.0 lens, F8,30 seconds. Your images should be pretty close to perfect and not needing much post process at this point, but you can skew the colors with lightroom, get creative with your post, but all of these images are straight out of camera. This is a very simple and fun style of photography. Enjoy.
If you enjoy my posts, feel free to mark me as a favorite photographer, or purchase an image.
Thank you,
Leicaphotos
Photo credits: Blake Billings.