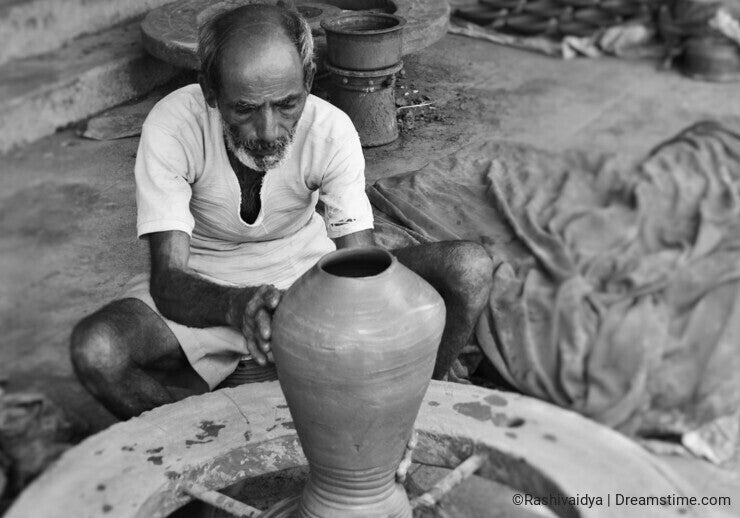 Loud music playing in the car, chips crunching in someone's mouth, chatter and the beautiful landscape. There were huge Boulders, shrubs & hardly any people; we were passing by Madanapalle, a small town on the way to Horseley Hills, our weekend getaway from Bengaluru.
We were hungry & took the road leading to the Town in search of some local idly, dosa. Food was difficult to locate, instead traffic was wearing us out and we ended up having tender coconut for lunch. We were four of us, two of us with a photography bug, one karaoke singer & the fourth a smoker. Working hard to earn our salaries, we used to meet up at weekends and often drive to nearby places. Every weekend we used to search the internet for "weekend getaways from Bengaluru " and hit the roads.
After our Tender Coconut lunch our smoker needed a Chai sutta (cigarette) break so again we halted, this time, near a potter's village. There were pottery items displayed on the sides of the road. We again got back in the car and drove a little further. Ever here and there we saw pottery items displayed. Horses, Elephants, big Vases, pots and Idols displayed so beautifully outside houses Or under a shed or just plainly on the roadside. It looked beautiful, we decided to stop and have a look at one of the potters display items.
It was a small room like, with a thatched roof alongside was the house where the potter and his family lived and outside were two potter wheels. I had never before seen so much of pottery, except on TV. Apart from the decorative items like the Horses & Elephants there were pots and pans; cooking pots and pans, Tumblers & Jugs, Plates and bowls and even a tawa (used to make chapattis on). Pots & pans created by a potters hand can be used on a gas stove to cook any Indian dish, from Biryani to chapattis.
We were looking at all these beautiful items with admiration, clicking photos of what we liked and also picked up a few to take home. A lady and her boy of around 10-12 was there to help us with payments and packing. The kid also translated his mother's words to English and ours to Telugu for his mother to understand. Then he pointed out to the small house on the other side of the road where an old looking man had a pile of clay in his hand. The boy told us that this man was starting his work for the day, he was going to make clay pots on his potter's wheel and if we wanted we could take some photos with our fancy big cameras.
All four of us wanted to see a potter's wheel in use, we crossed the road and looked at the old man sitting beside his potter's wheel on a two layered stone platform, just comfortable enough for a confortable access to his wheel and what he was going to create using it. He placed a pile of clay on the flat central base of the wheel, dipped his hands in a small water container and then started to turn the wheel slowly. He touched the clay with both hands and then got up, took a long stick, placed one end of it in a small hole on the outer ring of the wheel and started turning it in circles, the wheel soon caught good speed. The Potter sat on his stone platform, caressing the clay with both his hands, slowly it started taking shape. The clay so smoothly went round and round, between the potters wet and slippery hands, molding itself in a shape to adjust within its given boundaries.
It did not take much time for the potter to finish creating his first Vase for the day. It was thin on the top and had a bulky bottom, to be used to putting decorative flowers, but first it had to be put into the bhatti (furnace), to dry it, make it strong & give it its red color. We took some good photos of the potter, he did not even once look up while he was on his potters wheel, but when his work was done, he look at us, smiled and asked if we would like to make some pottery on our own. Our smoker friend was excited about creating his own pot, it turned out to be shapeless. After a couple of attempts, he ended up make a small round ashtray for himself. The potter offered us tea and we had a small session of how & where of things. He happily answered all our questions, again here the small boy helped with the translations of language. We bid farewell to the potter complimenting him on his work and thanking him for the photos & team. He smiled & with folded hands say by-by to us.
We went our way, to Horseley Hills all the way talking about the potter. His economic condition, and also the happiness & peace we saw in him. His life was tough as there is low demand & low prices for pottery that he creates using clay and his hands. Comparing the potter to ourselves, our jobs, which pay us but drain out all our energies and smiles where as he, which hardly any money to buy any worldly pleasure, he seemed happy, content, at peace.
We were like the clay pots, molding the way our work, bosses & society wants us- sometimes with bold faces but hollow inside, sometimes lies, sometimes fake smiles and more often then anything else these days creating our Likable social identities.