Quick recomposing and editing of images to remove unwanted artefacts, people and copyright
As a remote editor for Dreamstime, I often come across perfectly good images that we cannot accept as royalty free stock because they include copyright and/or people, without valid property and/or model release(s). More often than not, these are unintentional and minor features of images that can be removed very quickly and effectively with Photoshop, or similar software, dramatically improving image composition in the process. Obviously, I've chosen to demonstrate how I deal with these sort of artefacts using a picture of a shark.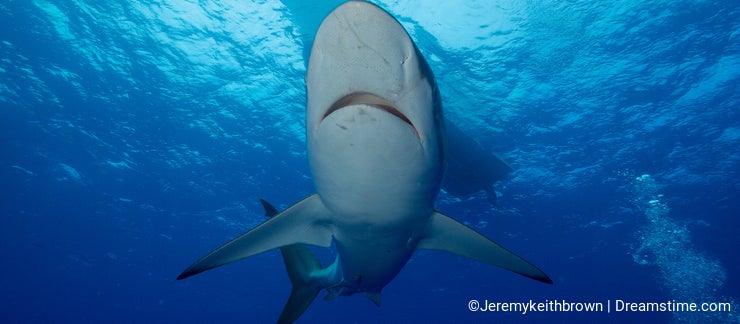 Some subjects and situations, like this shark encounter, don't always allow you to the time to compose the perfect image at the time of capture. In this case the subject is a moving shark with the underside of a boat on the surface of the sea in the background. However, the original image is cluttered with unwanted features; exhaled bubbles on the right of the frame, a distracting photobomb by a little jack in the lower left, and a little backscatter from particles in the water column. We also have two more sharks that we may or may not want to include in the background.
Imaging instead, a beautiful Scottish landscape with a highland cow in the foreground, replete with copyright in the form of ear-tags and a B&B sign on the fence in front of it, add a person's face intruding into the bottom left and an ugly electricity pylon on the right of the image and you have an image that we would struggle to accept, even as editorial stock. It's a scenario that plays out all too often in review and it can be fixed in less time than it takes to write a good title, description and set of keywords. Let me take you through my workflow for quickly dealing with these kind of issues.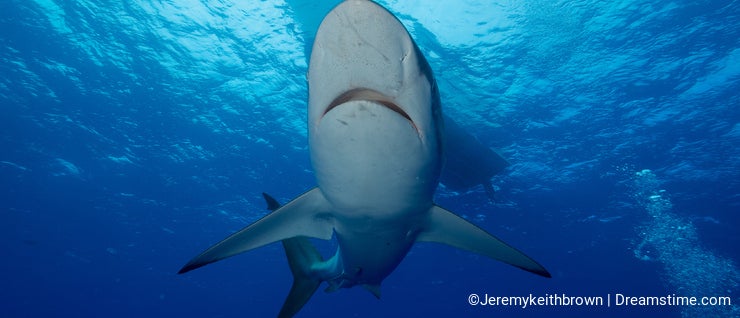 1. Correcting wide angle lens distortion. unwanted objects around the edges of wide angle images, like the face of the jack in the lower left corner of the original image, can often be removed simply by applying lens correction such as Photoshop's Adaptive Wide Angle option from the Filter Menu. No more need to worry about a model release for that jack. (Time required 5s and easily automated)
2. Next, think about cropping and rotating the image to improve the composition, excluding as many unwanted features as possible. Even just straightening a crooked horizon can end up excluding unwanted features around the edges of an image. The simple crop above solves nearly all of the issues with the original image. (Time required 5s)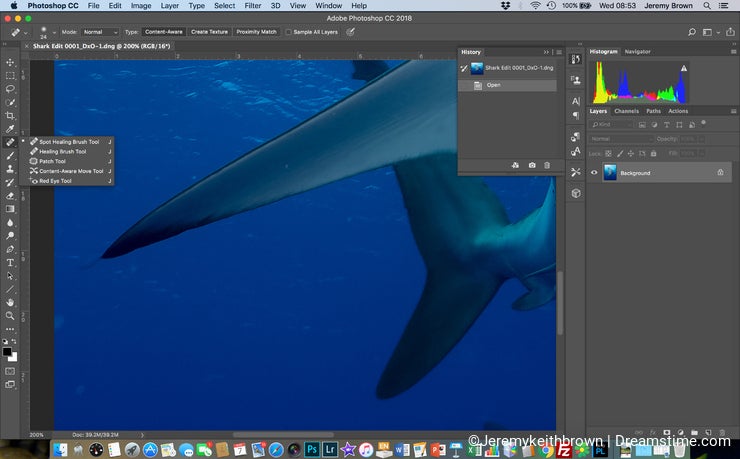 3. Remove smaller unwanted features from the middle of the frame using spot removal tools. These vary a bit in how they work, and Photoshop has quite a choice, but the default setting on its Spot Healing Brush Tool works extremely well and you can easily customise the size of the tool and other features of its application.(Time required 5s/spot)
4. Remove larger unwanted objects using Photoshop's Content-Aware Fill option. Basically, outline the object you want to remove and choose Fill from the Edit Menu, or more simply press the Backspace Key, and select Content-Aware from the drop down menu in the dialog box, before clicking OK or hitting the Enter Key. The results may need to be fine tuned using the Spot Healing Brush Tool, but it can deal with surprisingly complex backgrounds.(Time required 5s)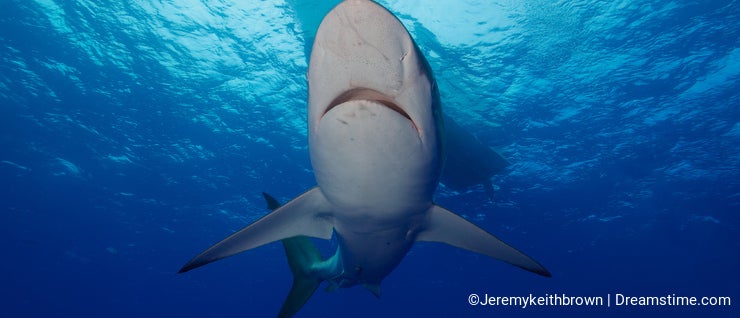 ......and that's it. Very quick and easy editing of a cluttered composition that might not only be used to remove potential copyright or model release issues but also produce several different good compositions from the same original image.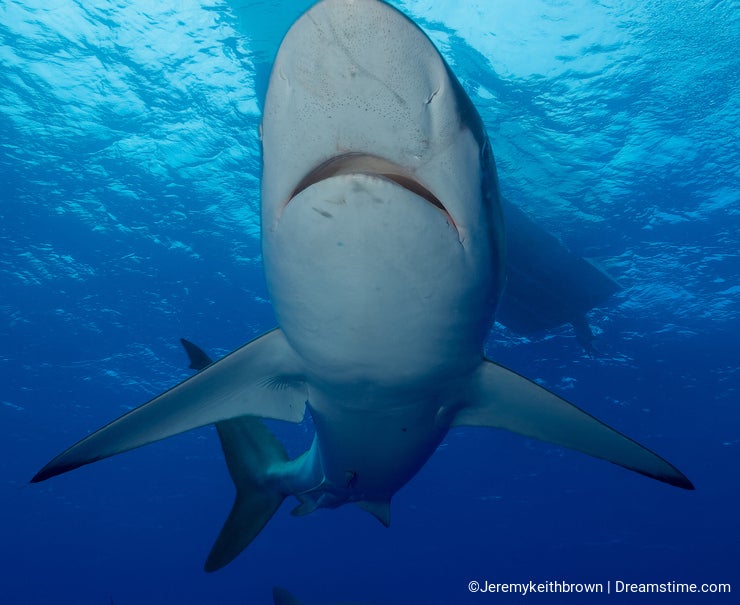 Photo credits: Jeremy Brown.
Copyright related image searches
To provide you with additional information about how we collect and use your personal data, we've recently updated our
Privacy Policy
and
Terms of Service
. Please review these pages now, as they apply to your continued use of our website.